Alexander Gustafsson was among the few select fighters in New York City today for the UFC and Reebok reveal of the "UFC Fight Kit".  The uniforms shown will be worn by every athlete that steps into the Octagon starting at UFC 189 on July 11.  Reebok is promoting the line of apparel "developed with fighters, for fighters" that feature innovations that support strength, speed, and flexibility, while allowing each athlete to prominently display their names and country pride on kit pieces.

The following is from a press release sent by the UFC and Reebok today :
The UFC Fight Kit has three variations: Champion Kit – featuring black and grey colors with iconic gold trim, worn only by current champions, Country Kit – with country specific colors and badging, and Universal Kit – using black and silver with a global badge, available to all athletes on the roster. The UFC Fight Kit includes the official UFC walkout jersey, variations of the Octagon short, the Octagon shirt, the walkout hoodie, and assorted performance tops for women.
"Today is an historic moment for UFC, our athletes, Reebok and the sport of mixed martial arts," UFC President Dana White said. "We've teamed up with an amazing global partner to take this sport to the next level, and we've done just that with the UFC Fight Kit. This gear was built and designed specifically for MMA athletes. Not only does it elevate the look of the sport – it revolutionizes the way they train, compete and perform."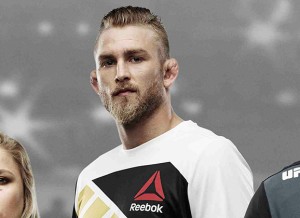 "The UFC Fight Kit is a landmark moment for Reebok's partnership with the UFC as well as the sport as a whole,' said Matt O'Toole, Reebok's President. "UFC athletes represent some of the toughest and most dedicated humans in the world and Reebok is proud to develop the first-ever dedicated kit to support and enable their greatness in the Octagon."
Beyond the Octagon, Reebok also launches its Reebok Combat collection today. Providing high performance apparel for people who fight for a living and those who want to train like a fighter.
"MMA is an exciting sport that is on the forefront of fitness and conditioning and Reebok Combat offers a full collection of training apparel to support those who like to train like a fighter. Reebok Combat is part of our holistic commitment to growth and support of MMA at all levels and we are excited to see the reaction to this brand new category from all corners of the world," said Todd Krinsky, Vice President at Reebok.
The UFC Fight Kit will be available for pre-sale on www.ufcstore.com and www.reebok.com as of June 30. It will officially launch at Sports Authority on July 7 and Reebok FitHubs on July 10, in the US and Canada, as well as being available at the UFC Fan Expo® in Las Vegas July 10-11. International release dates to be announced. The Reebok Combat collection will also be available on www.reebok.com beginning July 1.
See Gustafsson's UFC Fight Kit Introduction Here: