Alexander Gustafsson will be matched up shortly with an opponent for an upcoming UFC bout in November or December. MMA Viking looks at possible options using past match-making logic, and eliminating fighters based on injuries, retirement, and scheduled upcoming bouts. Also, the trend has always been for winners to face winners, and losers to face losers in their last bout.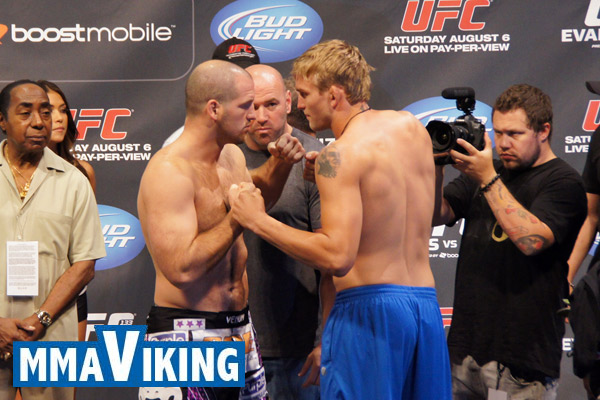 Below are 34 fighters listed on the light heavyweight roster on UFC.com, and a breakdown of their chance to face The Mauler:
LITTLE TO NO CHANCE
SET TO FIGHT SOMEONE ELSE
• Tito Ortiz / Antonio Rogerio Nogueira – UFC 140
• Rampage Jackson / Jon Jones – UFC 135
• Stephan Bonnar / Kyle Kingsbury – UFC 139
• James Te Huna / Ricardo Romero – UFC 135
• Jason Brilz / Ryan Bader – UFC 139
• Cyrille Diabate / Anthony Perosh – UFC 138
• Mauricio Rua / Dan Henderson – UFC 139 (New)
LIKELY TO FACE HIGHER PROFILE FIGHTER
• Rashad Evans – In line to take on winner of Jackson / Jones for Title
• Phil Davis – Rematch does not make sense
• Rich Franklin – Injured and scared of The Mauler
• Lyoto Machida – Likely to face Phil Davis or Rich Franklin
LIKELY TO FACE LOWER PROFILE FIGHTER
• Ronny Markes – This Brazilian replace the injured Stehpan Bonnar at UFC Live 5 and was victorious over Karlos Vemola for a unanimous decision in his promotional debut in last bout. At just 1 and 0 in the UFC, seems like he would need a few more victories to take on the 4 and 1 Gustafsson.
• Igor Pokrajac – Although this fighter beat Todd Brown at UFC Live 3 – Sanchez vs. Kampmann in March, he has a 2 win and 3 loss record, not warranting a bout with the Mauler.
RETIRED
• Matt Hamill
• Chuck Liddell
• Randy Couture
LAST FIGHT WAS A LOSS
• Brandon Vera (the loss was overturned to a No Contest against Thiago Silva)
• Forrest Griffin – Out of everyone on this list, perhaps Griffin could be possible? Perhaps Griffin is demoted as a UFC gate-keeper versus up-and-coming young prospects?
• Luiz Cane
• Karlos Vemola
• Eliot Marshall
• Aaron Rosa
• Fabio Maldonado
MOST LIKELY OPPONENTS
With the Swede at 4 wins and 1 loss, the Stockholm-based fighter will likely challenge a known name of a fighter coming off of a win. Based on the breakdown above, there are 4 fighters available. I would rank Matyushenko the most probable opponent. With Soszynski, Nedkov, and Silva following.
1. Vladimir Matyushenko
The UFC likes this matchup, as they previously scheduled "The Janitor" to face Gustafsson at UFC 133. Matyushenko pulled out due to injury, but should be recovered and ready to go before the end of the year. Joe Silva liked this matchup once, and I'm sure the UFC will put it on the table again.
2. Krzysztof Soszynski
The Polish Experiment is on another winning streak in the UFC. With recent wins over Massenzio and Reljic, Soszynski will be fighting someone like Gustafsson. In July, he went back for his 7th knee surgery, but should be looking for a bout before the year is up. With a 6 win and 2 loss record in the Octagon, this matchup also makes sense.
3. Stanislav Nedkov
Although this Bulgarian has only 1 win in the UFC, he remains undefeated with 12 wins in his professional career. His surprising first round TKO over Luiz Cane on the main card last month in Brazil may make him a dark horse in the running for a matchup, especially if injuries keep Soszynski and Matyushenko on the sidelines.
4. Thiago Silva
Although the Brazilian had a no contest in last bout with Vera, due to his fake urine sample for the pre-fight drug screen, he may be at the right-level for a comeback fight against Gustafsson. He has been ehabbing from injuries, so his return status is unclear, but may due for a fight soon. This may be a perfect test for the Mauler.