The Nordic MMA women will have another fighter join the pro ranks as Dane Anna Elmose steps into the cage at Cage Warriors FC 74. "Heading to London with Pannie and Nicolas as a team is the best part because us Rumble Sports fighters always have a great time with a lot of laughter." says the always smiling Elmose to MMAViking.com about making her pro debut on the same card as fellow Rumble teammates Nicolas Dalby and Pannie Kianzad, who will both have title fights on the same London card on November 15.
The Origins of "Panda"
While many fighters turn pro in their 20's, Elmose has a unique background that brings her to her pro debut at the age of 30… and a distinguished nickname to match.
"She used to be a very ambitious horseback rider in the showjumping discipline, and she never wanted to do anything else, until her horse died. She then decided to quit that completely, and randomly went with a friend to the local kickboxing gym. She then fell completely in love with it, and had her first full contact kickboxing match a mere three months later, which in turn made her take up boxing and then Muay Thai, before she turned to MMA." says Rumble Sports coach Tue Trnka about the prospect's martial arts origins.
"When I started kickboxing and didn't know how to bob and weave… I just went fast forward in sparring and I got a lot of panda eyes.  Also, I get a black eyes so easily, so my gym started to call me a panda." says Elmose about her given nickname Panda that is also seen as a stuffed animal entering the cage.
Trnka knows that her pupil must step up her pro career a bit quicker than most.  "She's very ambitious, and at the age of 30, she knows it's now or never. Five years ago, she stepped into her very first martial arts gym, and she went all-in from the very get-go."
She's One of a Kind
With a built up reputation for slick head movement and big punches, Elmose will try and build off of her final amateur bout that she won over SBGi's Sinead Kavanagh at CWFC 66.
"Anna Elmose is quite an interesting fighter due to a lot of different aspects. Physically, she's one of a kind. I've never met a woman with her speed, power and explosiveness, and it will be interesting to see, if she can utilize her physical attributes in professional MMA. If she can, I'm pretty sure, she'll go straight to the top, but of course, that is a very big if." comments Rumble Sports coach Tue Trnka about the prospect's potential.
"I've seen her spar with some of the best Nordic WMMA fighters, and she really holds her own against anyone. But sparring and fighting is different." says Trnka that can't wait for Elmose debut.
Training with Kianzad
"She's used the last 18 months or so to get ready for this, and she has the best possible teammate in Pannie Kianzad. These gals really go at it in the gym, and they've both gained so much from their cooperation in and out of the gym." comments Trnka on his other female pro fighter Banzai.  Kianzad has quickly developed into a top female in Europe, and the 22 year old will aim for the title and improve to 7 wins and 0 losses against Agnieszka Niedzwiedz on the same card.
"I don't want to fight under amateur rules with big gloves and shin guards. I want them small gloves and see what happens."
The Rumble Sports fighter will face Brit Emma Delaney on her home turf. "Heavy D" (0-2) lost to Swede Lina Akhtar Lansberg in her last outing, and has not won a pro match to date.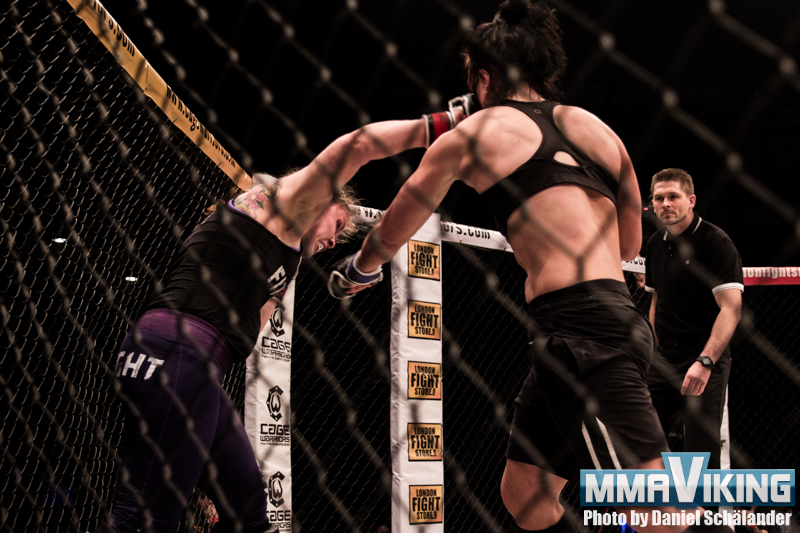 "The best part is to be on the same card as Pannie and Nicolas is that I get to train with them.  I especially train a lot with Pannie. We are the same weight and she is so very skilled." says the bantamweight just a month away from her pro debut.
"I want to say to Graham Boylan how much I appreciate that he gives me this chance and I know exactly how privileged I am! And thanks to my sponsors fit4fight.dk and "Nybolig – Jagtvej" says Elmose about the opportunity and support of her sponsors.