Today, the Zone FC officials announced that August Wallén will fight again. He will return to The Zone FC 11, which will be held on November 10. No opponent has been announced. Read the press release below.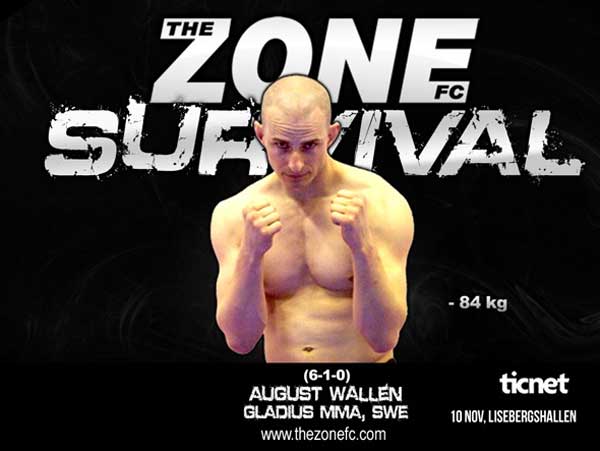 Press Release
August Wallén makes comeback at The Zone FC 11 – Survival
August Wallén with a record of 6-1-0 from Gladius MMA will make a comeback at The Zone FC 11 – Survival on 10 November.
He is undefeated in the organization with five straight wins and he took the middleweight title in Nov. 2010. An injury put a temporary stop to his careers and the middleweight title was left vacant. Victor Cheng stepped up and won the title. Now, "The Strangler" is back in the heat after a two year break.
Why do you make a comeback now, after a two year break?
– Just because it's fun. To match and train for competition is the best there is.
How is your shape? Are you worried for your performance?
– There will not be any difference. If you look at my fights, it is far between the matches. I'm in good shape. The only thing is that recovery takes longer the older you get. The status currently is: suffering and crying after every session.
What are your feelings for the fight?
– To fight in front of the home crowd, that is the best I know. It's the most rewarding feeling. I would not go anywhere else to fight.
Do you have plans for more fights in the future?
– I'll take one fight at a time.
Is there anything else you want to say before the fight?
– I want to thank for the support I get from the guys and the girls from Gladius pro group, and all fighters who are training at with us at Shooters MMA camp.