Cage Warriors officials announced that Swede David Bielkheden is off of the United Arab Emirates card on Saturday, May 11. The "Brazilian Swede" was looking to turnaround his career against Jake Mason after losing five of his past six bouts, but injury will prevent his first fight of 2013. Read the press release below.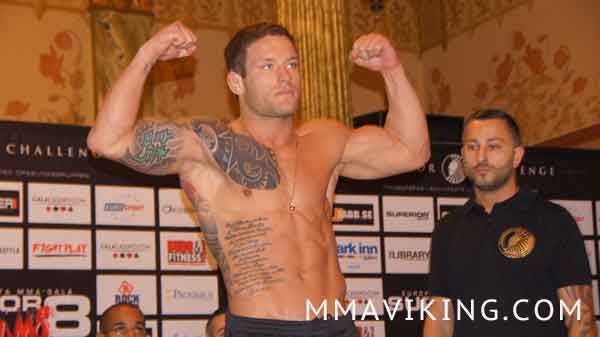 Press Release
Meanwhile, Jack Mason is now preparing for a very different challenge at CWFC Fight Night 8, after injury forced David Bielkheden out of their scheduled welterweight contest.
Mason (23-11) will now take on highly-rated American prospect Collin Reuter, who recently rose to prominence thanks to this devastating KO victory against Gerald Fike.
"I'm obviously disappointed not to be facing David Bielkheden as I had been relishing the opportunity to fight him, but Cage Warriors have pulled out all the stops again to match me with another top international opponent," said Mason.
"Reuter has an impressive record, has trained with Team Alpha Male and has scored one of the most brutal knockouts of 2013 already, so I know I have my hands full with him. This is a very different style of fight to Bielkheden but I'm looking forward to the challenge and can't wait to face him.
Reuter, a 22-year-old hailing from Alaska, has taken all but one of his nine wins by stoppage, with his only professional loss coming via decision at the hands of experienced fellow American Dave Knight.
Reuter said: "I'm excited about showcasing my skills at a higher level of competition and I'm thankful to Cage Warriors for such an opportunity. I always put on awesome fights and I fully expect to dominate and finish Jack Mason."