Botnia Punishment officials have just announced that Friday's event "X" in Seinäjoki, Finland, will be shown on the Internet for free at www.seinajoki.tv.

The release from the organization is below:
Botnia Punishment-organization is providing a LIVE broadcast on the Internet! Our upcoming event and especially its Main Event has got a lot and well-deserved attention. You can watch the event for FREE at www.seinajoki.tv.
The event will start at 19:00 / 7:00 p.m. local time on Friday, September 23rd.
*This broadcast was decided with tight schedule and it will be filmed with two cameras. Because of the time schedule there will be no commentator, slow motions etc. in the broadcast.
Stockholm at 18:00 / 6:00 p.m. (UTC+2)
Sao Paulo at 13:00 / 1:00 p.m (UTC-3)
New York at 12:00 / 12:00 noon (UTC-4)
London at 17:00 / 5:00 p.m. (UTC+1)
Paris at 18:00/5:00 p.m. (UTC+2)
Los Angeles at 9:00 / 9:00 a.m. (UTC-7)
Tokio at 1:00 / 1:00 a.m. (UTC+9)
Moskova at 20:00 / 8:00 p.m. (UTC+4)
Oslo at 18:00 / 6 p.m. (UTC+2)
Praha at 18:00 / 6 p.m. (UTC+2)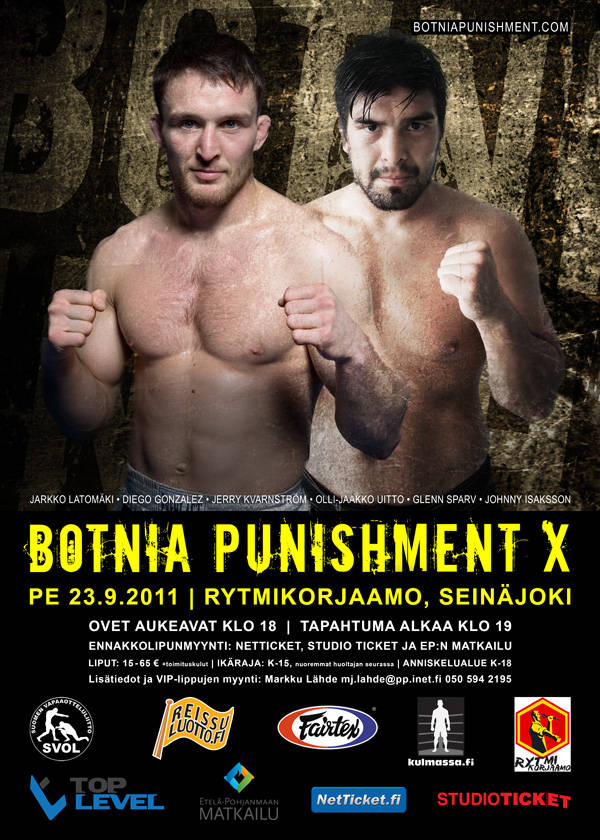 For Additional Event Information
Latest fight card, and an interview with the Botnia Punishment promotion
Interview with co-main event fighters Thomas "Moon Lee" Hytten, and late replacement James Saville