Bruno "B.C" Carvalho (14-6) is eager to rebound from his much-discussed decision loss to Cathal Pendred at Cage Warriors 49 back in October.  Today, the Stockholm-based Brazilian is focused on Cage Warriors 52's bout this Saturday night and his newest opponent Steve Dinsdale (5-0).  Dinsdale is stepping up after a recent injury has forced Mohsen Bahari (5-0) out of Cage Warrior's first show of 2013, which takes place at London's HMV Forum.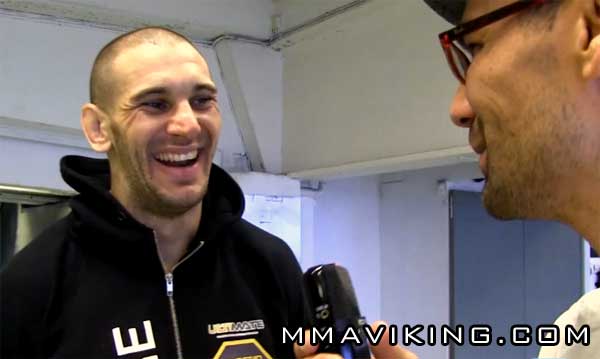 "Allstars is the best camp in Europe, we have lots of top guys there daily and newcomers coming every week… it was awesome!" Carvalho says to MMA Viking. BC, has taken up camp and BJJ instruction at the newly established super gym in Stockholm, Allstars Training Center where many of Sweden's elite has come together.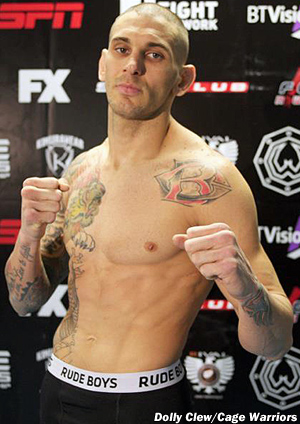 Before suffering his most recent loss, the Swedish-born Brazilian was on a nice winning streak that saw him go 9 wins and 1 loss with wins over such names as Kyacey Uscola and Jean-Francois Lenogue.
"I'll bring lots of experience, I'm very well prepared wherever the fight goes, lots of boxing with head coach Andreas Michael, plus Muay Thay with homecooked, Grappling with "Finfou" and sparring with Alex Gustafsson, Nico Musoke, Diego and Fernando Gonzalez, Jonatan Westin, Reza Madadi, Rigging Innen, Tor Troeng, Andreas Sthal, Robert Whiteford and more."
His opponent is hungry, with only a handful of pro MMA bouts, and says "I'm really excited to be making my Cage Warriors debut, especially against a high-level opponent like Bruno Carvalho."
Carvalho is focused on this bout and isn't set on any calling out any specific opponent after, saying "the guy whom leaves with the belt…. that's the one I'm seeking".  The Allstars fighter has settled in at welterweight, after a career that has seen most of his bouts at middleweight.
"Thanks MMA Viking always supporting, plus Allstars Gym, highwhey.no / Kimura wear, Pride or Die, Lightning Fit UK.  I'm looking for a supplement sponsor!" says the Cage Warriors headliner.
"Watch me live on Saturday" says Cavalho, where everyone around the world can see the main card stream live and free on MMAjunkie.com