Gothenburg based MMA promotion The Zone Fighting Championship has set the date of their next event. The promotion today announced that October 12th they will put on another show at Lisebergshallen for The Zone FC 12.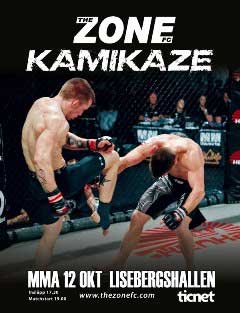 Officials say "Building on the huge success of previous The Zone FC events "Kamikaze" will will continue in that same tradition. Expect spectacular fights as top Swedish fighters face competition from Europe and beyond."
Typically, the promotion sets two events per year, but this years plans indicate just one event later in the year. However, the promotion has added The Zone Challenge 2 to the day time, which will include amateur matches, with shoot fighting and amateur MMA on schedule.
Stay tuned for fight announcements, and see Nordic event calendar for a full schedule of MMA events.