Swedish based Bruno Carvalho has landed a new fight. This time the Brazilian born will take on Matt Inman at Cage Warriors 61, which will take place on December 14 in Baghdad. Cage Warriors officials announced the bout today. Read the press release below.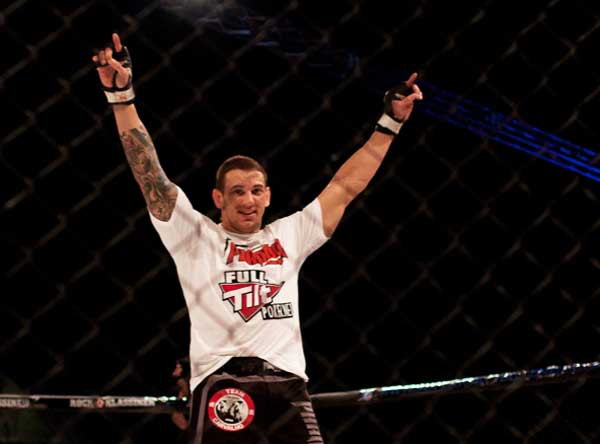 Announcement
Several bouts have today been confirmed for Cage Warriors 61, which is set to take place in Baghdad on Saturday, December 14.
The historic event, CWFC's 13th of the year, will see Iraq become the eighth country to host Cage Warriors Fighting Championship in 2013.
CWFC 61 is to be headlined by a welterweight contest between Matt Inman (12-5, pictured) and Bruno Carvalho (15-7), two fighters who have had contrasting recent fortunes.
Carvalho was on the end of a first-round KO loss to Gael Grimaud at CWFC Fight Night 9 in October, but the 31-year-old Brazilian says he's keen to rebound by proving that he still figures in CWFC's welterweight picture.
"I'm very excited about the opportunity to get another great match-up on a big show," said Carvalho. "Both Matt and I are still in title contention and this fight will bring one of us closer."
Inman, meanwhile, has been in the best form of his career in 2013 having put together a run of three straight Cage Warriors victories, but a win over Carvalho would undoubtedly be his biggest to date.
The 27-year-old Englishman said: "It's great to be part of another Cage Warriors event that will be breaking ground in a new country. My opponent is very skilled and experienced but I'll be stepping my game up to another level in order to bring home the win."
Meanwhile, after his scheduled clash with bantamweight champion Brett Johns in Newcastle on December 7 fell foul of an injury to Johns, the next outing for James Brum (13-2) will now be in Baghdad seven days later against a soon-to-be-announced opponent.
Following his impressive stoppage of Vladimir Opanasenko last time out, Jack Mason (25-12) will be aiming to end the year on a high by picking up his fourth CWFC win of 2013 at the expense of French veteran Seydina Seck (15-9-1), who holds notable victories over the likes of ex-CWFC welterweight champion Gael Grimaud and three-time UFC veteran Simeon Thoresen.
In light-heavyweight action, Egyptian fan-favourite Mohamed Ali (9-5) will also be eager to clinch his third CWFC triumph of the year when he goes up against England's James Hurrell (6-3).
Elsewhere, Vincent del Guerra (20-9) and Jake Bostwick (12-8-0-1nc) will clash in a bout to be contested at a catchweight of 176lbs, and Julien Boussuge (9-3) will take on Damien Brown (10-4) in a lightweight bout.
A featherweight clash involving unbeaten Englishman Arnold Allen (5-0) and French prospect Taylor Lapilus (5-1) is scheduled to begin the Facebook prelims, followed by a flyweight tussle between Paul Marin (6-3) and Spencer Hewitt (10-6).
CAGE WARRIORS 61 (more bouts still to be announced)
Bruno Carvalho vs. Matt Inman
James Brum vs. TBA
Jack Mason vs. Seydina Seck
Mohamed Ali vs. James Hurrell
Jake Bostwick vs. Vincent del Guerra
Julien Boussuge vs. Damien Brown
Spencer Hewitt vs. Paul Marin
Arnold Allen vs. Taylor Lapilus