Cage 27 goes down tonight in Turku, Finland. Headliner Timo-Juhani Hirvikangas looks to extend his winning streak to five in the main event, while veteran Juha Saarinen looks to make a comeback in his home town. Undefeated Mikael Nyyssönen will take on the tough Tommi Marttinen in what is a fight to watch. Content partner FightSport.fi is reporting live from the event, and results will be posted below with a report coming on Sunday.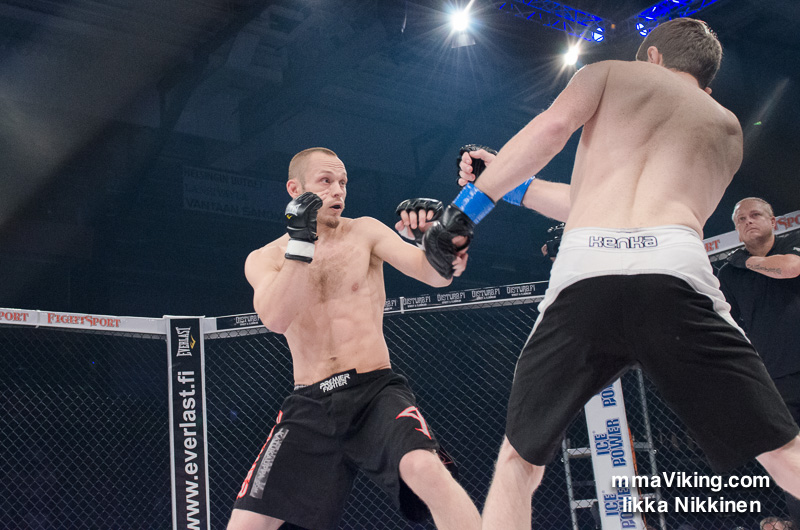 Results
Mikko Ahmala vs Pierre Chretien
Ahmala wins by guillotine in round 1 at 2:25.
Aleksi Kainulainen vs Dara Nhang
Kainulainen wins by guillotine in round 1 at 1:15.
Aleksi Nurminen vs Abdourahmane Seye
Nurminen wins by rear-naked choke in round 1 at 3:44.
Teemu Packalen vs Hyram Rodriguez
Packalen wins by kimura in round 2 at 1:47.
Mikael Nyyssönen vs Tommi Marttinen
Nyyssönen wins by TKO in round 2 at 56 seconds.
Juho Valamaa vs Daniel De Madallena
Valamaa wins by by decision.
Juha Saarinen vs Cyril Asker
Asker wins by TKO at 4:19.
Timo-Juhani Hirvikangas vs Antoine Gallinaro – Main Event
Hirvikangas wins by guillotine in round 1 at 3:12.