Cage Warriors is making its Nordic debut on March 22.  The promotion just announced the event that will take place at the Ballerup Arena in Copenhagen, Denmark.  The poster preview shows Scandinavian based Nicolas Dalby, Jack Hermansson, Mohsen Bahari, Bruno Carvalho, and Martin Svensson.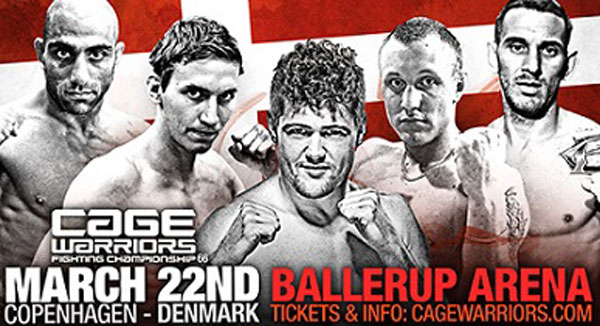 "Its official! My next fight will be @CageWarriors 66, March 22nd in Ballerup Super Arena, Copenhagen!" adds Dalby upon the news became public of his bout. See the press release below released by Cage Warriors.
London, England (February 4, 2014) – Scandinavia will taste live Cage Warriors Fighting Championship action for the first time on Saturday, March 22.
"I've got four events in Scandinavia on our schedule for this year and I'm really excited about the first of those in Denmark next month. This will be an historic event as we visit another new country – the 12th to host Cage Warriors in recent years – and it will be headlined by a massive title bout, details of which will be announced very soon." said Cage Warriors Fighting Championship CEO Graham Boylan.
Cage Warriors 66, which will be the promotion's third event of 2014, is set to take place at the Ballerup Arena in Copenhagen, Denmark. The event will feature top Scandinavian stars like Nicolas Dalby, Jack Hermansson and Mohsen Bahari, and tickets will go on sale shortly.