Dane Martin Kampmann is looking to finish Johny Hendricks in spectacular fashion in order to secure his shot at the title.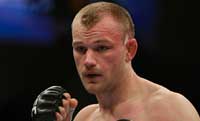 "The Hitman" will have his chance on November 17, 2012 at the Bell Centre in Montreal, Quebec, Canada.
Martin Kampmann has a an overall record of 20 wins and 5 losses (11-4 UFC) and Johny Hendricks is 13 and 1 (8-1 UFC). The two will be the co-main event, underneath the return of GSP, who will face interim welterweight champion Carlos Condit.
Check out the recent video interview released by the UFC.