Swede Diego Gonzalez (15-7) takes on English prospect Danny Roberts (7-1) tomorrow night in Cardiff Wales. "The Silencer" returns to the cage after almost a year layoff following a TKO to Ivan Buchinger at Cage Warriors Fight Night 6.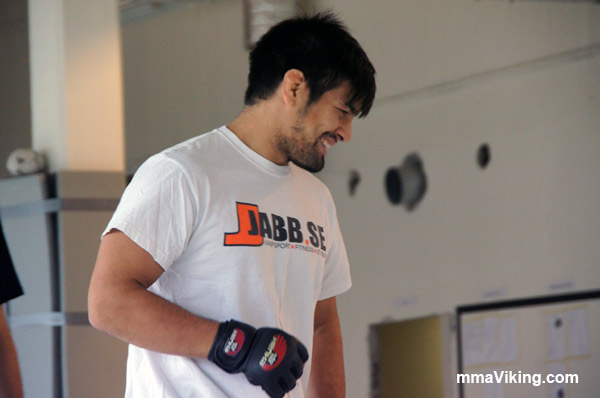 The Swede now looks a strong return at CWFC 54, this time at welterweight against the prospect Roberts, whom they call "Hot Chocolate" The UK fighter's only loss was a submission loss in 2011, and the fighter has never seen the 3rd round in his whole career. Gonzalez has been training at the new super gym Allstars Training Center in Stockholm.
Gonzalez weighed in at 170.5 lbs today, while his opponent Roberts weighed-in at 170 lbs. The two look to have some head during the weigh-ins.
Video Weigh-ins
Full Fight Card
MAIN CARD (Streamed on MMAjunkie.com, 22.00 Stockholm Time)
Jesse Taylor vs. John Phillips – Middleweight Title
Diego Gonzalez vs. Danny Roberts – Co-headliner
Mark Glover vs. Lewis Long
Jason Ball vs. Ivan Buchinger
Brett Johns vs. James MacAlister
Martin McDonough vs. Mark Platts
PRELIMINARY CARD (Streamed on Cage Warrior's Facebook Page)
Kris Edwards vs. Shaj Haque
Matt Inman vs. Leon Kenge
Jamie Rogers vs. Brad Wheeler
PRELIMINARY CARD
Steve McCombe vs. Joe Orrey
Rob Leybourne vs. Owain Parry