Swede Diego Gonzalez is on the Cage Warriors 54 card against Danny Roberts. The Motorpoint Arena in Cardiff, Wales is the location for the co-headlining bout.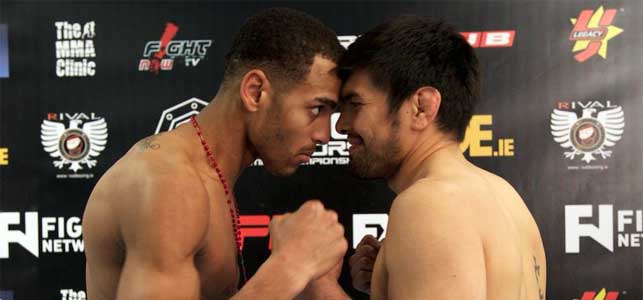 Play-by-play
Watch the main card live on www.mmajunkie.com / www.cagewarriors.tv or read play-by-play on MMAViking.com below. The main card starts at 21:00 Reykjavik, 22:00 Oslo, Stockholm, Copenhagen, and 23:00 Helsinki. Watch a fight preview here.
Diego Gonzalez walks in first, and will be in the blue corner.  Nico Musoke is in the "silencer's" corner, and he is wearing a Jabb.se shirt into the cage, who sponsors MMA Viking.
Danny "Hot Chocolate" Roberts is coming into the cage second.  They boast that he is 7 and 1, with 2 wins in Cage Warriors.
Round 1 – The co-headlining bout starts and Roberts is a much taller fighter, and tries to use his jab early.  The two exchange early, but after a minute no one getting the better of it yet.  Roberts is a southpaw, but it's Gonzalez the stalker here as the Swede moves forward.  Diego ties up, and moves it to the ground with a nice inside trip.  The Allstars fighter has half guard, and looks to pass.
Two minutes left, with Gonzalez taking full mount.  The UK fighter rolls through and escapes by pushing away.  Gonzalez lands some good left hands, and comes over with a right elbow on the inside.  Roberts throws the jab again, and again.
MMA Viking Scores it 10-9 Gonzalez & Frank Trigg on the CW Broadcast scores it 10-9 Roberts
Round 2 – The two touch gloves.  Gonzalez goes for a shot, but it's Roberts that sprawls and goes for a guillotine.  The UK fighter tries to spin around after not being able to lock in the submission, but Gonzalez catches the legs and brings it to the ground.  The Swede is on top and pushes Roberts against the cage.
3 minutes left in the round, and Gonzalez is on top, looking to pass again.  Upkicks from Robers, but steps over a kick and takes full mount.  Again Roberts is able to escape after being mounted, and Roberts pushes the Swede against the cage and lands knee after knee and throws punches.  Gonzalez goes to the mat to seek a safer territory to defend, while Roberts lands a couple of punches on top the referee jumps in to stop the bout.
Gonzalez is not happy with the stoppage, and isn't seen when the UK fighter's hand is raised.
TKO winner is Danny Roberts.