IRFA 6.0 will go down tomorrow in Stockholm, and a familiar face in Swedish prospect Oliver Enkamp is on the card.  The Allstars Training Center fighter will have his toughest test as he fights Guram Kutateladze of Georgia.  Both fighters are undefeated in their young careers at two wins and zero losses, and this should be an explosive stand-up war.  "He's gonna get beaten on Saturday" says the Swede in  this exclusive interview with MMAViking.com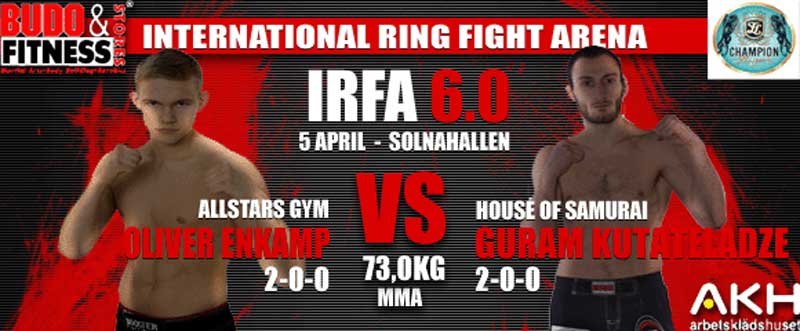 Fight Preview
Kutateladze has already stopped another up-and-coming Swede as he stopped Jonathan Svensson in his last bout at Heroes FC in March of last year.  Enkamp is no stranger to IRFA, as he was on the card last March where he beat Kari Paivinen by submission. Check out the two fights here.
Enkamp Versus Paivinen at IRFA 4

Kutateladze Vesus Svensson at Heroes FC

Interview
You haven't fought MMA since last June. Why so long?
My last fight was June 1st at Trophy MMA, and right after that fight I had my first "training-free" vacation for years! However, when I got home and jumped into wrestling practice again I unfortunately fell on my arm and injured the elbow joint pretty severely. I had to wear a supportive "robot-arm" for a couple of months which stopped me from wrestling and having any fights during fall. I could start to wrestle again at the end of the year so now I'm back in the MMA-game again!
You are fighting another undefeated fighter. What do you know about Guram Kutateladze?
I know he has been training since he was a child and seems to favor thaiboxing. The is a tough and experienced opponent, and he's gonna get beaten on Saturday…
You train MMA at Allstars… what guys are helping you get ready for battle?
The whole Allstars team has been supporting me of course! For this fight specifically I've been wrestling a lot with Reza and had great sparring with Fernando among others.
What are your goals for this fight?
Go in and win in an impressive fashion.
Lastly I would just like to thank all the supporters who bought a ticket to come see me! It means a lot!
MMAViking.com will be reporting live from IRFA 6.0, so stay tuned for full fight coverage.