HILTI's Nicklas Bäckström will replace Greger Forsell, the Finnish fighter from Sports Academy No1/ Alliance, who was recently injured. Organizers from Botnia Punishment this morning confirmed that the Swede now face the experienced Lithuanian Sergej Grecicho at 66 kilos next Friday, March 23 in Seinäjoki, Finland.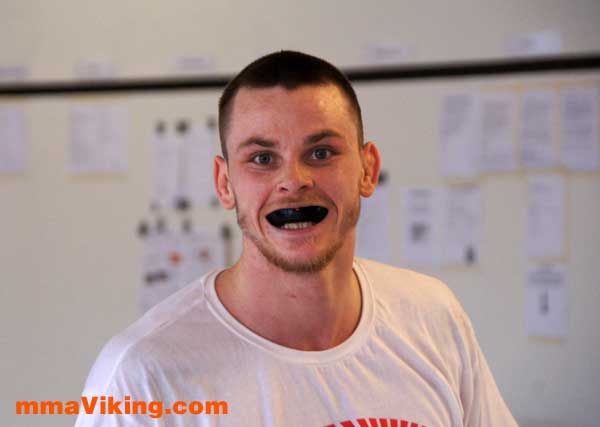 The undefeated Swede (3 wins, 0 losses, 1 no contest) is eagerly looking to get back into the cage, as he had to pull out a day before scheduled fight at Cage Warriors Fight Night 2 in September due to a hand injury. The HILTI fighter was scheduled to be on two cards early this year, but his opponents both pulled out of the bouts.
Recent Footage from Bäckström Training

Botnia Punishment also informed MMA Viking the addition of Marko Tani, MMA Utti vs Rauno Lehtinen TKU in a 3X3 minute bout at 70.3 kilos.
The organization will stream the upcoming card "XI" will be shown live on Botnia Punishment's Facebook page.  Visit www.facebook.com/BotniaPunishment and "like" the page to watch the event.  Times for the live stream are listed below: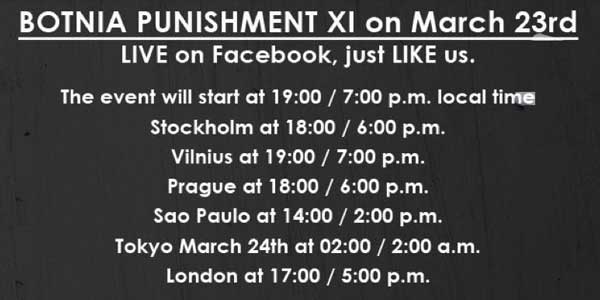 Updated Fight Card
MAIN CARD: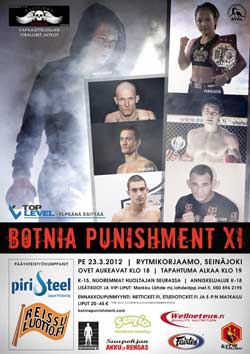 Katja Kankaanpää, Team BP / Giudici Team, FIN 5-0-0 vs Mei Yamaguchi, Japan 9-3-1
Nicklas Bäckström, HILTI vs Sergej Grecicho, The Knight of Plunge, LIT 10-4-1
Glenn Sparv, VKK, FIN 4-1-0 vs Pavel Bechtold, Penta Gym Prague / Shooters MMA, Czech Rep, 6-6-0
Michal Hamrsmid, GCF Team, Czech Rep. 20-9-1 vs Mikael Silander, EKH, FIN 6-0-0
Junior Beltrao, Brasil 3-1-0 vs Jani Myllynen, Gladiator Factory / Team East Front, FIN 1-1-1
Juhani Aho, MMA Seinäjoki / Team BP 0-1-0 vs Hannu Suhonen, MMA Utti / Team East Front 0-1-0
UNDERCARD:
Timo Suihkonen, KKU vs Herkko Lokka, MMA Kuopio
Daniel Winiarcyzk, KKU vs Matti Hyvärinen, Gladiator Factory, Kuopio
Jesper Mattlar, VKK vs Atte Ala-Kortesniemi, MMA Utti
Matias Rantala, Mäntän Sutemi vs Jaan Hanson, RNC Sport Club
Marko Tani, MMA Utti vs Rauno Lehtinen TKU