Lappeenranta Fight Night promotion has built it's 8th card on a league of young talented up-n-comers who are trying to make it to the top. Besides the Finns the highly international card features fighters also from Russia, Czech, France and UK.
Promoter Jukka Paananen commented the card to MMA Viking:
"Most of the fighters on the card are from Team East Front. We wanted to give them all the toughest opponent of their career so that we get to see where they stand at the moment. With these tough opponents the fighters also get a chance to climb the ladder so in the future they could break into the European Top 10."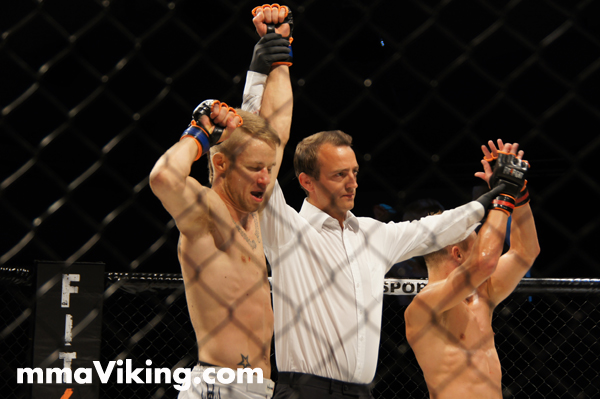 The biggest fight on the card is between the flashy Finn Toni Tauru (5-1) and more experienced Czech Filip Macek (8-6). After losing his pro debut Tauru has won five straight fights including quick and impressive win at the Royal Arena 2 in Denmark and another first round sub over Estonian grappler Lauri Ulenurm in his latest fight at Cage 20. The young Finn has put in a lot of work during last couple of years and rapid improvement has followed. Macek fought five times in 2012 going 2-3 in those bouts.  Macek, who comes to the fight with back to back losses, looks to revive his career and drops down to bantamweight for the first time for this bout.
"Tauru is skilled on the ground but I believe he will challenge Macek on the feet with his aggressive striking game." says Paananen about the match up.
Another talented up-n-comer is Glenn Sparv who returns to action after spending several months training at the Team Quest gym in Thailand. In his last fight athletic Sparv dropped a majority decision to tough Swede Jonathan Westin.  Vyacheslav Andreev has only one fight on his pro career, a draw with Jani Myllynen at Cage 20, but the experienced martial artist will bring the heat to Sparv, says Paananen:
"It will be interesting to see the level of Glenn Sparv now that he has been training for six months at the Team Quest in Thailand. The opponent Vyacheslav Andreev will put him to work"
Two entertaining grapplers in Jaakko Väyrynen and Jerry "ADHD" Kvarnström meet in a Judo vs Wrestling match up that is a treat for the Finnish fans. Judo player Väyrynen (5-3) has stepped up his game and gone 4-1 in his last five with the lone loss coming to top talent Tipi Hirvikangas by decision. Wrestler Jerry Kvarnström (10-3) is a colorful personality in and outside of the cage. The Turku based grappler has lost his last two fights to tough Frenchmen Olivier Pastor and Johnny Frachey but will now face a more favorable match up in Väyrynen.
The most interesting prelim fight is the match up between Jani Ridasmaa (3-1) and Russian Mikhail Khirziev who fights out of Imatra, Finland and will make his pro debut. Khirziev is a former Kempo Karate World Champ. It will interesting to see how Khirziev's extensive combat sports background translates into MMA. In his first MMA fight Khirziev will face a dangerous striker in Ridasmaa who has taken all of his three wins by the way of knock out.
Unfortunately there will be no live stream available but the fight videos will be published on the net shortly after the event.
Main card
BW: Toni Tauru vs Filip Macek, Czech
BW: Janne Elonen-Kulmala vs Freddy Debessel, France
FW: Jaakko Väyrynen vs Jerry "ADHD" Kvarnström
FW: Elias Kunnas vs Martin Hills, UK
LW: Lauri Väätäinen vs Jonathan Ramon, France
LW: Kari Päivinen vs TBA (Jake Anttila out with an injury)
MW: Glenn Sparv vs Andreev Vyacheslav, Russia
Prelims
W Flyw: Vuokko Katainen vs Linn Wennergren, Sweden
LW: Jani Ridasmaa vs Mikhail Khirziev
LW: Aleksi Mäntykivi vs Vladimir Nikitin, Russia