MMAViking.com is live in Kuopio, Finland for the Fight Night 9 card. The card is headlined by Swede Niklas Bäckström and Finn Jaakko Väyrynen in what is a battle to see who will be among the best Nordic featherweights. See results live from the event below.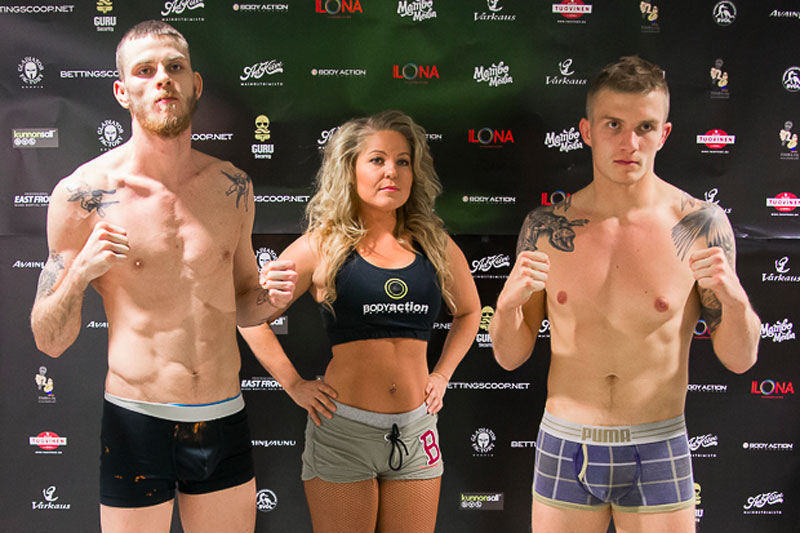 Play-by-Play & Results
Edward Walls, MMA Lappeenranta vs. Joni Sarkala, Shooto Lahti
As the round begins a single flurry is thrown that finds Joni Sarkala searching for a takedown, which is imediately stuffed by Edward Walls, who appears to have the superior wrestling. Edward Walls finds himself in the top position, but fails to maintain it, and finds himself the victim of a heelhook submission in the first round, Joni Sarkala obtains the win.
Vuokko Katainen, MMA Kuopio vs. vs Sylwia Juskiewicz, Puola
Round 1 begins with flurries of strikes from Juskiewicz, who leads in ferocity, although not in control of the cage. After finding herself at the end of Juskiewicz punches continuously Katainen looks for (and eventually secures) a takedown, though not much is accomplished besides a series of heavy slams.
The second round sees more ferocious striking from Juskiewicz who secures the better of the standing exchanges including a strong lead hand that bloodies the face of , but is taken down in the first portion of the round. Katainen is not content to sit in half guard, however and makes a transition attempt which succeeds, albeit only briefly before she is placed back within the half guard of Juskiewicz. Katainen hears the roar of the crowd and unleashes a heavy torrent of strikes from the top in cadence with the rhythmic clapping of her home crowd.
Vuokko Katainen secures the victory by way of Unanimous Decision.
Timo Suihkonen, Team Botnia Punishment vs. Mak Mwanza, Englanti
Mwanza opens up with kicks to the leg of Suihkonen and excellent movement. Suihkonen sees an opening for the takedown and seizes the initiative. Suihkonen keeps the top position for the remainder of round one, giving Mwanza grief every step of the way with solid ground and pound and top control.
The second round opens similarly to the first with Mwanza opening up with the stand up, leading to a takedown by Suihkonen, who grinds from the top, but is reversed by Mwanza.
The decision favors Suihkonen who maintained top control, despite a reversal late by Mwanza.
Mikko Ahmala, Oulun kamppailuklubi vs. Zulfikar Usmanov, Venäjä
The opening stanza begins with several striking exchanges, notable amongst these exchanges is a hard right hand from Ahmala and a vicious standing elbow from Usmanov. Ahmala scores a takedown with his back against the fence, but it proves to be his undoing as he succumbs to a knee bar near the end of the second round.
Tommi Marttinen, TEF vs. Murat Sabanov, Venäjä
Tommi Marttinen exits the gate with an impressive standing onslaught, catching Sabanov and forcing him against the cage. Sabanov returns fire but falls to a takedown from Marttinen. Marttinen spends a small amount of time in half guard, continuously searching for a new position. After a scramble against the cage in which Sabanov regains his feet, Marttinen reaches over the shoulder and wraps an arm around the Russians throat and strangles him into submission via rear naked choke at 2 minutes and 14 seconds of the very first round.
Aleksi Mäntykivi, TEF vs. Anton Telepnev, Venäjä
Mäntykivi and Telepnev exchange heavily on the feet, Mäntykivi throwing a spinning kick that leads Telepnev to contemplate initiating a ground fight, which he does with a toss from against the fence which is reversed by the savvy Finn, who finds himself in top position.
In round two Mäntykivi finds himself again taking down the Russian, Telepnev, who is bloodied by the ensuing ground and pound. Mäntykivi fends off an armbar with a beautiful rolling transition. The two scuffle, changing positions and Telepnev lands a few shots before again finding himself on the bottom.
Round three finds the fighters both bloodied and marked, a testament of their ground battle. Mäntykivi slams Telepnev, but he cannot escape Telepnev's armbar attempts forever. Mäntykivi finds himself a victim of a vicious armbar, and Telepnev finds himself the victor by way of submission.
Jaakko Väyrynen, Team East Front vs. Niklas Bäckström, Allstars Training Center
The round opens with a clash of shin on thigh, namely the shin of Bäckström on the thigh of Väyrynen. Bäackström continues with several kicking manuevers, including several impressive (although misplaced) front kicks, streaming together various combinations. Bäckström darts in and out, quite effectively controlling the distance. Bäckström pressures Väyrynen into the cage, and begins to throw heavy knees from the Thai clinch. After a smashing tirade and a chase around the ring Väyrynen attempts a single leg, but Bäckström turns the corner and puts Väyrynen to the mat. From within Väyrynen's guard Bäckström throws an elbow which appears to cut Väyrynen. The fight is stopped as the referee asks the doctor to examine the wound. During this intermission Bäckström asks the crowd for their support, and they answer. The fight is restarted with Bäckström in the top position. Bäckström leaves guard to apply more force to his punches on a downward swing and receives an upkick for his troubles.
Round two opens on the familiar scene of Bäckström throwing an array of kicks. Väyrynen attempts to close the gap between him and the longer fighter and eats a stiff knee which sends him to the mat.  Bäckström follows, then thinks better of this idea. Smelling blood he allows Väyrynen up, at which point Väyrynen backs away, shaking his head and saying 'No, I can't see'. The match is called to an end by way of referee stoppage.
Backstrom wins by second round stoppage.