Glenn Sparv won a majority decision over fellow Finn Kai Puolakka Saturday nigh at the Vantaa Energy Arena in Helsinki.  The headlining Cage 25 bout was the only title bout and had the claim of top Finnish welterweight on the line.  MMAViking.com caught up with the Team Hobbit MMA / Team Quest fighter who proudly wears the belt, and not too much else.  See the interview below.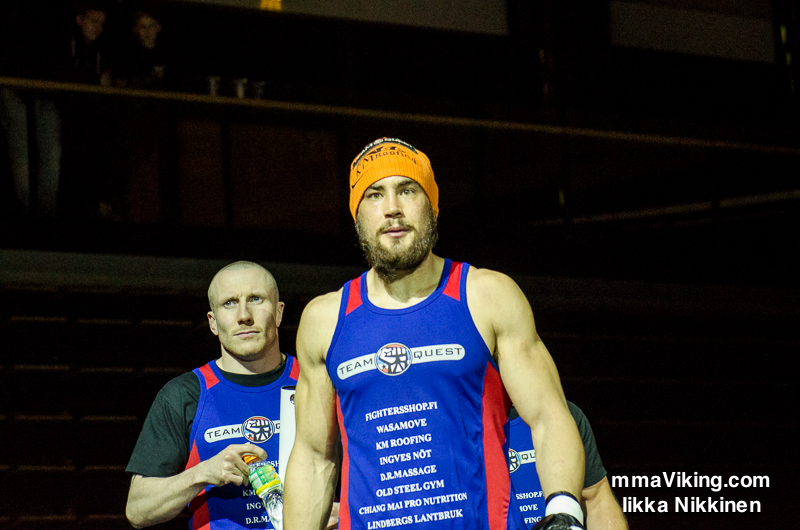 Interview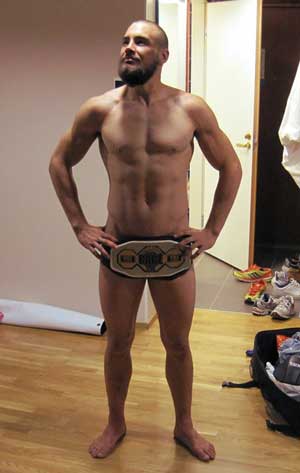 What did you think about your performance?
Not the best performance of my life maybe or maybe it was but Kai did a good job defending my take down attempts and other stuff i tried to do. Its always hard to have a 10+ performance against a good opponent
How does it feel to win the belt?
For some people its probably just another win but for me it means a lot to me personally, not just the title, but competing against the nr 1 welterweightt in my home country and in the best organisation around here. Feels good to test my skills against top guys.
When the referees read the scorecards, did you think they were going to announce your name?
Maybe a part of me was thinking Yes I won, but a part of me waited for the judges.
Anyone you would like to thank?
I would like to thank the hobbits Petri Pihlja-aho and risto koivisto for everything they do when im home here. And big thanks to Team Quest Thailand and Dylan Fussell for teaching me some shit.