Jussi Halonen (4-3) will look to kick-start his 2015 career with a win on the upcoming Cage 29 card going down in Helsinki on February 28th.  The Hardknocks Helsinki fighter tells MMAViking.com "2014 was a bad year, but 2015 will be different" during his visit to Stockholm to catch the historic UFC in Stockholm.
"I started wresting when I was 4 years old." says the strong and scrapping Finn that says he is yet to show what he is capable of in cage.  "I'll show I'm force to be reckoned with" says Halonen that is now in a new environment training with the Hardknocks team including the Vanttinen brothers and Mikko Ahmala under the leadership of coach Jaakko Dahlbacka.
The welterweight turned pro in 2011 and put together a two fight winning streak.  Since the initial streak he has had mixed results, losing three of the next four fights in 2012 and 2013.
2014's highlight was a victory, but it wasn't pretty or easy.  Frodi Hansen kicked Halonen when he was still on the ground at Cage Warriors 66 in March, disqualifying the fighter giving the Finn a win.  "Bad luck, but it was a good fight." says the fighter, that is still blurry about recalling the night's events after the blow to his head.
A broken foot at the end of 2014, ended the year for Halonen keeping him limiting him to only one bout in the year.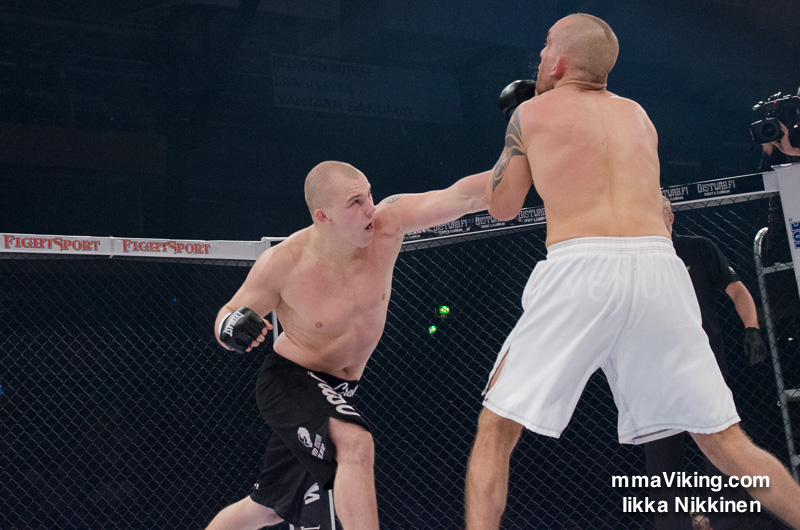 Halonen will be facing Frenchman Laurent Berangerin (4-2-0) at Cage 29, who has already notched a win against teammate Ahmala back at Cage 26.