MMAViking.com is live in Stockholm to cover International Ring Fighting Alliance (IRFA) 6.0 tonight.   IRFA 6.0 card again features  three top Sweden-based champion strikers in David Teymur, Daniel Teymur, and Sadibou Sy.  Allstars Training Center's Oliver Enkamp, plus Pancrase Gym's promising Karl Albrektsson who are the young stars that have also been featured on previous IRFA, also take up slots on the 8 fight professional card.  Grappler Iman Darabi from DIF Kampsport is also looking to build on her November debut win, by taking her first pro bout on Swedish soil against Veera Nykanen who was set to make her pro debut at CWFC 64, but due to her opponent not making weight the Finn took the bout as an amateur bout.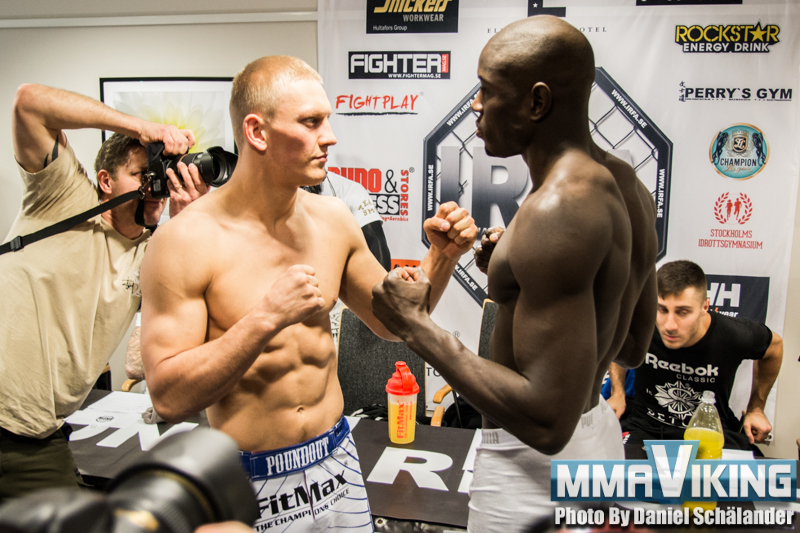 Live Results:
The fights have started at 17:30 local time here in Stockholm, and we are expecting close to capacity here with 1,300 – 1,500 fans according to the promotors.
Amateur Matches:
Martin Nano vs Johan Nilsson – 65,8 kg
Martin Nano won the fight by TKO in the first round (4:58).
Kornel Sidorski vs Alexander Johnsson – 83,9 kg
The Hilti STHLM fighter won by decision.
Pro MMA
Iman Darabi (1-0-0) vs Veera Nykänen (0-0-0) – 50 kg
Round 1 : Good right hand from the Swede early that seems to stun the Finn. Another right hand, and it looks like the standup advantage for Darabi. Another take-down attempt is unsuccessful for Nykänen. A front headlock and knees from Nykänen as she does some damage. Both fighters seem relaxed. Nykänen is again working a takedown, but it is defended again and Darabi makes her pay with punches. The keep their distance and exchange kicks, but Nykänen flops to her back after an exchange. Darabi kicks a bit on the downed opponent to win the first round.
Round 2 : Darabi is using a right hand to keep the GB Gym fighter at distance. Nykänen seems to be a bit hesitant in the exchanges, but for the first time the Finn is able to finish on a double-leg takedown. Darabi is up, and she lands a nice one, two combination to drop Nykänen who is now on her butt against the cage. The Swede is looking for a finish, but can't decide to go with punches or a submission. Nykänen is showing her toughness and battles to her feet. Intense action here in Stockholm. Big punches on top from Darabi, and now kicks to the leg of the downed opponent.
Nykänen gets back up, and takes a knee to the mid-section, and the round ends. Big round for the Swede.
Round 3 : Darabi pushes up Nykänen against the cage. The GB fighter is trying to find distance, but Darabi again is landing some big punches. Nykänen tries for a big headkick, but is countered and finds herself on her back. Iman is working from side mount and now landing some solid punches from top. The Swede is now taking full control of the bout. The fight goes back on teh feet, and Nykänen is going for a shot that can end the fight with headkicks high and low. Nice low kick from Darabi, and in return a nice headkick from Nykänen. Nykänen goes in for a shot as time ends. Should be a win for the Swede, who dominated in both the second and third round.
Darabi wins by unanimous decision.
Oliver Enkamp (2-0-0) vs Guram Kutateladze (2-0-0) – 73 kg
Round 1 – Kutateladze is looking for big shots, and Enkamps striking looks crisp, but it is the Swede goes for a take-down… but Kutateladze defends.  The Polish fighter lands a huge frontkick, shortly after being deducted a point for an infraction that looked to be a knee to a downed opponent against the cage.  Enkamkp looks set on tryin go get a takedown, but Enkamp almost gets caught in a submission but stays relaxed and the fight is back on the feet.   HUGE slam from Enkamp taking Kutateladze down by a massive takedown.  Close round, but could be a 10-8 round for the Swede with the 1 point deduction.
Round 2 –  The visitor lands another big headkick, but Enkamp is able to take the fight to the ground.  A little slam for Enkamp.  Not too much action here, until the Allstars Training Center fighter decides to unload on some punches.  Enkamp pounding his way to secure this second round, mostly with punches to the head staying on top throughout the second round.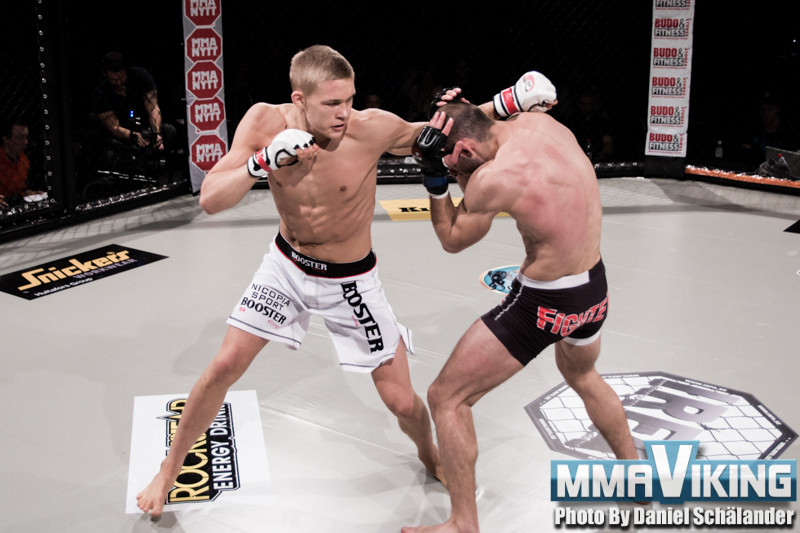 Round 3 –  The visitor looks to turn this fight around, but Enkamp is aggressive in pursuit of a take-down.  The Swede pushes Kutateladze against the cage, and uses a wizard to get the fight to the ground.  Enkamp with another huge slam, but Kutateladze pops back up to the feet.  A real improved game here from Enkamp.  30 seconds left yells Diego Gonzalez who is in the corner.  One last takedown from Enkamp to lock up the victory here in Stockholm.
Unanimous decision for Oliver Enkamp.  Enkamp does a nice backspin dance to celebrate.
Mohammad Badadivand (3-0-0) vs Giorgio Papunasvili (1-1-0) – 61,2 kg
Badadivand gets the fight to the ground early, but it is Papunasvili that looks to take advantage of it locking up an armbar. But the Allstars Training Center fighter battles out of it, and gets the fight back to the ground. Now it is Badadivand looking for his armbar… and he gets it! Badadivand at 1:59 in the first round.
David Teymur (0-1-0) vs Veselin Dukov (1-0-0) – 70,3 kg
Round 1 : Dukov is dead on getting a submission, and he is dropping to the ground to try and get Teymur to make a mistake. Teymur is on top, and the visiting fighter is looking for a leg-lock…. and the Swede fights for his life jumping out. Teymur cracks Dukov with a headkick, but it gets back down to the ground… again, Dukov goes for a leglock, but the Allstars fighter defends… and the fight is back on the feet. Dukov threatened more with submissions in this close round.
Round 2 : Dukov is flopping to his back early, wanting the fight to go to the ground, but Teymur relaxes… even adds a moon walk, before landing some nice left hands. A nice low-kick, and now Teymur is chasing Dukov that flops to his back. Solid, but strange round for Teymur.
Round 3 : Dukov's takedown attempts are poor at best as he dives in legs first. Teymur doesn't want any part of the ground game, but Dukov won't engage. The Swede does get in some shots to win the third round.
David Teymur wins by unanimous decision.
Karl Albrektsson (2-0-0) vs Nordine Hadjar (3-0-0) – 93 kg
The two start out swinging, but nobody has the advantage. Albrektsson takes a finger in the eye… and there is a break in the action. Nice double-leg from the Swede to get on top. A nice right hand….. wow, more right hands to the face, again, and agin, and again… it's over. Albrektsson knocks Hadjar out on the ground. Monster performance from Pancrase Gym fighter Karl Albrektsson. Find ends at 2:29 in first round.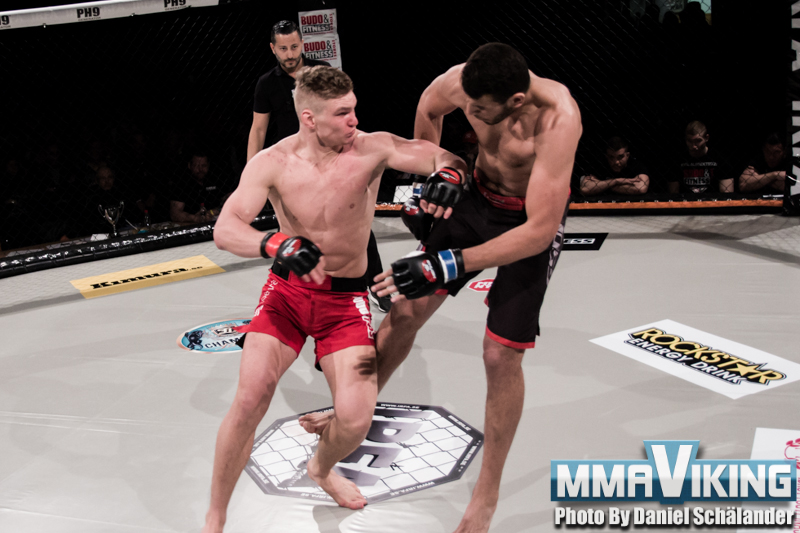 Daniel Teymur (1-0-0) vs Alexander Denic (1-2-0) – 68 kg
Two local fighters with lots of fans. Nice kick from Denic, but it is Teymur with the a big punch inside and it drops Denic who is taking more and more punches. Teymur is swarming and brings it to an end as the referee jumps in. TKO 1:01.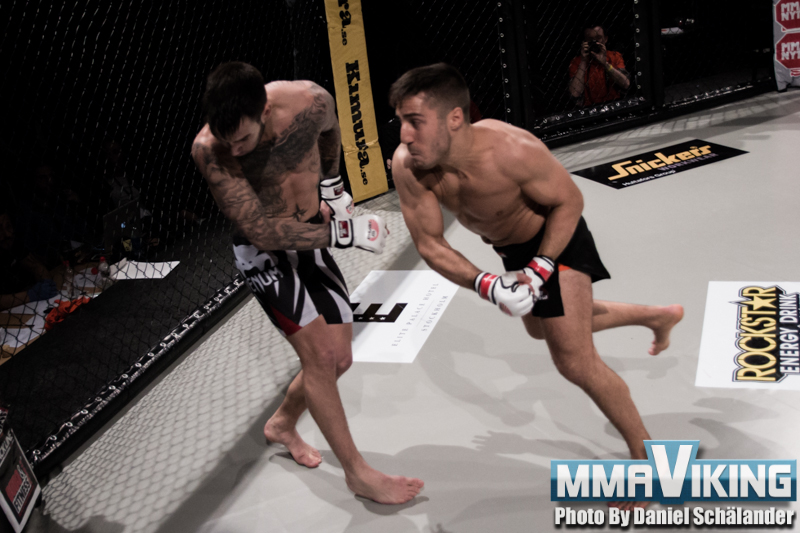 Sadibou Sy (1-0-0) vs Oskar Piechota (3-0-0) – 83,9 kg
Round 1 – The main event is here! The crowd starts chanting Sadibou. Sy seems relaxed, and starts wtih a frontkick. One, two punch from Sy that uses his jab. Good lowkick from Piechota. Sy defends the take-down nicely, and the Polish fighter is trying to get it to the ground, but Sy keeps defending with an overhook. Crazy grappling exchange as Piechota goes for a kneebar, and Sy frantically jumps out of it. "Oskar" is the chant now, and this place is going crazy. Sy tries a right kick, but Piechota catches it and drives Sy to the cage for a takedown. Piechota is pounding away in full mount… and it might be stopped, not Piechota goes for a triangle on top… but the bell rings.
Roudn 2 – Sy is getting the better of the exchange, and looks recovered after the beating at the end of last round. Piechota looking for a take-down that goes awry, now it is Sy on top raining down punches. Left hand, and another left hand… Piechota goes for a trianble but takes a big left hand. Another big left hand to the downed opponent. What a crazy fight here, now it is back on the feet after Sy loses position. Now Piechota gets a takedown and has back, but Sy turns it around and is on top… but Piechota locks on a triangle, and it might be over. Sy taps. Piechota wins by submission… and that's a wrap.