Tonight MMA Galla visits Nykøbing Falster in southern Denmark for the first time. The show features 8 amateur bouts and 3 pro bouts, with the main event of the evening being a heavy weight match-up between Nick Barnø (5-2) and Luke Morton (3-5).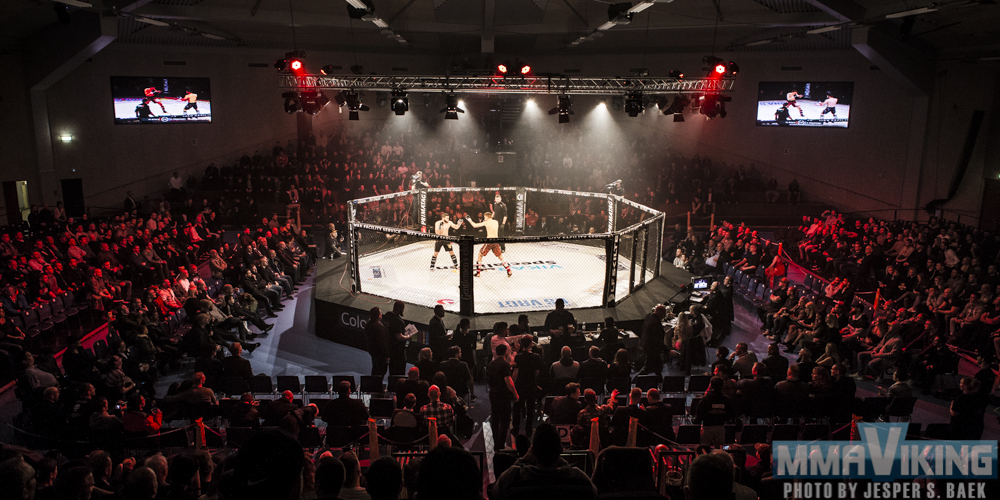 MMAViking is live at the venue and will be posting results and pictures throughout the evening. Stay tuned for updates…
Fight card and results
Amateur bouts (expected to start at 19:00 CET)
– Aslan Magamadov (NO) defeats Mikey Ølholm (DK) – decision 3-0
– Kim Phan (DK) defeats Nicolai Ditlev Christensen (DK) – decision 3-0
– Inge Paulsen (NO) defeats William Werenskjold (NO) – TKO round 2 (tap out to punches)
– Navid Shahi (NO) defeats Nicolai Wie (DK) – KO round 3
– Niels Buch Jensen (DK) defeats Robin Bruland Engeset (NO) – TKO round 1
– Martin Aagaard (DK) defeats Odd Martin Engen (NO) – decision 3-0
– Erhan Okuroglu (DK) defeats Simon Sloth (DK) – TKO round 1
– Sharafmal Sediqi (DK) defeats Martin Yasin (DK) – decision 3-0
Pro bouts
Matthias Freyschuss (SWE) vs. Mark O. Madsen (DK)
Round 1
Madsen looks relaxed and lands a big right hand bomb immediately. A barrage of punches to follow-up and a left. Freyschuss shoots in to slow down the momentum but the Dane locks up a standing no arm guillotine and literally lifts the Swede in the air until he is unconscious and drops him to the floor once the referee agrees there isn't anything left. Matthias crashes to the mat, not knowing what happened to him. It is all over at the 24 second mark.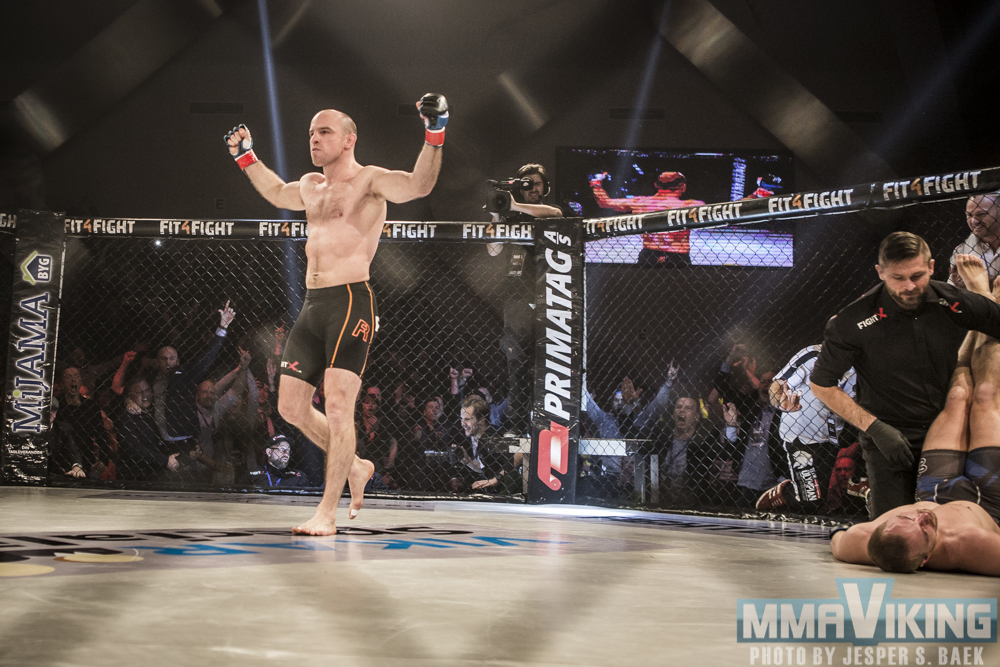 David Jacobsson (SWE) vs. Thomas Jessing (DK)
Round 1 – Jessing measuring the Swede as he comes in slowly with his southpaw stance, but Jacobsson choppping away at that front leg that is already red. Another kick! The Swede is coming in with an ice strategy to take out the power of what looks to be a much bigger opponent. Now Thomas moves it to the ground to avoid more damage on the feet. Both fighters relaxed. Thomas still has a body lock here, but it moves to the feet and David turns the Dane against the cage. Now a body lock from Jacobsson that briefly gets the fight to the mat, an now gets back. The Halmstad MMA fighter is very impressive so far on this short notice fight. Another take-down to the ground for the Swede that moves briefly into full mount. Jessing reverses right at the bell. Solid round for the Swede.
Round 2 – Jessing immediately closes the distance and snatches a body lock, but nicely countered and Jacobsson lands some good body blows from the ground. Thomas taking control here with good top position, and looking for submissions of his own. Two minutes left, and David in half guard. The fight is up on the feet with one minute left. More kicks from the Swede, and Jessing trying to catch one… bu tnow shoots in for a double-leg of his own. David going for an omaplata and lands some good elbows form his back. Close round, and I would guess the judges have this one even going into the third.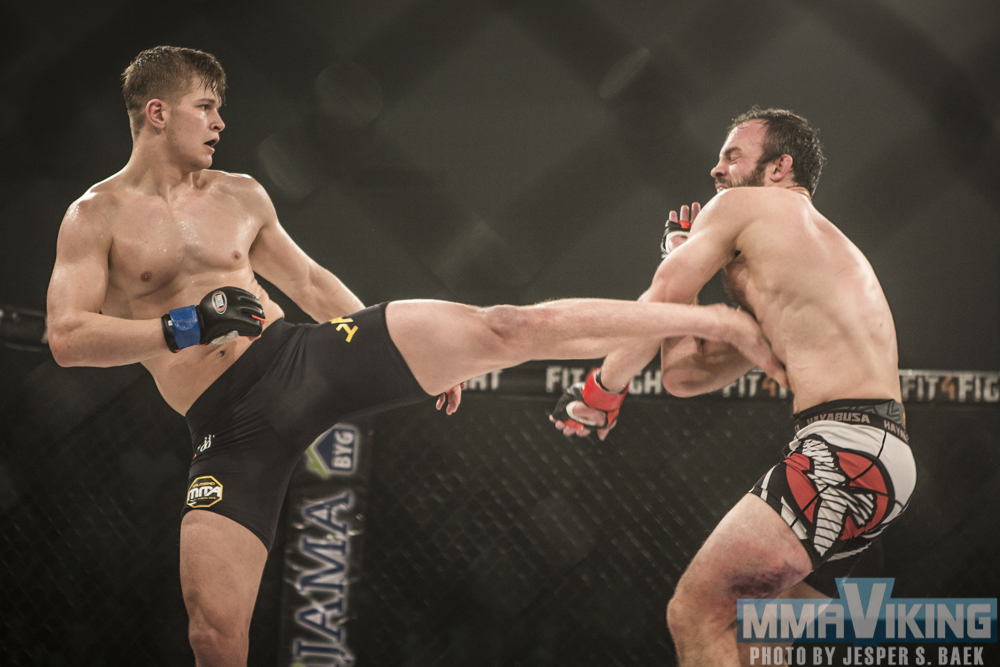 Round 3 – The two hug to start the third to show respect of the 10 minute battle so far. More leg kicks from David, and that front leg of Thomas is just destroyed. Now the Swede goes around on the downed fighter and takes back. Good scramble for Jessing that is now on top. A near reversal for David, but Jessing back in the legs. Only 40 seconds left now and Jessing has a cradle. Last second scramble leaves Jacobsson on top after a failed guillotine attempt from the Arte Suave fighter. Coach Alan Carlos is proud of his young fighter that gave it his all. Good, evenly matched scrap here. Not sure how the judges will see this last round. The damage was all from Jacobsson, but Jessing was on top most of the time. The judges give it to Jacobsson by a split decision.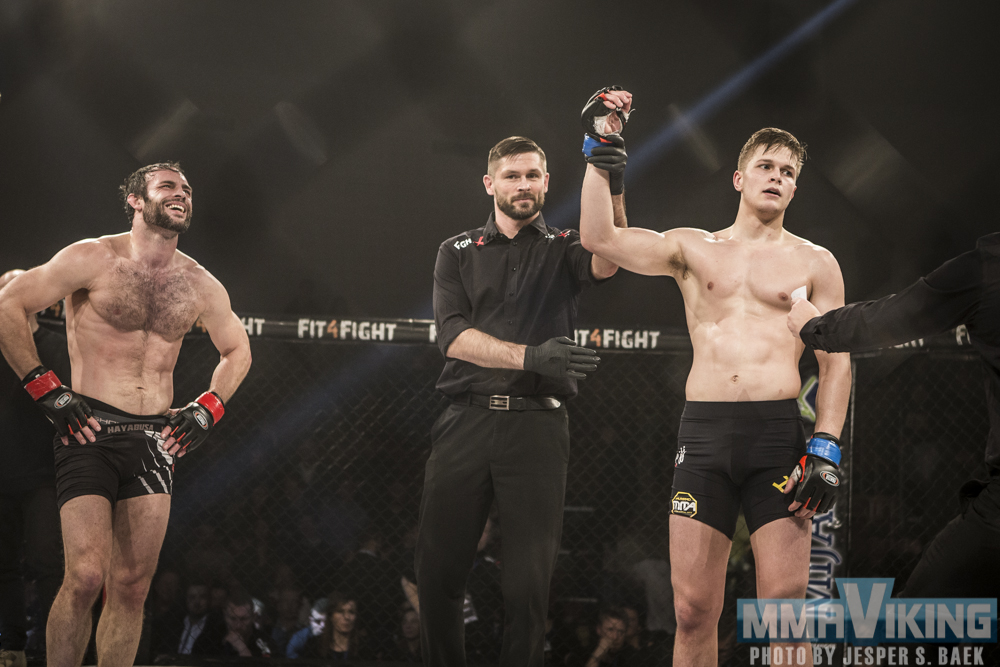 Luke Morton (ENG) vs. Nick Barnø (DK)
Round 1 – Barnø looks relaxed, but lands a nice left high-kick. Morton catches it and tries to get it to the ground, but the True Dane won't let that happen and spins out. Barno is physically in the best shape he's ever been in and looks quick. Now a right and left combo from Nick, and Luke drops the floor not wanting more… and it is all over! 48 seconds into the fight, and the main event is done.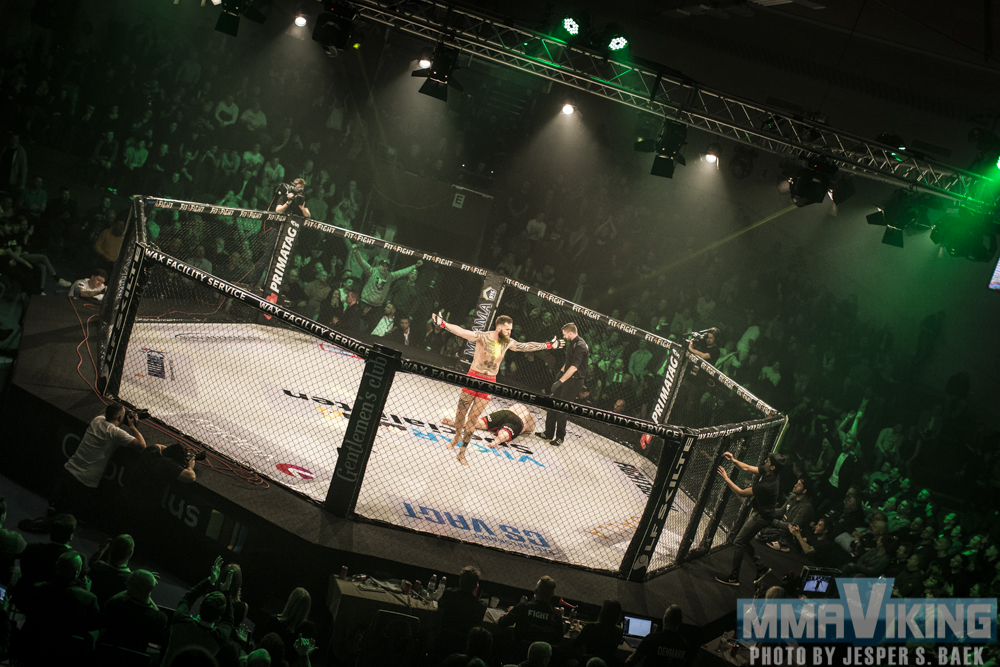 Note : Ryan O'Leary contributed to this article with pro fight play-by-play.