After a week-long pause, BRAVE CF 40 is back, taking place in Stockholm for the fourth event in a row. This time three bouts are featuring Nordic fighters, all of them being from Sweden.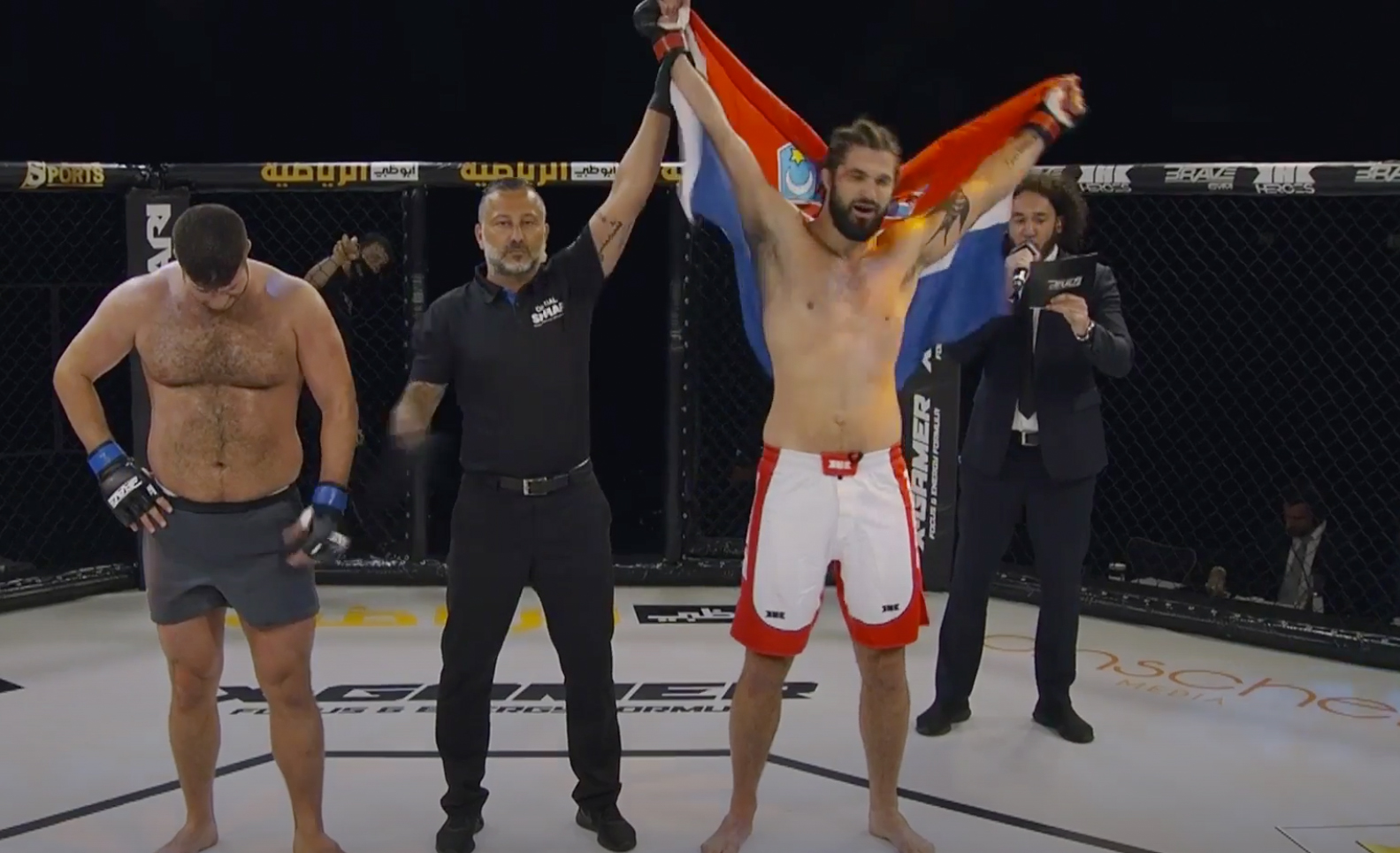 In the main event, the unbeaten featherweight prospect Mochamed Machaev (9-0) representing Austria takes on Shoaib Yousaf (7-1) from England at 145.
In the co-main event, the Swedish light heavyweight Anton Turkalj (5-0) faces Ibo Aslan (8-0) from Austria at catchweight (98kg). These gentlement had their moment at the weigh-in face-offs, when the two turned to pose for the pictures and Turkalj stood infront of Ibo Aslan. After this, Aslan pushed his opponent away and the fighters exchanged words, almost engaging in a fight.
Prior to the co-main event, a welterweight bout takes place featuring the Swede David Jacobsson (7-2) and Corneliu Rotaru Lascar (7-5) from Romania. Lascar is currently on a 2-fight losing streak and will try to advance his career to 8 wins. Unlike Lascar, Jacobsson holds a 4-fight winning streak, with three of those wins as a lightweight.
Starting off the fight card, Zvonimir Kralj (6-3) from Sweden takes on Fatih Aktas (5-4) from Turkey in the heavyweight division. Kralj goes into the fight running a 5-fight winning streak, being all finishes. Fatih Aktas, who recently lost to another Swedish heavyweight Irman Smajic at BRAVE CF 37, will seek to avenge this loss by challenging Irman's countryman at 265.
Live Results
MAIN CARD – Pro Bouts
Zvonimir Kralj (6-3-0), Sweden vs. Fatih Aktas (5-4-0), Turkey – HW
Round 1- A good right leg kick for Kralj. Then Aktas just launches a left kick to the groin! A time-out is needed.  A long rest for the GBG fighter.  Back in action now.  The two start throwing down an a flying knee to the face from Zvonimir lands!  A spinning kick from Aktas, in a surprising move. Fatih just comes in throwing wide hammers and Kralj engages, but nothing big lands.  On the break, Kralj lands a kick to the groin.  Now Fatih needs time to catch his breath.  Big headkick from Kralj!  What action in this first round.  Now fighters move to the clinch and both fighters look like they can finish a body lock take-down, but don't and end up at the cage.
Round 2 – Kralj looking to kick early.  Even a spinning attack.  A low right kick lands on the knee, and Aktas does not want any part of it. He falls to his back and Kralj swarms moving on top for the TKO.  "Let's go guys" yells the Sweden based fighter.
Husein Kadimagomaev (6-0-0), Switzerland vs. Sven Fortenbacher (4-1-0), Germany – Catchweight (72kg)
Kadimoagovaev wins by TKO in Round 2.
David Jacobsson (7-2-0), Sweden vs. Corneliu Rotaru Lascar (7-5-0), Romania – WW
Massive right kicks to the leg for the Swede.  Lascar tries to land, but he is so much shorter, David just backs up.  Another right leg kick, and a spinning kick to the body.  Another right kick, and it is all Jacobsson!  One to the body and Corneliu doesn't want any more as he slumps against the cage getting a few more shots before the referee jumps in.  TKO for the Swede!
Anton Turkalj  (5-0-0), Sweden vs. Ibo Aslan (8-0-0), Austria – Catchweight (98kg)
Round 1 – A few light kicks from the Swede, then just a hard and nasty kick from Aslan that spins Anton around.  The intensity is in the air in this showdown.  In the body lock.  Anton misses a huge elbow and lands on the mat, and now a big shot lands for Aslan.  A throw from Ibo that he almost finishes.  A very evenly matched bout here.  Big elbow for Ibo, but Turkalj in tight into the clinch.  Ebo lands again and now on top.  Blood out of the Swede's nose.  The GBG fighter gets to his feed and is pissed off… and lands a barrage of punches at the end of the first.  Wow.
Round 2 – Anton coming out strong to start the second, then a crushing kick from Ibo that spins Anton to the ground and into full guard.  Some good shots from Aslan, but Turkalj lands a few himself from the bottom.  Anton threatens with a submission, and now the two fighters stand.  Ibo looks tired… and slowing down quickly.  Anton senses it and rushes in for body lock take-down and just starts raining down punches.  Aslan tries to get up, but Anton throws in a rear-naked choke and brings it to the ground for a finish.  Anton goes crazy yelling at everything and everyone, as his corner holds him back.  Winner by submission Anton Turkalj at 1:57 seconds.
Mochamed Machaev (9-0-0), Austria vs. Shoaib Yousaf (7-1-0), England – FW
Machaev wins by decision.