Olympian Fight Night 1 goes down tonight at KB Hallen. It is the debut of the new organization and the card is built around the headliner between Olympic silver Greco-Roman medalist Mark O. Madsen (7-0) and Danish boxing star Patrick Nielsen (0-0) making his MMA debut.
Get your live results here of lots of Norwegian versus Danes, followed by photo galleries of the pro MMA bouts!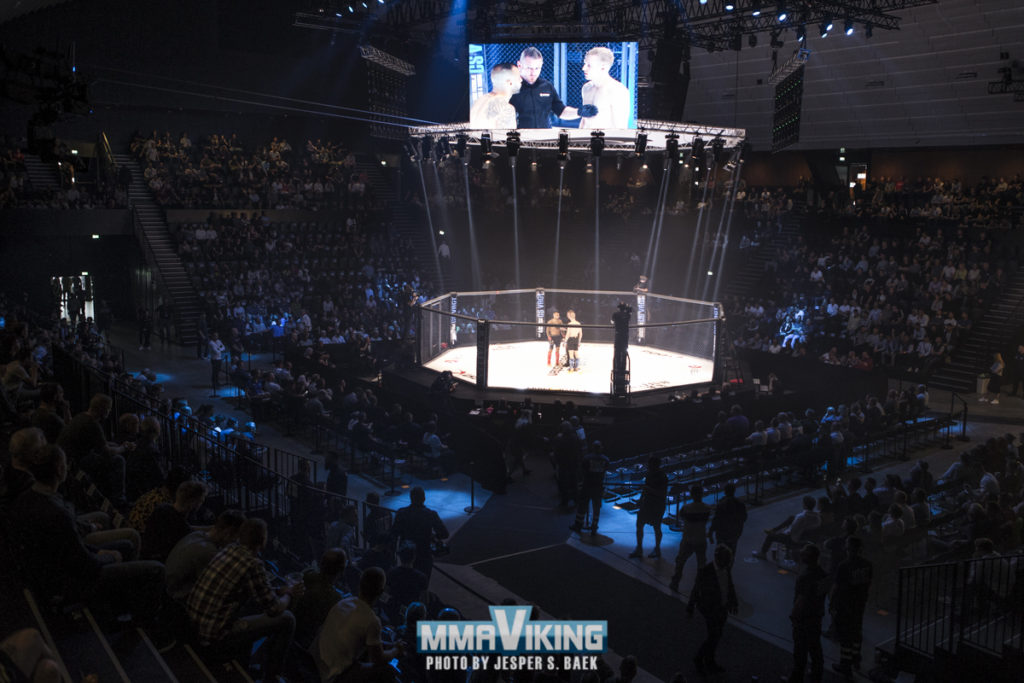 Pro MMA Live Results
Omid Hussein vs. Zezva Kerashvili
Result: Hussein wins by using wrestling and viscous ground and pound from the top.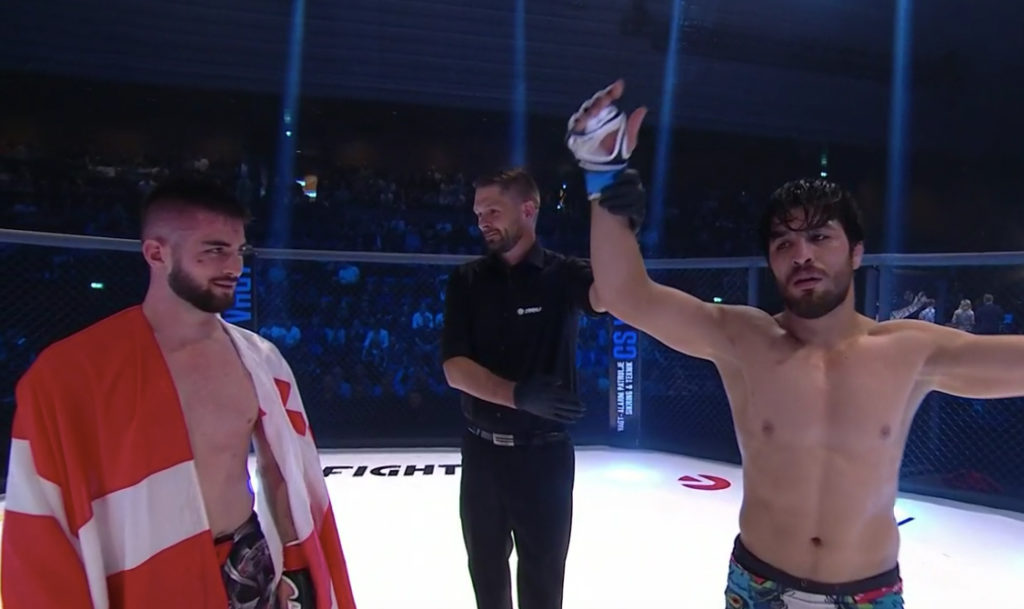 O. Mandt Johnsen vs. Carlos Zamora
Result: Johnson from Frontline Academy shows some crisp and clean striking to win by unanimous decision over a game Zamora.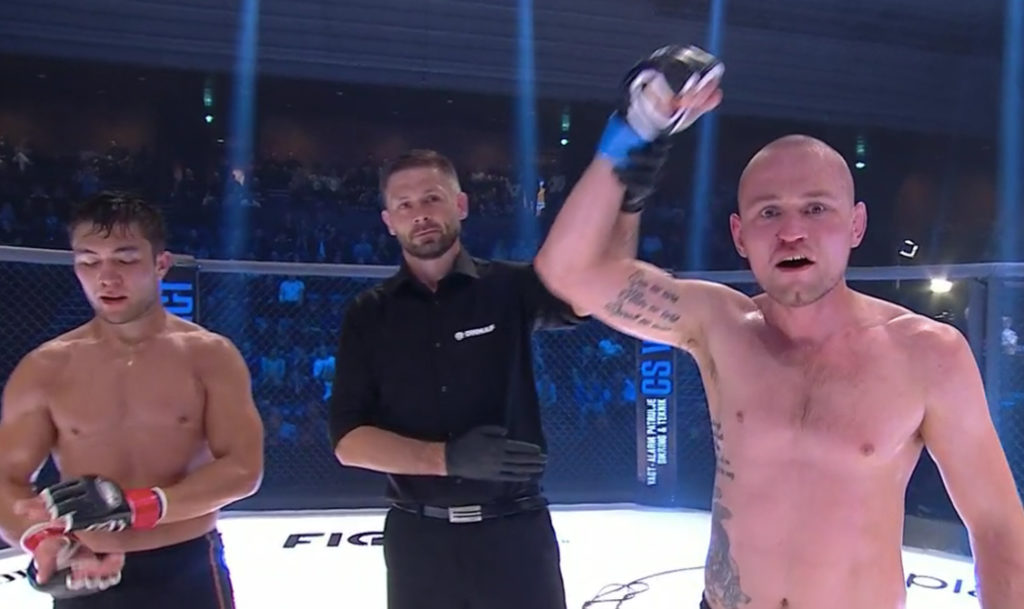 Andrey Zubenko vs. Joachim Tollefsen
Round 1 – Tollefsen starts out with kicks, but Zubenko goes to close the distance and ties up the Norwegian. A left kick to the liver from Andrey and Joachim is hurt. Joachim is on his back getting punched and in trouble, and throws up a triangle to defend… and the LIGHTS GO OFF! It is dark!
They go to the feet to restart, and a while exchange with Joachim landing a punch, then Andrey with a summersault with the Norwegian landing on top. Andrey with a kneebar attempt, but Joachim survives.
Joachim defends a take/down with elbows and elbows and more elbows for damage at the end of the round.
Round 2 – A body lock to a take-down puts the Slenderman in full mount, punching away, and now elbows. No where to go, and this should be stopped, but Andrey at the last second slips under the full mount, going for a kneebar.
But eventually, Joachim is in full mount again! Elbows and punches. But the Frontline Academy fighter is getting tired, and cannot finish, with Andrey wrestling to get control at the end.
Round 3 – Jack Hermansson calms down Joachim before heading out to the third round. Zubenko trying to land that same body kick, but not successful so far. A good right hand from the Ukrainian fighter. In the exchange Joachim ends up on his back, and comfortable there, and Zubenko jumps in looking for another kneebar, or ankle lock, but can't get anything.
Result : Majority Draw (likely 10-8 for Tollefsen in the second, and 10-9 for Zubenko in 1 & 3). "I think I broke my rib in the first round. Not the result I wanted. I thought it was a close fight, but I felt that I won. It was a bad fight on my part." says Tollefsen.
Elijas Paknys vs. Mikkel Vestergaard Laursen
Round 1 – After a few strikes, it is Laursen with a body lock and throw to put Paknys flat on his back. Laursen is just massive, with muscles bulging from everywhere, but has to work hard to keep Paknys down as he finds his way back to his feet several times before being grappled back down. This time Elijas is back up, and he comes with fire with crisp combinations to end the round, and even a nice left high kick. Laursen trying to catch his breath.
Round 2 – Elijas comes out with nice strikes to start, but again Laursen gets the body lock and throws the Frontline fighter to the ground. Mikkel lands a few punches before Elijas lands a few slick combinations. Laursen trying to finish a single leg but is just getting elbowed to the side of the head over and over and over, and over again. Looks to wobble the Dane, and now he is getting hurt by punches. A very tired-looking take/down attempt from Laursen that is tired. Good knees from Elijas sensing the end, but Mikkel drives forward to try to get a take-down. The Frontline fighter lands knees, punches, and a spinning punch, and another punch and a knee in the clinch, and another knee, and an uppercut. Laursen's face is a mess.
Round 3 – With the doctor looking on, the Arte Suave corner calls a stop to the fight. "I wanted to make him tired, and finish him." says the winner by TKO Elijas Paknys.
Ole Magnor vs. Mikkel Kasper – Co-Main Event
Round 1 – Mikkel starts out with a good low kick, but Ole moves to clinch. Mikkel with a throw attempt, but Magnor rolls through after fighting out of a guillotine. Magnor briefly takes back looking for a rear-naked choke, but can't get it. A few elbows to the body from guard from Ole, as Mikkel lands some elbows of his own to the head from the bottom.
Round 2 – Both fighters are using effective kicks, with Kasper going lower to the calf. A good showing for both and they exchange hands with both landing clean combinations.
The Dane decides to take it to the ground after dodging a combination of elbows that miss, and gets the take-down before moving to put a leg in as the Norwegian stands up. Now Ole on top, then Mikkel goes for an armbar, but Magnor flees as Mikkel takes back. What a grappling exchange, and now Ole back on top with 30 seconds left!
Round 3 – What a well matched fight, and the two hug to show appreciation. Kasper lands a clean strike to start, then Ole moves to the tie-up. Nice throw from Dane and on top with over 3 minutes to work. Magnor is able to reverse the position and on top. Mikkel is up, and the two are tired. The Dane again with that little hip toss take-down and landing some punches from side mount before Magnor reverses the position again –yes, this just happened again. 40 seconds left and Magnor looks like he will end the fight here in full guard landing some punches.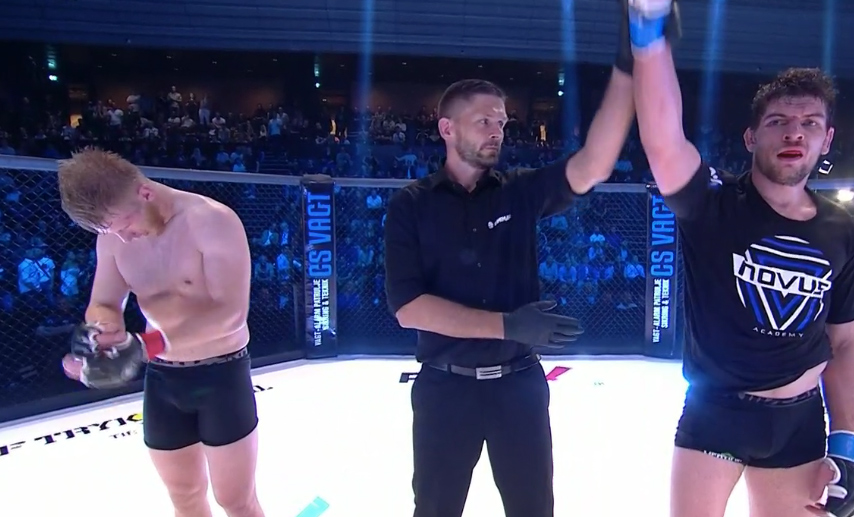 Result : Ole Magnor by split decision. "This was a war." says Ole.
Mark O. Madsen vs Patrick Nielsen – Headliner
It is Nielsen that enters the cage first, but the crowd looks to be behind Madsen. And, yes, the crowd is behind Mark and his entrance to ACDC's Highway to Hell. Boos are headed Nielsen's way during the intro. It's 12:30am, and it is on.

Round 1 – An immediate take-down for Mark that lifts Patrick over his head with a double-leg and slams him to his back. The boxer gets full guard, and locks his feet, and looks only half lost on his back here as he eats a few elbows. But Mark moves to full mount and raining down punches, but no serious damage.
Full posture up, and a few good rights for Mark, and now takes back, but moves in for a guillotine instead. Patrick gets his neck at an odd angle, but Mark adjusts and gets the rear-naked choke for the finish! A tap from Patrick, that is smiling to cover the disappointment! Mark celebrates by throwing his mouthpiece.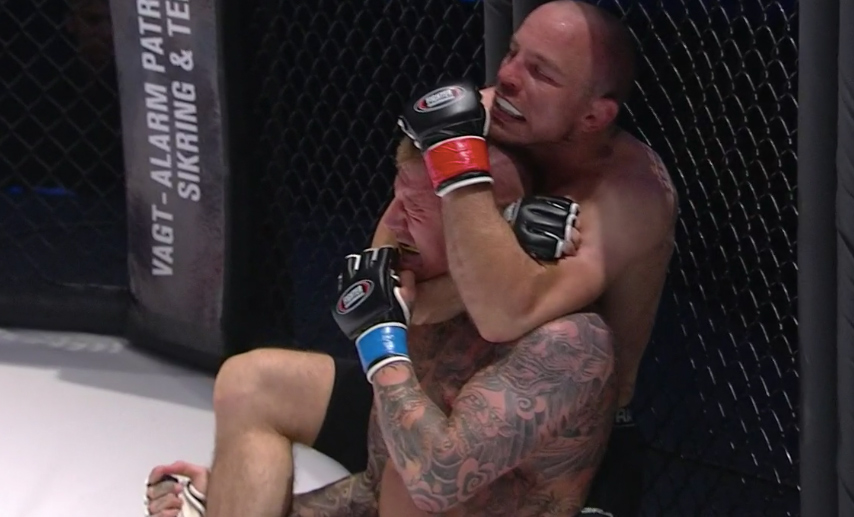 Results : Rear-naked choke finish in round 1 for Madsen.
Note : MMA Viking's Jesper S. Baek is live taking pictures and giving updates. Photos coming shortly!