Superior Challenge is continuing to build its fight card for the May 3rd card at the Helsingborg Arena. Read the press release sent today about the rematch between surging Swede Matti Mäkelä versus Dane Joachim Christensen. Both fighters are ranked in the top 5 in the Nordics.
Press Release
Title Match at light heavyweight between Sweden and Denmark
Swedish Matti Mäkelä challenge Dane Joachim Christensen in a re- match and the title match in the light heavyweight at Superior Challenge X.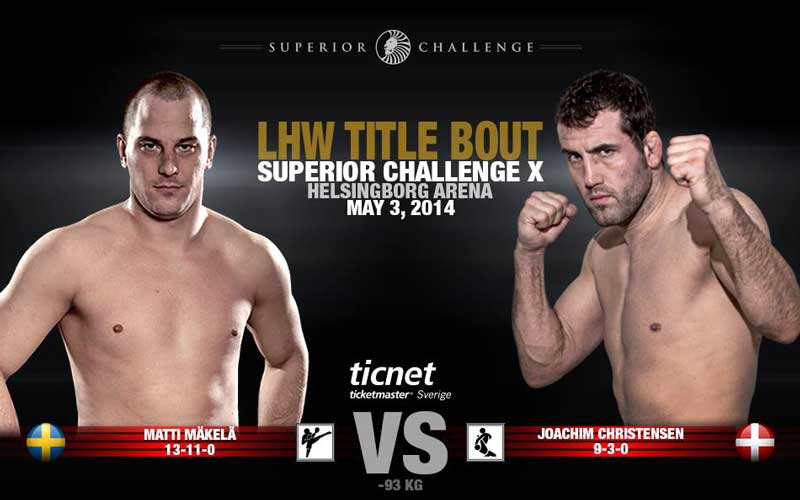 When these men first met two years ago in Denmark won Christensen via the verdict. Subsequently, Matti 13-11-0 had time for three matches and finished all three opponents and in one of those matches he excelled over an impressive win over James McSweeney. Since the last meeting, Joachim 9-3-0 gone two matches of which he lost the first against Markus Vänttinen won the other through a decision. The Swedish Pancrase fighter had his first MMA match back in 2004 and has competed in dozens of countries, from Brazil to Japan where he met with really tough opposition. Danish Arte Suave / Checkmat fighter debuted three years later than his opponent and has participated in half as many matches. Mäkelä, who is ranked at 4th place in the Nordic ranking and on-site 55 in the world rankings seeking revenge by a second meeting with Christensen, even though he is ranked at 5th place in the Nordic ranking and on-site 92 in the world rankings. Copenhageners other hand, has a black belt in BJJ and has been the former Scandinavian champion and is the reigning Danish champions in the sport .
Babak Aghavali , CEO Superior Group International :
– We have been trying to get this re – match since 2012 but due . for various reasons it has not been possible until now. It is a traditional match between Striker vs. Grappler and an international match between Sweden vs Denmark . What makes the game even more interesting is that it is also a title belt at stake. Both fighters are humble athletes but you notice an apparent rivalry and sarcasm in their communication with each other. A European top match which is loaded with adrenaline and anticipation.
Experience the adrenaline full sports entertainment when Europe's largest MMA gala takes Helsingborg Arena with its tenth edition, Superior Challenge X on May 3.