Dane Mathias Lodahl stepped into the cage confident against Frenchman Suleiman Bouhata ready to headline UCL's debut in Denmark, but he left with his first loss and cuts and bruises on the back of his head in a controversial ending.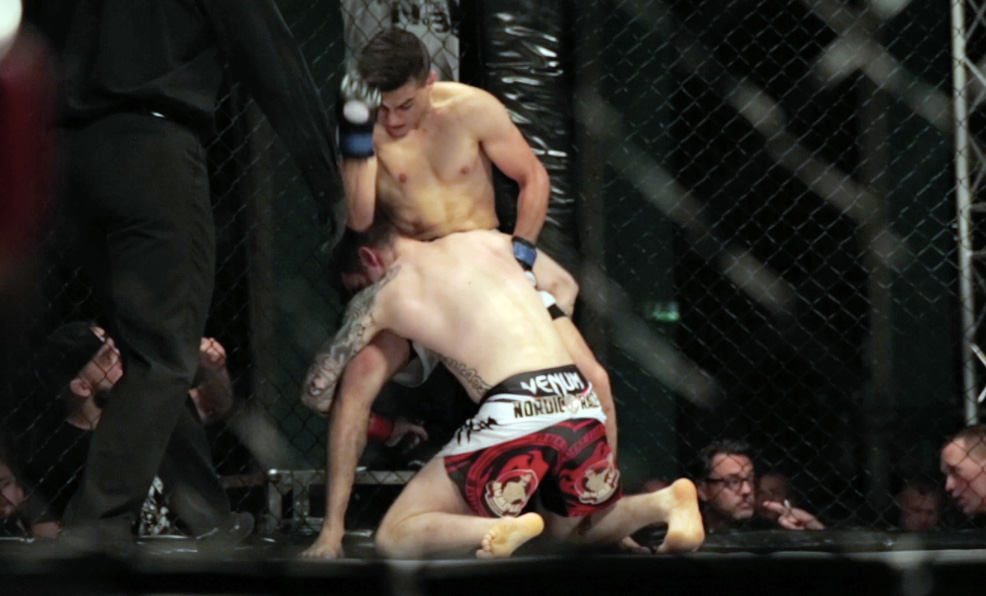 Lodahl looked to finish a single leg take-down against the cage early in the first and Bouhata used a series of elbows leading to the confusing and rowdy end of the fight.
"I took a lot of 12-6 elbows to the back of my neck and was screaming to the Judges that they where illegal" says Lodahl to mmaViking.com shortly after the bout, where a protest will be submitted to the Danish MMA Federation (DMMAF). "We're filing a complaint to make it a no contest".
Rumble Sports coach Tue Trnka comments on the fight ending sequence:
"I've known René Fuentes for years, and he's a good guy. The referee has a very difficult job, and it comes with a great deal of responsibility, too. It's not easy to always deliver the goods, but this was in my opinion not a small detail. I can't really explain, why he didn't step in, as it seems like the whole arena was yelling about the illegal elbows. Mathias was tagged repeatedly by obviously illegal elbows, as he had shot in for the takedown. Some were clearly from 12 to 6, and others were landing directly to the back of his head. Mathias has big lumps and cuts on the back of his head from these illegal elbows, which the doctor has confirmed. We all make mistakes from time to time, and of course we'll send in a complaint to the DMMAF about it. It's a very unfortunate situation, because everyone looks bad."
While Bouhata maintains his elbows were legal, he is one of the few that thought so in the Copenhagen venue. "I've seen the video of it and its clear that they are illegal" comments Lodahl, after taking time to look at the film. "It hurts a lot to see a fighter get treated this way by his opponent and referee." continues Trnka that will be submitting the protest to the DMMAF.
Slomotion Video of Elbows
Stay tuned for updates regarding the protest.