Mats Nilsson (11-4-1) was just seconds away from submitting Omari Akhmedov (13-2) Saturday night in Las Vegas, as the Swede tightened a d'arce choke as time ran out in the three round affair.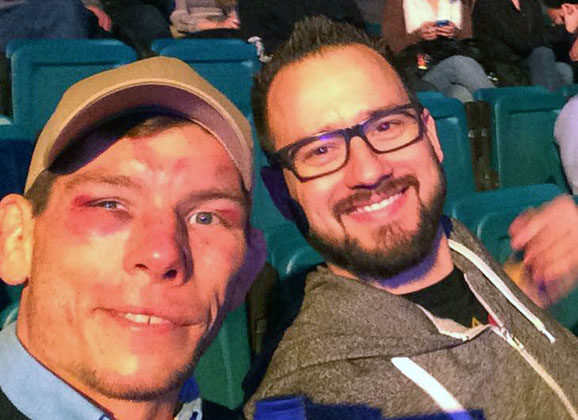 "I figure I needed about five more seconds. Once I transitioned to the d'arce I could hear him choking up. But then again, had he known there was only 5 seconds left he would've probably hung in there, just as he did now. Too little too late. Easy as that." says Nilsson to mmaViking.com before he catches a flight back to Scandinavia.
Fighting My Heart Out
"I fought my heart out, went after it and tried to win throughout the fight." says the the first-time welterweight about his 15 minute bout that had both fighters landing solid punches and get takedowns.
"He followed the gameplan to a tee, remained cool, weather the expected early storm and kept going for the kill." says coach Tue Trnka of Rumble Sports. "We wanted to pressure Akhmedov, drag him out to the deep waters and drown him, and Mats succeeded. He made the hard-hitting Dagestani flee and escape instead of facing us toe-to-toe, and Akhmedov managed to win a decision by getting takedowns and holding on. Fair play to him, as he won two rounds."
Winning Without Winning
The decorated grappler's confidence continues to rise as he rounds out his game. Coming into the bout, Nilsson was blowing kisses and giving high-fives as he made the way to the cage to the music of 1994 Sweden national football team (Sweden took 3rd at the FIFA World Cup) with Swedish hit "När vi graver guld i USA" ("When We Dig for Gold in the USA") in the background.
Looking back at the pre-fight song choice, Nilsson reflects. "Anyone born in the eighties or earlier will never forget that one magical summer of '94. Now after the fight there's almost some irony to it as I feel, in a way, that I walked away a winner without actually winning the bout."
Another Chance?
The Rumble Sports fighter stepped out of the Octagon with two losses, leaving in question if the UFC will give him another chance. "Burt Watson praised my professionalism afterwards. How I consistently kept showing up on time, on weight and fighting with my heart. "That's why I know I'll see you again". Other than that I haven't heard much.' says Nilsson about any indication on getting a second chance at welterweight from the organization that has been known to cut fighters after consecutive losses.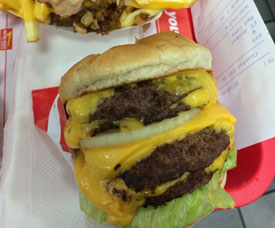 "It's all about the performance, and Mats delivered a cracking performance. I'm so proud of his drastic evolution, and I'm honestly not one bit disappointed." says the proud coach.
"Yes, we didn't get the W, but I don't feel we lost, either. Mats made him run and play the numbers game, instead of going for the finish. I loved every second of this trip." – Trnka
The Burger and Pizza Reward
As Nilsson revealed in the previous interview with MMAViking.com, the Helsingborg fighter was dreaming of burgers during his weight cut and looking forward to some greasy foods post-fight.  "Today's selection of grease has been modest. After the 4by4 at in and out last night for both me and coach Trnka, we felt saturated with grease. So we went for a fairly grease-less breakfast of steak n' cheese omelet sided with some fruit and yogurt.  As we speak I've worked my way through a big slice of pepperoni pizza from Bonanno's – to make sure I meet my RDI of grease."
Nilsson was the lone Nordic fighter on the Las Vegas card for big UFC 182 card headlined by Jon Jones and Daniel Cormier.