Alexander Gustafsson continued his media tour as part of tomorrow's UFC Fight Night in Berlin.  Today, Gustafsson was part of the Q & A.  MMAViking.com was in attendance of the session where he focused on his next opponent Jon Jones.  "I will finish him" says the Mauler, who is still waiting for Bones to sign on the dotted line.  "I have a system when I train with my team and it's a winning concept, all I need to do is train harder this time." says the Swede however is set for the challenge.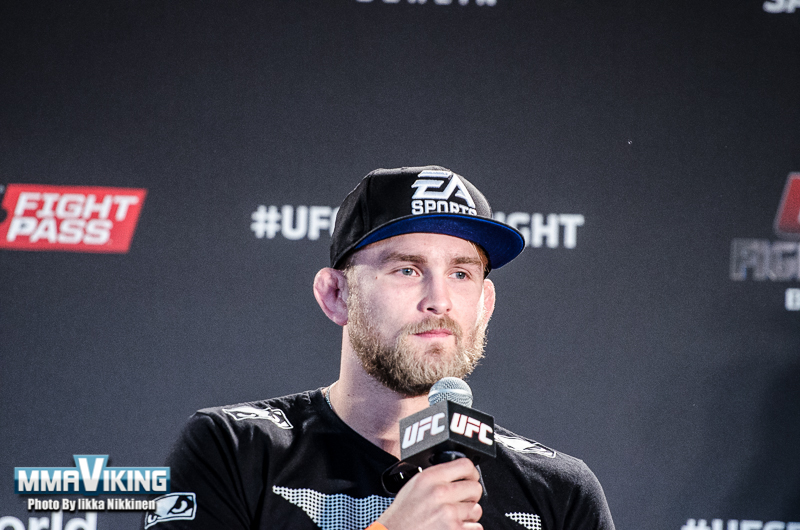 The Mauler continues to talk about the fight that he is still dealing with in his mind.  "I learned a lot from that fight and in my mind, I won that fight. I learned a lot and I'll push myself harder this training camp and keep pushing my limits."  Gustafsson talked about his tattoos, which indicate wins and losses in his career on his arm.  "I didn't put the tattoo after the Jones fight, it took me a while to get over that. When I get home I'll get working on it."
"I wouldn't say I'd be disappointed if I couldn't fight him in Sweden. I'm happy as long as I'll fight Jones." says Gustafsson about the bout, which still hasn't been solidified.
The #1 contender also talked about Daniel Cormier.  "It's a great match up, he's a very dangerous competitor and we'll fight some day. My focus is on Jones right now though, it's only Jon Jones in my head."
Among his Allstars Training Center team is Niklas Backstrom, who is fighting tomorrow.  "He's a little bit crazy. I'm very excited for the guys fighting tomorrow. Niklas is looking very good and calm so it's going to be great to see him perform tomorrow."