Mikael Nyyssönen hails from Tampere, Finland. This old industrial city has perhaps brought few of Finland's most promising prospects in the past year. Nyyssönen had just won a tough fight against Rasul Khataev at Cage 23 and he had been on a small, well deserved vacation in Spain. I chatted with Nyyssönen about his personal life, goals of his MMA career and we delved into the unique mindset that this twenty seven year old martial artist brings with him to the gym and to the cage.
So how was Spain?
Yeah, nothing special, just a nice relaxing holiday after my fight. Ate a lot of tapas and drank sangria. I didn't want to hear anything of my next fight during my vacation, but I was browsing the internet during one evening and then I read the announcement for my next fight against Samuel Nordlund. (Please note, Nyyssönen's opponent has been changed to Suleiman Bouhata.) I started my amateur career about the same time as him (Norldlund), he's not a stranger to me. He was in the corner of the only man to defeat me. Then again, that was two years ago and he's not been so active so I it was pretty hard to scout him. So basically the only thing I know about him that he's a little shorter than me.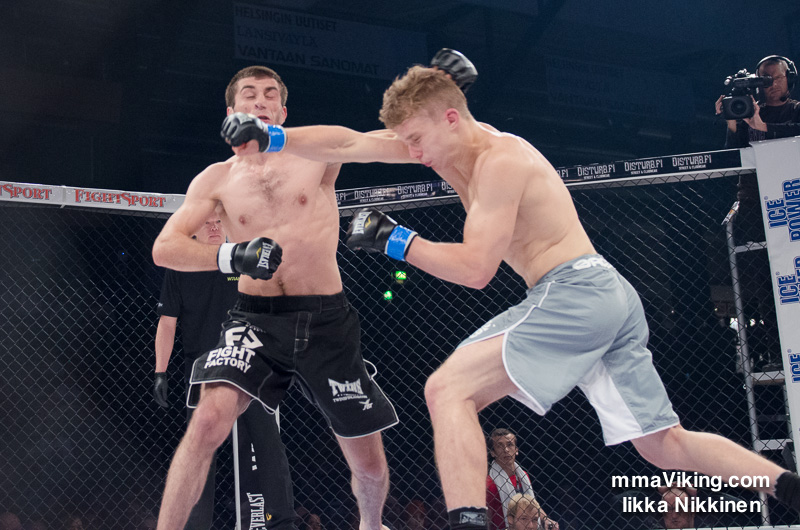 Let's go backwards even further, did you have combat sports experience before MMA?
Yes, I had. I moved to Ruovesi to study to become a chef and I needed to practice some sports so I joined a Ryukyu Kempo class, its a sort of pressure point manipulation self defense martial art. I trained that for two years in Ruovesi and continued to train when I moved back to Tampere. And in the dojo in Tampere I met perhaps the most influential guy for my career so far, the dojo's coach Tuomas Laaksonen. Nothing to take away from Timo Lampen, Timo has taken me to a whole new level, but Tuomas forged the base for me. He didn't just train Ryukyu Kempo, he reached a lot of philosophical stuff with his martial arts. For example when I compete, I still think about what he taught me on how to break someones posture by forcing their bodies into certain angles. For example if I try to take someone down and I fail to do so, why did I fail. I question my technique and try to find the reasons why it was unsuccessful.
I trained Ryukyu Kempo until I stepped into the military service at the age of eighteen, so about three years. In the army I joined the military police NCO. We ran a lot and did all sorts of physical exercise and so after my service this lifestyle stayed with me, I bought weights for myself and kept the morning runs. Also I started training floor ball and continued with Ryukyu Kempo. One day I looked at my regular week and I had like 22 different training sessions per week from three totally different sports, I thought that perhaps it would be smarter for me to train one sport and compete in the sport, I knew that I wouldn't want to compete in a team sport. It was 2005 or 2006 when I went to see amateur MMA competition and then I knew that MMA would be the sport for me.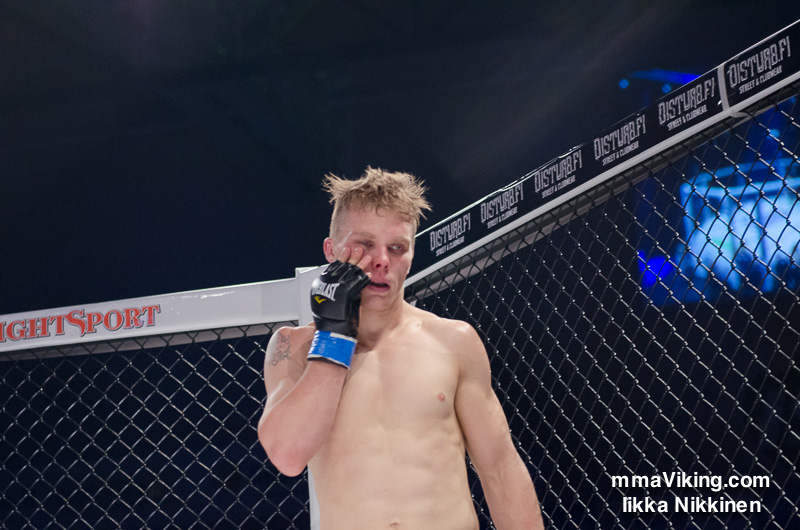 From what I've heard, you really like to compete. How many amateur fights did you have before turning pro?
Yes, I've had total of nine amateur fights (7-1-1 if you count the Shooto fights that I've had) and my only loss and the draw was at 77 kilos, a weight  class above my normal weight class. 2012 I won gold in the national submission wrestling tournament and I also won the trophy for the best competitor. I was selected amongst about 350 people so that really felt great. Coming into the tournament I just had two mma fights which I won via submission so after training hard for a long time this really felt good.
So, tell me about your last fight against Rasul Khataev, you had some problems leading up to the fight?
Well, the weight cut went pretty much the same as for my every fight, only the last kilo I had trouble shredding I think it took me more than an hour to cut it. Honestly it was pretty horrific, but I just added an extra layer of clothes and pushed forward and finally the scale showed the numbers I was looking for. But really the problems for me started right before the fight, I was too relaxed. I felt too casual and I stepped into the cage too casually and it really echoed in my performance. Our game plan for the fight was to avoid stand up fighting at all costs and that I should clinch with him on the cage and drag him into deep waters and finish him on the second round. Well the goal was achieved, but I took a hell of a beating on the first round. The only thing I remember from the break between first and second round was Timo's words that "Rasul is tired, you got this". I knew I had to finish the fight, I could not get a decision victory.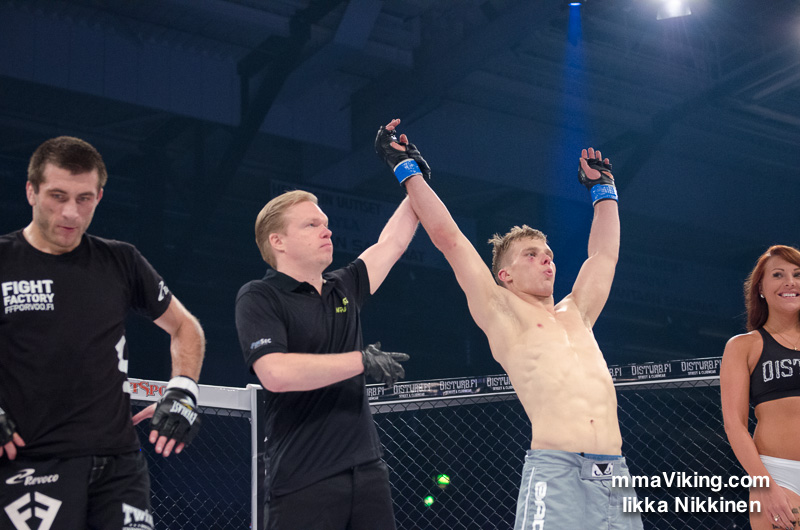 Tell me about your diet and your approach to weight cutting.
I'm used to do things my way since before I came to MMA Team 300. We didn't have that big emphasis on coaching and we had to figure out a lot of stuff ourselves. But let's approach the diet from a bit further, I'm a professional chef and I've been working in the best restaurants in Tampere. Therefore, having a strict clean diet is a huge part of my life, I refuse to eat anything processed or artificial food additives. I have a route of four different stores in the city where I go buy all my ingredients for the week. My old employer once told me that I'm like the health inspector when I come to work, but yeah let's go back to my diet before a fight. I keep my diet basically normal up until three weeks before weigh ins, at the three week mark I change my diet so that all the energy my body gets, comes from proteins and healthy fats, I cut out all carbs and I continue with this until the last week. The last week I don't really eat solid foods anymore and my meals are just smoothies. I don't like to eat protein powders, but on the last week I have to introduce those to the smoothies. Also I drink insane quantities of water so the weight is pretty easy to shred. I study nutrition constantly and it is an obsession for me. I keep my diet very clean and everything I eat is pretty much organic. Every now and then I have a week when I eat eanything that I want, but after a week you really notice that when you eat crap, you feel like crap.
You seem to be a fighter who thinks a lot about training and the mental aspect seems to be very important to you, what goes through your mind in a fight?
Well, inside the cage I think that basically nothing goes through my mind. I mean, I've been focusing on certain things for weeks leading up to the fight so all the things I need to know are rooted in my conciousness. We do not introduce new things into my training in about three weeks before the fight so I just focus on the things that I am supposed to be focusing on.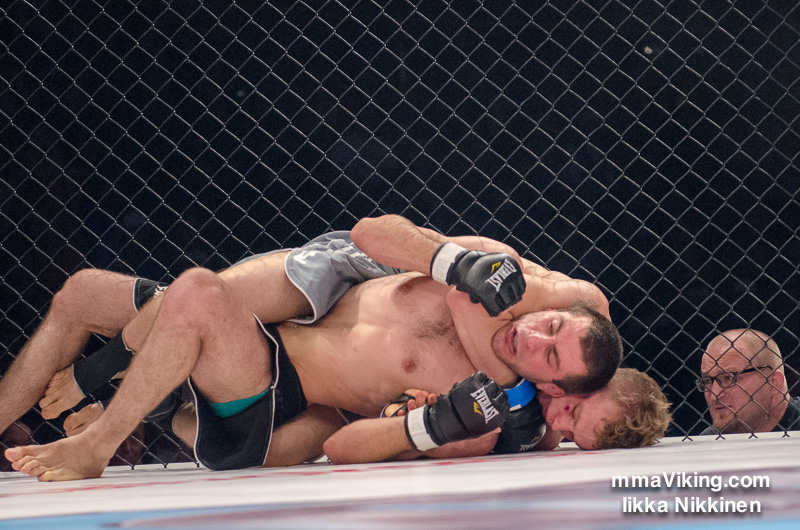 When you get a call for a fight, how does your daily life change?
It's kind of hard to say, I schedule my life pretty much alone and focus a lot on my training. Lately I've had an great opportunity to work with a massage therapist. He started studying about a year ago and I'm kind of his project, he keeps my body in shape. We meet up at least once a week for a session and he really knows what he's doing as he actually trained MMA before. So the closer we get to the fight, his importance really shines, since he really has to keep my muscles in shape and my body ready for the fight.  As for my training, I don't do strength training that much anymore since the weight cut has been very hard for me. Timo's role is also very important when we're preparing for a fight. What he says is done, I trust my whole training regime with him.
You are known as a fighter who fights until the end and refuses to lose, where does this competitive spirt come from? Did you have elder brothers or have you always been a competitor?
Actually I just discussed this with my mother two weeks ago over the phone (Yes I am a mother's boy), my parents split up when I was a kid so I was raised by my mother and her home was a dairy farm. Life on a farm is pretty rough as your work is your way of life, you know? I think from there I get this mentality to work super hard and not give up. My mother is a practical nurse, she raised four kids alone and still managed to do everything you require from a mother.
Where do you see yourself in two years?
Well first of all, I'd like to have a steady income of money that wouldn't interfere with my training so that I could train twice a day with no worries about my monetary situation. Obviously I'd want my main source of income to be from fighting, I'm not sure if that is it going to be possible but that's what I dream of. I can't really say about organizations where I would want to fight, but wherever Timo tells me to fight, I'll fight. Anyone can be whatever they want to be if they put in all the possible efforts into achieving their goals. I'm 27 years old now and I think that I have at least five good fighting years ahead of me, then again a 35 year old MMA fighter is not a rare thing to see either.
Here is Nyyssönen's previous fight against Rasul Khataev, enjoy!

You fight at Cage 24 in Turku, Finland this Saturday against Suleiman Bouhata.  Are you ready?  How are your last minute preparations?
This last weeks have not been good, they have been great! Bouhata cannot match my physique right now, especially at this weight class. He has an impressive record, but I'm not impressed. My weight is great right now at the moment, going down much better than previously.
Stay tuned for our play-by-play results and exclusive photos from live MMAViking.com coverage and follow us at www.facebook.com/mmaViking.