MMAViking.com gets an insider's view of undefeated Mikael Nyyssönen (7-0), the 2014 Nordic Prospect of the Year, out of the MMA Team 300 facilities in Tampere, Finland. The Finn has big plans for this year as he recently signed an exclusive contract with Cage promotion, and expects this will lead to a UFC contract by the end of the year.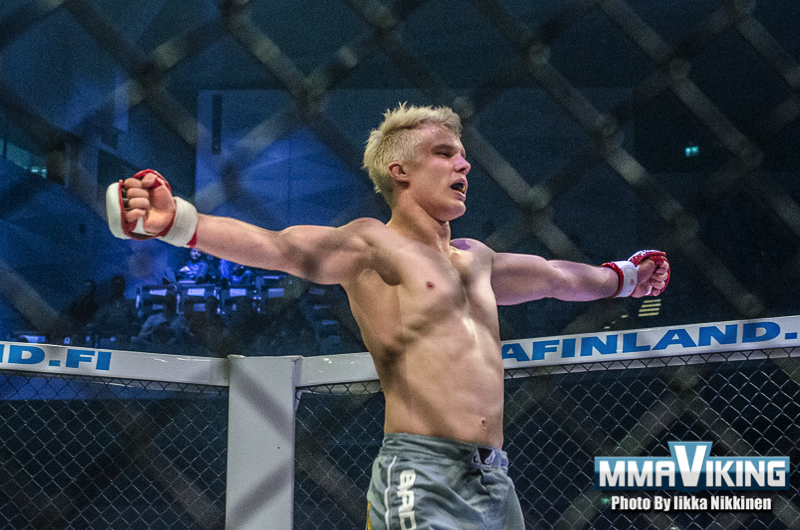 The 28 year old is embracing the life of a fighter.  "I"m a professional fighter, and that means a lot to me" says Nyyssönen who now has wide base of coaches behind him to help take his career to the next level. His head coach, manager, and a good friend is Timo Lampen who is also the Cage matchmaker.  Antti Makkonen as his newest coach, a relationship that Nyyssönen cannot wait to see the results from.  "My life is very good."
"This year I will win all my fights, after that I will wait for my call from the UFC." – Nyyssönen
MMA Team 300's other rising star Lauri Karppinen is Nyyssönen's grappling coach and a room mate.  "We roll together, eat together, but no…. we don't sleep together" jokes the Finn.
Nyyssönen takes on a Frenchman Thibault Gouti (9-0) at Cage 29, on the 28th of February in Helsinki, Finland.
Watch Video
Filmed and edited by Iikka Nikkinen.