Mikkel Parlo will do battle tonight in the Bellator cage in an 8 man tournament at the Mohegan Sun Arena in Uncasville, Connecticut. The Dane draws Brian Rogers in the first round, who is one of the veterans favored to win this year's tournament. Parlo is coming off of his very first loss in MMA, and is looking to start a new winning streak.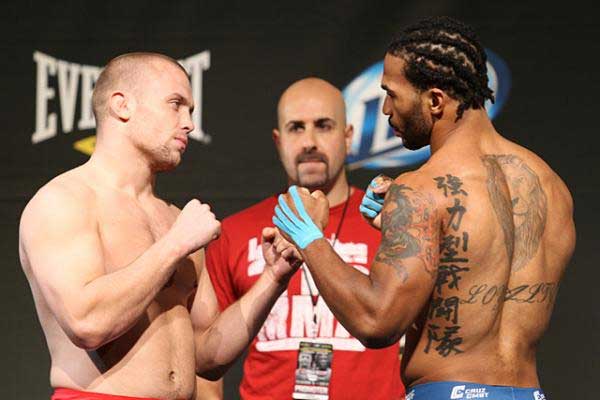 Parlo weighed in at 185 pounds yesterday for the Bellator 98 card, and is ready for an upset in the quarterfinals for a shot at the middleweight belt and $100,000.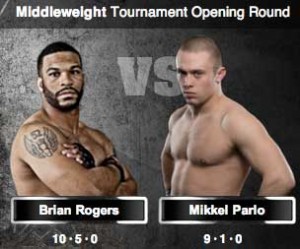 Weigh-in Results of Bellator MMA Season 9 Middleweight Tournament Quarterfinals
Brian Rogers (185) vs. Mikkel Parlo (185)
Jason Butcher (184.5) vs. Giva Santana (185.5)
Jeremy Kimball (186) vs. Perry Filkins (186)
Justin Torrey (185) vs. Brennan Ward (185.25)
Note : Swede Andreas Spang was pulled from the card yesterday prior to weigh-ins.
Video Interview with Parlo on the MMA Viking Video Podcast
Fight Video
Results and Play-by_play
Round 1
Rogers comes out with a hard kick at Parlo's lead leg to start the bout, but the Dane stays composed. The American goes for a flying knee and a punch as he is aggressively looking for damage. Parlo begins to use kicks, and is countered by Rogers. The bout moves to the clinch against the fence, and Parlo goes for a take-down but doesn't get it. The Dane is able to get it to the ground. Parlo lands the biggest punch of the round at the bell that stuns Rogers who drops to his knees. Close round 1, but likely for Parlo.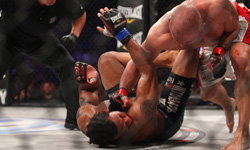 Round 2
Parlo on top early in round 2. The Dane lands punches form half guard before moving to full mount. Rogers gives up back to try and escape, and Parlo eventually retains half guard. Parlo lands an elbow –he is warned by the ref since elbows are not allowed in opening rounds of Bellator tournaments– and Parlo is controlling this round on top. Big round for the Las Vegas based fighter, and the momentum is in the Danes favor now.
Round 3
In the clinch, Rogers has his moments with a series of uppercuts. Parlo uses knees again, then gets on top with a take-down. Again, the Dane is on top and in control and assumes to use ground and pound as Rogers tires. After a brief scramble, it's Parlo on top again and he is damaging "The Professional Predator". Again Rogers tries to get to his feet, but it's Parlo to land a big knee to the face of Rogers to secure round 3 and the opening bout of the Bellator tournament. Parlo finishes really strong looking for a finish right up the final bell. Dominant performance from Parlo who comes off of his fist loss with an impressive performance.
Official Result: Mikkel Parlo defeats Brian Rogers by Unanimous Decision (30-27, 30-26, 30-26)
Parlo moves to 10 wins and 1 loss, while Rogers drops to 10 wins and 6 losses. The Dane is back and will be fighting again in the semi-finals of the middleweight tournament shortly.