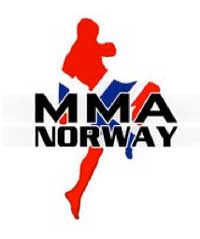 Earlier in the year, MMA Viking interviewed Tarjei Nymark Mørkve who founded and was running the popular UFC Norway Facebook page.  He gave readers a fantastic overview of MMA in Norway, in a two part interview.
With the recent attention that John Olav Einemo received for his "Fight of the Night" in his UFC debut, plus the significant coverage received in the Verdens Gang (VG), which has the largest number of readers in all of Norway, we check in with Mørkve again.
"Einemo's fight has raised a massive wave of excitement in Norway" says the MMA insider in an exclusive interview with MMA Viking.
Interview
MMA Viking : Tell us about the move on Facebook from UFC Norway to MMA.Norway.
Mørkve : Well, there was a couple of reasons why we changed the name. First of all people was wondering why we were posting news about Strikeforce, Bellator and so on since the page was called "UFC Norway" so I started thinking about it and MMA Norway just seemed like a more accurate name for the page and not misleading since a lot of people (still) think UFC is a sport, and not a promotion company.
MMA Viking : MMA in Norway seems to be getting a lot of mainstream coverage, most notably in VG Nett. Do you see media and public attitudes changing in regards to MMA?
Mørkve : Media in Norway has for the most part done a terrible job of covering the sport. If you are going to write about something you should do some research and aquire at least a basic knowledge of what it is you are writing about, both in respect for the athletes – and in respect for your own professional pride as a journalist I would think.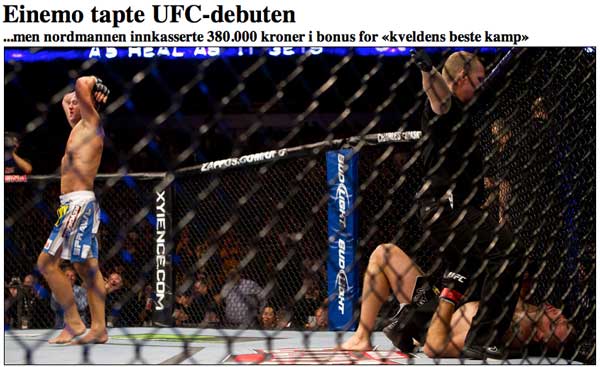 That being said, it seems that we might se a positive change now. Some of the newspapers are taking a closer look at MMA and I think we will see a newfound interest in the sport from the media, and hopefully better journalism than in the past. But yes, VG has done a great job recently and I would like to credit Per Opsahl for doing an excellent job of covering John Olav Einemo's UFC debut. I hope to see more coverage of that kind from them – and other media – in the future.
Thanks again to Tarjei Nymark Mørkve for the insight into MMA in Norway. We look forward to more positive happenings with our neighbor and the return of John Olav Einemo to represent Scandinavia well again. Visit the new Facebook page at www.facebook.com/MMA.Norway.