Niclas Danielsson (4-1-0) was all set for a big Trophy MMA 6 co-headliner bout against local Mohammed Abdallah (5-1-0), but a knee injury by the Malmö Muay Thai fighter just days out put Caveman's trip in jeopardy. "My manager and the crew at Trophy MMA started to look at new opponents directly when Mohammed got injured. They offered me an opponent with twice as much matches than me and I said yes but in the end the guy couldn't take the fight. I had more or less accepted that the fight was cancelled all together but then Aslan Bibaultov stepped up and wanted to take the fight." says the fighter to mmaViking.com.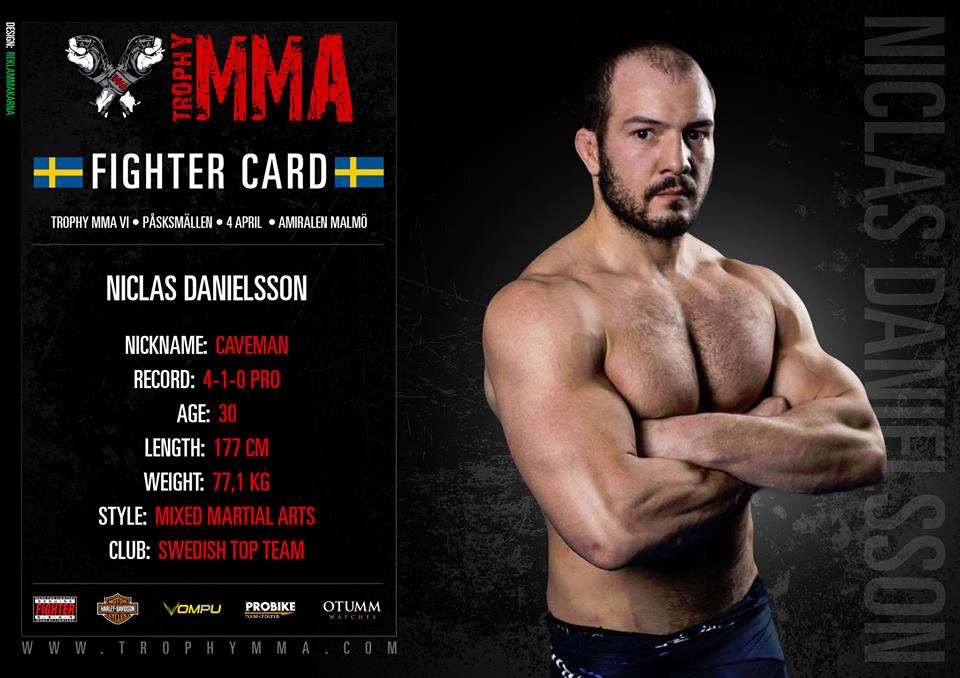 The Swedish Top Team fighter will now face an unknown Aslan Bibaultov who trains at Arte Suave/Checkmat in Denmark. "Don't really know much about him. There is no documentation to find about him. He's supposed to be 2-0 in pro mma and been competing in sambo and wushu. Think he is originally from Chechnya but is now living and training in Denmark. Coming from Chechnya I expect him to have a good wrestling base with some good sambo skills." comments Danielsson.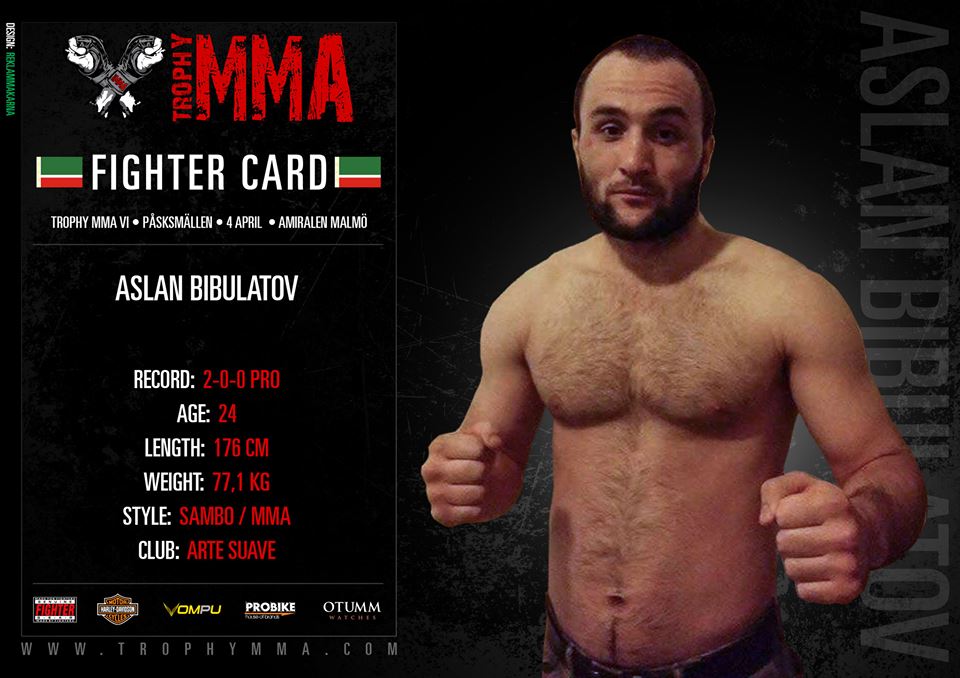 The man nicknamed "Caveman" will look to bring his punishing style into the cage.   "It was given to me because Botan Tokay thought I had big arms and caveman-like movements.  I think maybe it's also because I'm not the most technical guy but I'm pretty strong and rely on my physique a lot more than on my technique when it comes to fighting."
The 30 year old  Danielsson expects fireworks on Saturday.  "I'm sure he's a tough guy, I mean the guy takes a fight with less than 1 week and he is there to fight for sure."
"I go into every fight thinking it's going to be my toughest fight ever. I hope we can give the audience in Malmö an entertaining fight."
There are two additional pro bouts on the Trophy MMA 6 card.  Allstars Training Center's David Teymur (2-1) will take on Freestyle Academy's Robin Tuomi (1-0) and Dane Shamal Tashkilot (3-3) will face local Emil Hartsner (5-2) in the other co-headliner.
Trophy Fight Card
Pro MMA Bouts
Niclas Danielsson vs. Aslan Bibaultov
Shamal Tashkilot vs. Emil Hartsner
David Teymur vs. Robin Tuomi
Amateur / Shootfighting Bouts
Eddie Olsson vs. Daniel Bergstrom
Daniel Hurtig vs. Mikkel Kasper
Pascal Mazza Ramsby vs. Hani Abdo Wahab
Ali Faraj vs. Emil Timlin
Ali Yasbech vs. Khaled El-Eina
Ali Taleb vs. Nick Hakonsson
Jesper Bendroth vs. Mohamad Habal
MMAViking.com will be reporting live and taking pictures, so stay tuned this Saturday.