Denmark's Nicolas Dalby has been on a wild ride.  Originally scheduled to be a feature on Royal Arena's card against top-ranked Assan N'jie, "Sharpshooter" has since seen the promotion cancel the event, then once he found a home on tomorrow's Valhalla "Battle of Vikings" card he has been matched up against a revolving door of opponents that has only just stopped two days ago.
"What a ride it was to get a fight" says Nicolas Dalby in an interview with MMA Viking shortly before the bout.  The Dane is now set to face Ivica Truscek in a rematch from last August's Royal Arena 2.  Since that time "Terror" has lost 5 of 6, including a split decision loss just last week in Denmark at European MMA 4 against Ayub Tashkilot, while Dalby has been inactive.
"I contacted many managers all over Europe to find Nicolas a suitable opponent. Promoter Mohammed Tehrani did the same, but each time we found someone, they ended up pulling out a day or two later. It ended up being quite a farce. I wrote Ivica Truscek, because I know he has contact to other Croatian fighters. I didn't think about a rematch, but he asked about it himself. And three days before the fight, we were at the point of no return. Either Nicolas said "enough is enough" and pulled out, or we went for a tough, experienced high-level opponent like The Terror. It wouldn't make sense to put him in against a newbie, which was our option at that point." explains Dalby's coach and manager Tue K. Trnka.
"Truscek is a very tricky opponent that makes good fighters look bad. I was impressed with how he handled Ayub 'Zap' Tashkilot last weekend!" says Dalby, who beat Truscek in an exciting war last year.  In the hard-fought battle, Dalby lost most many of his front teeth and almost all the skin from the bottom of his feet in a grueling affair.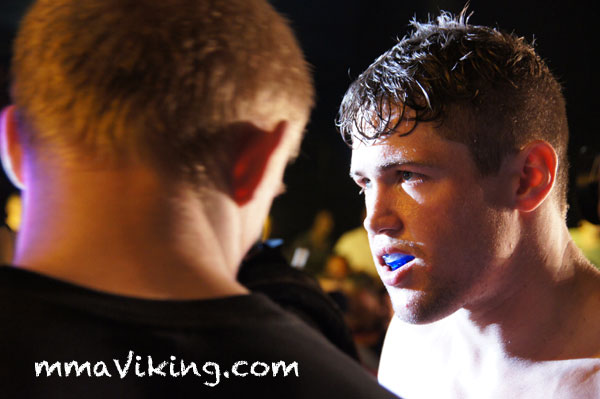 Trnka explains more about the reason for pitting his fighter against the same opponent he fought last. "Of course, career-wise, this might not do a lot for Nicolas, but as we're waiting for Njie to heal up, it makes sense to keep Sharpshooter active. If he waits until June to fight Njie, then he'd been out of action for 10 months. I'd rather he'd fight. In Truscek we've got an opponent, who comes to win and has the tools to push and threaten Nicolas. It was a rough ride last time, and the crowd really got some bang for the buck. I don't expect anything less this time."
The Rumble Sports fighter is undefeated at 9 wins and 0 losses, and again hopes to put his name on the map as a top Nordic welterweight. Tomorrow's bout is in Århus, Denmark. You can also watch the bout on-line at http://kanalsport.dk starting at 18.30.
"It's impossible to predict the fight. But I will do my utmost to win… and keep my teeth this time." says the 28 year old. "I'm very excited."