There are five Nordic fighters on tonight's UFC Fight Night London card. Makwan Amirkhani, Reza Madadi, Lina Länsberg, Reza Madadi, and Teemu Packalen will fight. MMAViking.com is live in London at the 02 for reporting.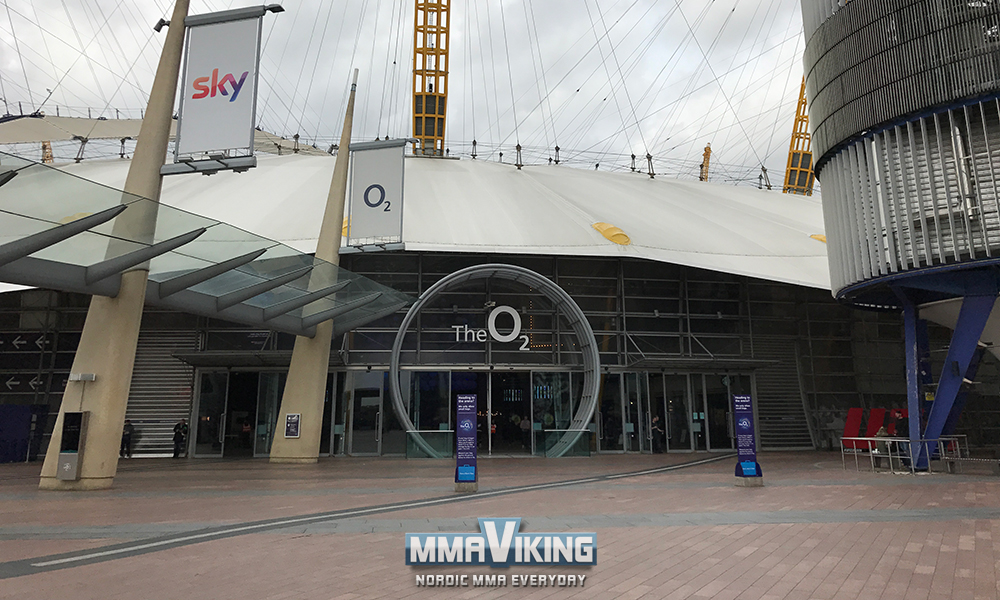 Below you will see estimated start times. Mr. Finland and Gunni are on the main card, while the others are on the prelims.

We will post live results here to keep you updated with the five vikings and will be publishing a full article on each results. The local fighters from Finland and Sweden will have fights shown live on Viaplay Fighting, even the prelims.
Lina Lansberg vs. Lucie Pudilova – Prelim Bout
It's the first fight of the night and it is nearly capacity already. The fighters seem to be picking off, where they left off last time. Standing and striking. Lina taking some punches early, but pushes Pudilova to the cage and lands a nasty left elbow followed by some knees. The Swede gets a takedown in the second to swing the round in her favor. Good strikes from Pudilova in the third, but Lina grabs on to a single leg. Elbow after elbow from Lucie and Lina is cut bad… real bad. Another takedown attempt from the Redline fighter. Two minutes left in the bout. The Czech comes on strong.
Lansberg wins by unanimous decision 29-28 on all scores  – Read full play-by-play here.
Marc Diakiese vs. Teemu Packalen – Prelim Bout
A happy Packalen enters the cage. He points to the area with Finnish flags flying.  Diakiese is landing with spinning stuff early, and cracks the Finn with a right hand KO'ing Packalen in 30 seconds.
Diakiese wins by KO in 30 seconds – Read full play-by-play here.
Joseph Duffy vs. Reza Madadi – Prelim Headliner
Reza enters first to the cage and looks to be in the best shape of his life.  The crowd goes crazy for Duffy, but there are some Mad Dog chants throughout.  Takedown early, but as Reza takes him down again the Iranian born fighter is on his back.  Mad Dog looks for a guillotine, but can't get it and the round comes to an end.  Reza bloody from an elbow in the first, so the Reza looks like a mess.  He is taking punches and kicks, but waves on the Irish fighter.  Quick takedown from Madadi, but that was Duffy's round two.  Reza's head movement is good, and looking for an opening, but Joseph has a solid attack.
Duffy wins by unanimous decision 30-27 on all score cards – Read full play-by-play here.
Arnold Allen vs. Makwan Amirkhani – Main Card
Makwan gets a traditional wrestling body lock throw, then looks for a head and arm choke, but Allen defends. Eventually, it is Makwan down on his back. Mr. Finland is back up and gets a brief takedown. Makwan lands a nice right hand at the end of the round. Another take-down to start the second, and another choke attempt. Is it tight enough…. no. Now, Allen on top, but eventually Makwan gets on top. Close rounds here. Makwan hit with a big left hand. But, Makwan goes to his wrestling and ties up Allen, eventually getting it to the ground. Ref calls them to the feet. Scramble in the end with Allen on top looking for a choke.
Allen wins by split-decision 30-27, 30-27, 28-29 – Read full play-by-play here.
Alan Jouban vs. Gunnar Nelson – Co-Main Event
Gunnar with a tie-up one minute in.  A strange grunting chant from the crowd.  A takedown with two minutes left.  Full mount from Gunnar and full control early.  Right hand knocks down Alan, and Alan is hurt!  Nelson snatches the neck with a no arm guillotine, Jouban rolls over and there is the tap.  Gunnar Nelson wins!
"I want to finish my fights." – Gunnar Nelson