Karkkila Fight Night went down last Saturday with a Finn versus Finn battle in Jani Salmi (9-2) and Niko Myllynen (6-5). This bout had been cancelled many due to injuries, but this time the matchup took place at the FNF 13 event and it was the Primus fighter Salmi that was able to secure a submission in the first over at the Karkkilan Liikuntahalli.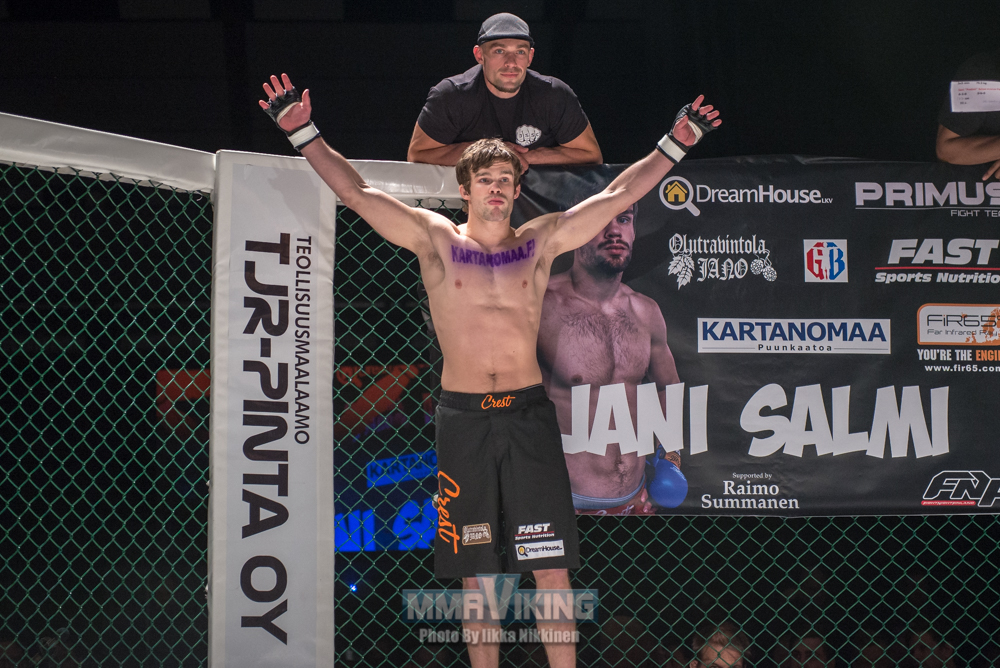 Patrik Pietilä (6-4) was supposed to face England's David Johnson (6-7-1) in a lightweight bout but the Englishman didn't come ready to fight, and the Finn took a fight against a welterweight Vytautas Sadauskas (1-4) from Lithuanian on short notice. "He was pretty strong and in good shape. I did grind him for 3 rounds like a khabib, but couldn't get a finish." says Pietilä who has three wins in three attempts in Karkilla and on a two fight winning streak.
Olli Santalahti (3-2) took care of business quick in another fight with an unplanned opponent. With original opposition Mikko Ahmala injured. Santalahti faced Ramunas Rakauskas also from Lithuania. It only took 54 seconds for Santalahti to get the TKO.
In other action:
Patrik Kapanen won by TKO over Jyri Mikkila
Aleksi Lukkarinen won by submission over Mika Kuronen
Toni Lampinen won by KO over Zanko Eliassi
Matias Huotari won by UD over John Tedeschi
Joonas Kyllonen won by UD over Ville Halonen
Mikko Kolehmainen won by armbar over Jani Koskinen
Jussi Lehto won by UD over Kalisto Amudeng
Jesse Brandt won by UD over Jami Nyholm