Shooto Chicago Collision 11 took place Lahti, Finland Saturday night. It was the local grappler Matteus Lähdesmäki that was able to stop France's Pascal Louissant in the main event by submission.  Read the results of the event below as reported by content partner FightSport.fi.  The promotion's 11th was fought in a cage instead of a ring first time in the events history.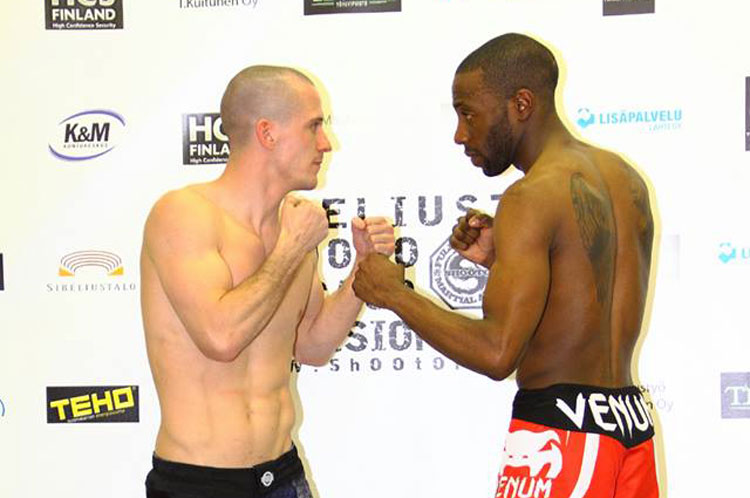 Results
Matteus Lähdesmäki (12-9-3) Shooto Lahti vs. Pascal Louissant (9-4-0) Team Pythagora, Ranska -65kg
Lähdesmäki wins in round 1 by submission.
Jere Tiihonen (1-0-0) Shooto Lahti vs. Yannick Carrere (0-0-1) Team Pythagora, Ranska -70kg
Carrere wins by decision.
Jimmy Immonen vs. Sergei Bal (14-8-1) Rusfighters team venäjä -77kg
Bal wins by first round KO.
Niko Myllynen RNC Hyvinkää (2-2-0)  vs. Gaik Pogosyan  -74kg
Myllynen wins by submission in round 2.
Patrik Pietilä (0-2-0) Shooto Lahti vs. Diouf Djibril -70kg
Pietilä wins by split decision.
Vuokko Katainen MMA Kuopio (1-1-0) vs. Yana Lyashko Venäjä -57kg
Katainen wins by TKO in round 1.
Ville Lehmusmetsä (2-0-0) BJJ Kouvola vs. Miikka Kauppinen (3-3-0) Team East Front -65kg
Lehmusmetsä wins by decision.
Joni Sarkala (1-2-0) Shooto lahti vs. Timo Suihkonen (1-1-1) Kauhajoen kamppailu-urheilijat -61,2kg
Suihkonen wins by majority decision.
Kalle Arvelin (0-5-0) Shooto Lahti vs. Edward Walls (0-1-0) Team East Front -70kg
Walls wins by KO in round 2.
Janne Häkkinen MMA Utti debut vs. Proshin Ruslan
Häkkinen wins by decision.