Carelia Fight 9 card was shuffled big time last week when top Nordic light heavyweight Juha "Juice" Saarinen (9-2) was pulled from the main event due to an injury. The promotion quickly made up for the loss of their main event by adding explosive bantamweight Toni Tauru (6-1) and Brazilian Vale Tudo  brawler Marcello Guidici (8-4) to the card. The promotion is currently working on finding opponents for Tauru and Guidici. The news was first reported by our content partner FightSport.fi.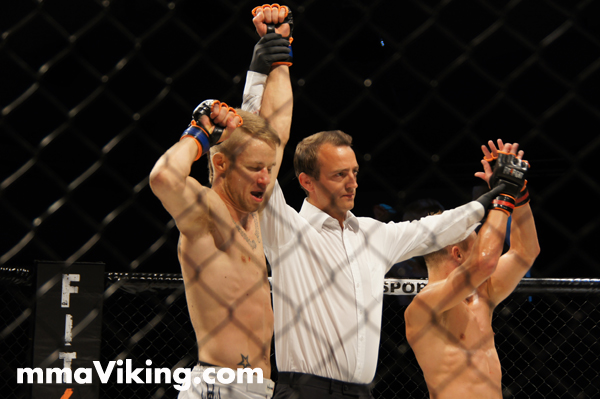 Saarinen's injury was a very unfortunate one as the Finn has been battling with injuries pretty much his whole fighting career. In January Saarinen suffered a knee injury that required surgery and extensive rehab. Now the FinnFighters Gym representative was just getting back into shape when a irritated nerve in the shoulder knocked him out of the Carelia Fight 9 fight and possibly sidelined the Finn for another six months.
"There's nothing actually broken in the shoulder. There's possibly an old injury that now causes a pinched nerve. I tried to train with it for a week but it wasn't working out at all. I've never felt that kind of pain before. I really couldn't even sleep with it." said the disappointed Finn to FightSport magazine.
Bantamweight prospect Toni Tauru is eager to get back into action. The Finn has spent the summer time well by honing his physical attributes and new skills.
"Summer has gone well and I've been able to train in professional manner. After the last fight I had to let my injured ankle heal up for a while but I used that time to work on my physique. Now I've been doing combat training again." said the exciting Finn who is riding a six fight win streak.
Marcello Guidici was a more surprising addition to the card as the Brazilian hasn't fought since 2010. Guidici, who has lived in Finland for the last couple years, has been working as a professional coach, holding seminars and helping fighters like Katja "Killer Bunny" Kankaanpää reach the international level.
Guidici fought his first fights in mid 90's at the famous No Holds Barred events Circuito de Lutas and Brazilian Vale Tudo Fighting in Brazil. Back then the bouts were fought with barehands in open weight class which meant that lightweight Guidici was usually much smaller than his opponent. The BJJ black belt fought his last fight in june of 2010 at the Ring of Fire in New Jersey, USA where he lost by first round TKO to a absolute killer in Edson Barboza who is now tearing guys apart in the UFC.