Espoon Kehahait fighters Joni Salovaara and Mikael Silander will be the big names on the Cage "Challenger" event which will be held in Tampere on Saturday, August 23.  While the original card had planned to include Marcus Vänttinen (24 wins, 5 losses, #3 Nordic ranked LHW) and Espoon Kehähait MMA pioneer Mikko Rupponen on the card, however both fell off due to injury.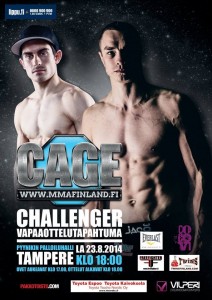 "I am of course anticipating all the fights on the Cage Challenger Tampere card, there are good fighters who will step in the Cage-promotion cage for the first time. But there are two fights which are top European level fights, the main event and co-main event." says Cage matchmaker Timo Lampen to MMAViking.com.
After dropping two bouts in 2013, Silander (11-3) has reeled off three straight victories that includes the most recent unanimous decision triumph over Daniel Barez at Cage 26 in April.  "In the co-main event,  Hulk fights Dimitar Kostov a wrestling based fighter who is Andreas Bernhard training partner. I think it's Silander standup skills against Kostov's wrestling game. I am expecting a really good performance both fighters. Maybe one of them will be in UFC or maybe both in future." comments Lampen.
Salovaara (13-7) last fought in Cage 25 and suffered a unanimous decision loss to American Adam Ward after impressively stopping another American Chase Beebe via rear-naked choke in Fight Festival 33.  "In the main event, we see Salovaara against Nicolas Joannes, both are really experienced and like fight standing up.  It's going be war of these highly skills fighters and the Tampere crowd is going be wild."
CURRENT FIGHT CARD
PYYNIKIN PALLOILUHALLI, TAMPERE
Pro MMA Bouts
Joni Salovaara, Espoon EspoonKehähait, Finland vs. Nicolas Joannes, France (65,8 kg)
Mikael Silander, Espoon Kehähait, Finland vs. Dimitar Kostov, Bulgaria (56,7 kg)
Saku Heikkola, Heracles, Finland vs. Lamine Talbi, Belgium (93 kg)
Kai Karar, MMA Team 300, Finland vs. Abdourahmane Seye, France (77,1 kg)
Ville Heikkonen, Espoon Kehähait, Finland vs. Juhani Aho, Team Botnia Punishment, Finland (69 kg)
Janne Rantanen, Espoon Fightfarm, Finland vs. Dan Gibbon, England (69 kg)
Amatuer MMA Bouts Under IMMAF Rules
Jussi Niskala,  TJJK, Finland vs. Edward Walls, MMA Lappeenranta/TEF, Finland (70,3 kg)
Toni Toivanen RNC, Finland vs Hannu Nylund, Team @Letic/Barreto Lahti (77,1kg)
Atte Ala-Kortesniemi, RNC, Finland vs Aleksi Lukkarinen Team Letic/Barreto Lahti (77,1kg)