Saturday's card at Kelvin Hall Sports Arena, Glasgow, ended with a fantastic finish for the Swedes.  The two vikings stormed into Scotland and took control of their bouts with submissions to capture both belts up for grabs.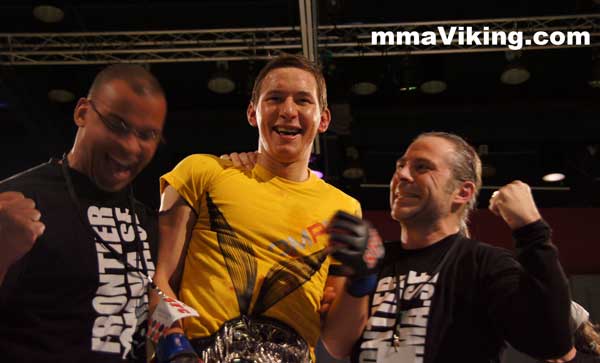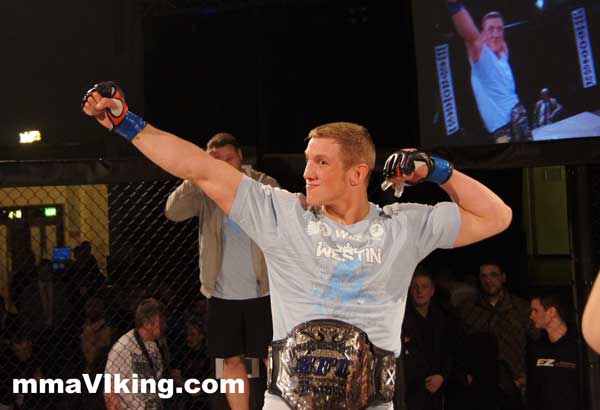 Great night of fights, with the Swedes putting a bit of a dampening on the evening for the locals rooting for their UK title contenders.
John Cullen (DNFT) vs. Martin Svensson (Sweden) – Featherweight Title
Result : Great battle back and forth bout for four rounds that gave the crowd lots to cheer about in the final bout of the night.  Ultimately, the Swede locked in a triangle, putting Cullen to sleep in the fifth and final round.
The fight was a war, with both fighters staying active, looking for submissions throughout. Svensson brought the fight to the ground in each of the four full rounds.  Several times the fighters flip-flopped positions, fighting for triangles, knee bars, and rear-naked-chokes… it was a bout of wild grappling and submission attempts.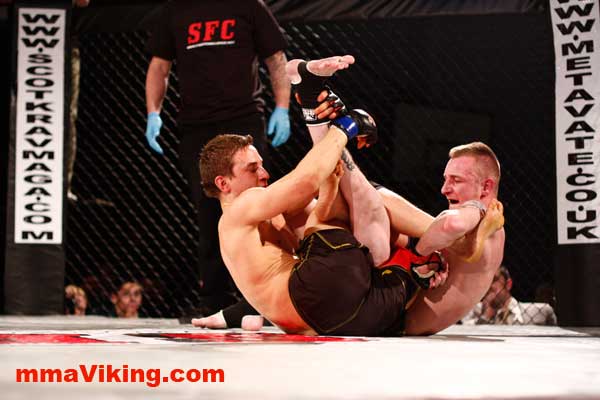 When Cullen was on his feet, he often went for damaging blows… but Svensson made him pay for his overcommitting by taking Cullen back to the ground.  Although on the bottom, Cullen was able to land some sharp elbows on Svensson.
Ending the 4th round, Svensson tried to inflict as much damage as he could.  He went donkey-kong style pounding away with hamerfists like a gorilla trying to damage his durable opponent.
Heading into the 5th round, the crowd was expecting a showdown on the cards…. since neither fighter was giving up, but Svensson was able to succeed with his submissions finally, as he put Cullen to sleep.
When Cullen awoke he looked to fight off the referee was there to wake him up.  A very respectful exchange of the two at the end of the war.  Svensson wins the Featherweight Title.
Dan Hope (DNFT) vs. Jonatan Westin (Sweden) – Welterweight Title
– Result – Hope started the bout with a a powerful inside kick, but Westin took control of the bout, getting Hope against the cage.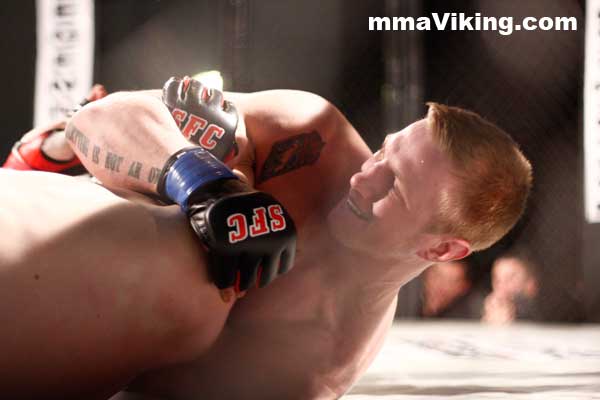 The Stockholm Shoot fighter then brought Hope down to the ground, where he continued to advance position, leading to a full mount. He took his time and eventually pushed his opponent against the cage, enabling him to slickly lock on an anaconda choke for submission in 1st round.
Neil Laird (Lycans) vs. Lomas (France) – 80kg Catchweight
– Result – Lomas beat down of Laird…. leading to corner stoppage.
Ally Smith (Wossabamma) vs. Josua Dennis – 74kg Catchweight
– Smith winner 1st round… 18 seconds. Submission
Adam Stevenson (SMAC) vs. Lova Randrianasolo (France) Lightweight
– Stevenson won 1st round with armbar. 1:43.
Alan McCauley (DNFT) vs. Phil Flynn (Predators) – 75kg Catchweight
– McCauley wins in 2nd round TKO.
David Hamilton (EKMMA) vs. Shaun Taylor (Lycans) – Welterweight B Class Pro
– Taylor RNC in 1st round.
Undercard
Abdel Lif (France) vs. Ian Posstlewaith (Lycans) – 57kg
– Result : Posstlewaith wins with submission in 2nd round. 1:40 with armbar.
Calum Murrie (SMAC) vs. Paul Lopez – 68kg
– Result : Murrie wins with with submission2nd 3:46 Keylock
Andy Burns (DNFT) vs. Darren Kinloch (Shooters Dundee) – 68kg
Kinlochwith venom shorts, versus Burns in the black bad boy tights. James Doolan steps in to ref this one, with a tight mohawak.
– Result : Burns wins .3:21 RNC
Calum Hunter (Gladitorial) vs. Chris Bungard (Scottish Hit Squad) 77kg
– Result : Draw (One judge Hunter, one judge Bungard, on judge even)
Graham Black (Lycans) vs. Bobby White (Lions Den) – 77kg
– This fight did not happen at the event.
Martin Donaldon (Fusion) vs. Scot Mulgrew (Lions Den) – 77kg
– Result : Donaldon wins a decision.
Gerry Kennedy (Lions Den) vs. Peter McAfferty (Chimera MMA) – 62kg
– Result : McAfferty wins in 1st Round TKO at
Matty Malon (Spartans) vs. Kevin Devine (Scottish Hit Squad) – 70kg
– Result : Divine wins with 2nd round TKO at 1:16.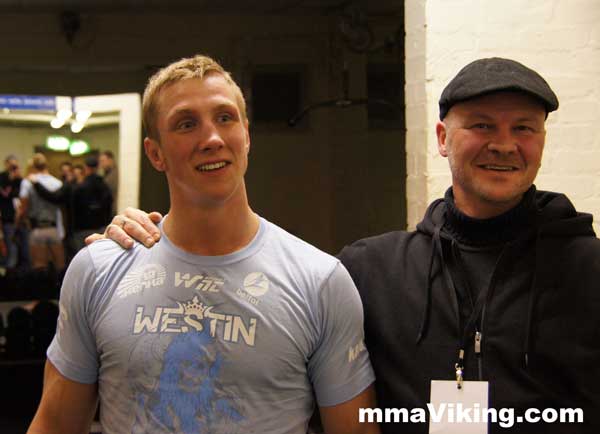 The arena is packed. Round tables around the cage for the upscale groups taking in the bout, food and drinks on the table.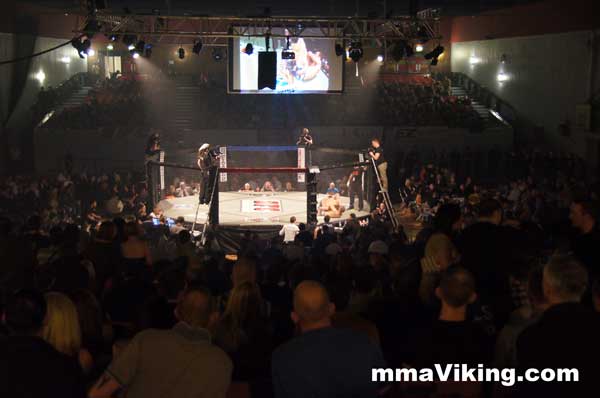 Then your standard bleachers on two sides of the cage. It's a sellout. Promotor says 2,000 folks. I think they will run out of beers already, as it seems mandatory that the Scots get their alcohol before settling in.