Fight Night Finland (FNF) 9 now has a headlining matchup. This morning, the Finnish promotion announced most of the card taking place Turku, and now releases a few more match-ups including the headliner with bantamweight Timo-Juhani Hirvikangas (10-2) who will face Englishman James Pennington (10-2) on April 25th at the Kupittaan Urheiluhalli.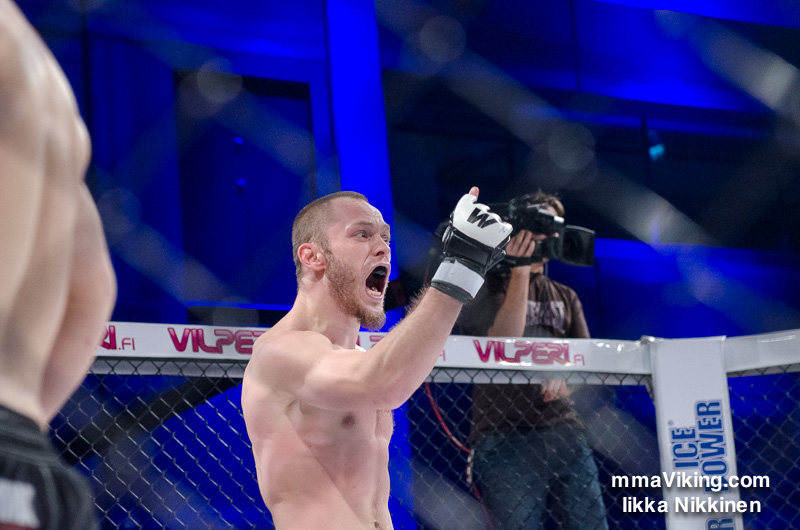 Matchmaker Olli Hartikainen says about the matchup:
"The Brit is very tall for the weight class. He moves well on the feet and has excellent balance which helps him to stuff takedowns and remain in top position on the ground. The lanky Pennington has taken most of his wins with rear naked choke and armbar submissions. Hirvikangas, who will shake off ring rust in pro boxing in March, excels in all areas of the game. On the feet Hirvikangas has to watch out for Pennington's knee strikes and not to duck low like one would do in boxing. On the ground the Finn should try to keep Pennington off his back at all cost."
In addition to FinnFighters Gym's eighteen year old talent Zanko Eliassi will make his pro debut against Pori's Samuel Nordlund (1-0). Eliassi has competed successfully in amateur MMA and has shown good composure for such a young fighter. "The kid throws strikes and kicks from head to legs which forces his opponents to open their guard. There's a good dash of showmanship in Eliassi but in the pro debut it would be probably wise to leave flashier tricks at home."
"Pori's Samuel Nordlund is a real powerhouse. His striking technique is far from text book but there's brute force behind his shots. Couple of knock out wins from amateur MMA serve as a proof of his punching power. On the ground Nordlund is obviously at his best when he gains top position. His physicality allows him to stay in control and avoid submissions while delivering offense." comments Hartikainen.
Updated Fight Card
Pro MMA
Timo-Juhani Hirvikangas, FFG/Primus vs. James Pennington, Gym01 – 63 kg
Juho Valamaa, FFG/Primus Fight Team vs. Davy Gallon, France – 77,1 kg
Teemu Packalen, FFG/Primus vs. TBA – 70,3 kg
Kai Puolakka, GB Gym/Primus vs. TBA – 77,1 kg
Kennet Mattsson, GB Gym/Primus vs. Niko Myllynen, RNC Sport Club – 70,3 kg
Mika Kuronen, FFG vs. Matias Rantala, Mäntän Sutemi – 83,9 kg
Zanko Eliassi, FFG vs. Samuel Nordlund, Grappling Team Pori – 65,8 kg
Amateur MMA (IMMAF)
Minna Grusander, FFG vs. Veera Nykänen, GB Gym – 52,2 kg