Today the full The Ultimate Fighter 17 cast was announced. Among the 28 participants is the 29 year old Swede Tor Troéng, as has been rumored for quite a while now.  Tor will be the second Nordic participant following the footsteps of now UFC-fighter Hamid "Akira" Corassani who had his run in the 14th edition of the series.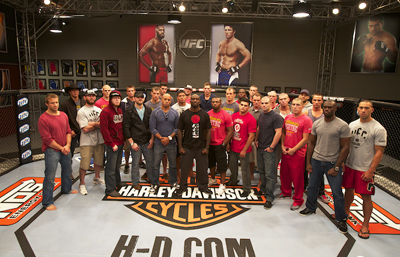 The first episode of the season will air on January 22nd on FX. The season debut will have the 28 fighters fighting each other in order to determine who'll enter the TUF house. The two coaches for the season, Jon Jones and Chael Sonnen will battle it out at UFC 159 Jones vs. Sonnen, which will take place at the Prudential Center in Newark, NJ on April 27th.
The full lineup including fighters from 6 nations can be seen below (listed in alphabetical order):
Dylan Andrews (16-4-1), 32, Gold Coast, Australia (by way of New Zealand)
Kito Andrews (9-2), 34, Sacramento, Calif.
Luke Barnatt (5-0), 24, Cambridge, England
Leo Bercier (7-2), 31, Great Falls, Mont.
Ryan Bigler (9-3), 28, Yona, Guam
Kevin Casey (5-2), Hawthorne, Calif.
Adam Cella (4-0), 27, Fenton, Mo.
Zach Cummings (15-3), 28, Kansas City, Mo.
Andy Enz (6-1), 21, Anchorage, Alaska
Nik Fekete (5-1), 32, Las Vegas
Kelvin Gastelum (5-0), 20, Yuma, Ariz.
Uriah Hall (7-2), 28, New York City (by way of Jamaica)
Collin Hart (4-1-1), 23, Santa Rosa, Calif.
Clint Hester (7-3), 25, Atlanta
Jake Heun (3-2), 25, Salt Lake City
Mike Jasper (6-0), 29, Camarillo, Calif.
Nicholas Kohring (3-0), 22, Valley Springs, Calif.
Robert "Bubba" McDaniel (20-6), 29, Albuquerque, N.M.
Fraser Opie (10-5), 29, Milton Keynes, England (by way of South Africa)
Mike Persons (3-0), 28, Manteca, Calif.
Jimmy Quinlan (3-0), 26, Metheun, Mass.
Scott Rosa (4-1), 26, Sparks, Nev.
Joshua Samman (9-2), 24, Tallahassee, Fla.
Gilbert Smith Jr. (5-1), Colorado Springs, Colo.
Eldon Sproat (3-1), 27, Molokai, Hawaii
Tor Troeng (15-4-1), 29, Umea, Sweden
Eric Wahlin (5-1), 29, Taylorsville, Utah
Timothy Williams (7-1), 26, Millville, N.J.