MMA Viking's extensive UFC Sweden II pre-fight package moves forward with a look at the fight between scrappy bantamweights Brad Pickett and Mike Easton.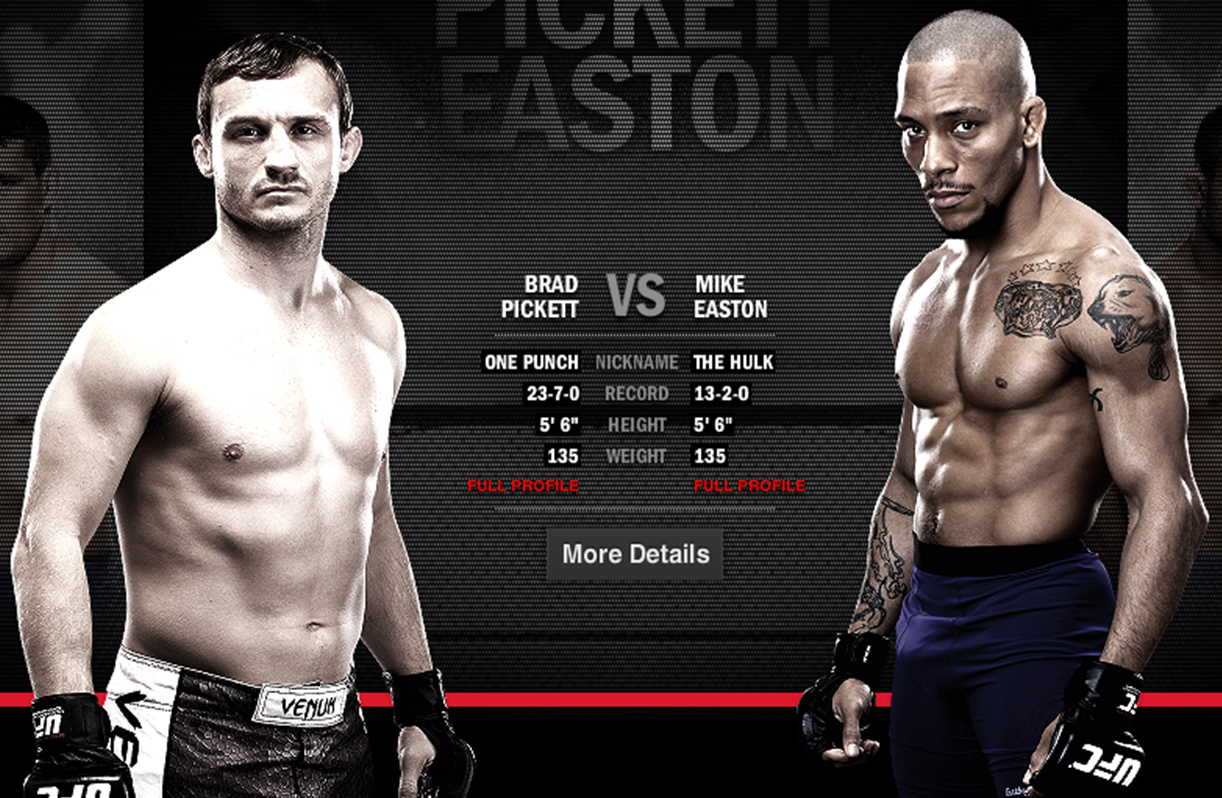 Brad "One Punch" Pickett (22-7, 2-2 UFC): England's own Brad Pickett is one of the most liked fighters currently on UFC's roster. Pickett's has made a ton of fans with his exciting fighting style, outspoken personality and entertaining entrances where he comes out looking like a old school Cockney (east Londoner) worker with suspenders, trilby hat and a newspaper under his arm. Before making his way to WEC and then to the UFC when the promotions were merged, Pickett had already fought all over the world in quality promotions  like Cage Rage, Bodog, K1, AFC. During this time he gathered number of respectable wins including victories over his countrymen David Lee, Vaughan Lee and Paul Reed. In 2010 Pickett debuted in the former WEC promotion winning his first bout with a beautiful peruvian necktie choke over Kyle Dietz. For the next three fights Pickett went on a nice run in the WEC dropping a decision to Scott Jorgensen but also getting notable wins over Ivan Menjivar and current flyweight champ Demetrius Johnson. Since coming over to the UFC Pickett has gone 2-2. In his debut Pickett got submitted by the current champ Renan Barao but he got his first win in the second bout when he submitted Damacio Page in Stockholm a year ago. In Nottingham Pickett knocked out Canadian striker Yves Jabouin before losing to Eddie Wineland by split decision at UFC 155. As a fighter Pickett is a true allrounder who can do it all: strike, wrestle and submit guys. His most dangerous weapons are his technically sound boxing that includes the use of body punches and slick chokes on the ground. Pickett, who does much of his training at the American Top Team in Florida,  is also very hard to put away as he is a relentless competitor with a big heart and a firm chin.

Brad "One Punch" Pickett mini-doc
Mike "the Hulk" Easton (13-2, 3-1 UFC):  American Mike Easton trains at the Alliance MMA in San Diego which means he has battle daily with guys like Dominick Cruz and Michael Chandler. Easton has been fighting pro since 2003 and has methodically climbed the ranks of the bantamweight division. Before joining the UFC ranks Easton fought for the UWC promotion where he achieved notable wins over John Dodson and Chase Beebe. Easton's start in the UFC was a successful one as he won his three first bouts, although many thought the decision win over Papazian was controversial. In his latest bout Easton's game was shut down by the Brazilian veteran Junior Assuncao who outstruck Easton on the feet with crisp counter striking.
Mike Easton mini-doc
Match up: Skillwise Easton and Pickett are quite even opponents but in almost all areas it would seem that Pickett will have a slight advantage. Easton has strong kicks thanks to his taek won do background but Pickett is great at closing the distance where he can throw wild hooks and dig to the body. It would seem unlikely that this fight will be fought much on the ground. Both guys are short and stocky fighters with seemingly endless gas tanks.
Summary: Easton likes to huff-n-puff and jump all over the place in the Octagon but sometimes he doesn't get much done damage wise. That was the case in the Assuncao fight where frustrated Easton looked lost at times. While Pickett's striking style is more proactive than Assuncao's, it should be still be the key to victory for the Englishman.
Bet on UFC in Sweden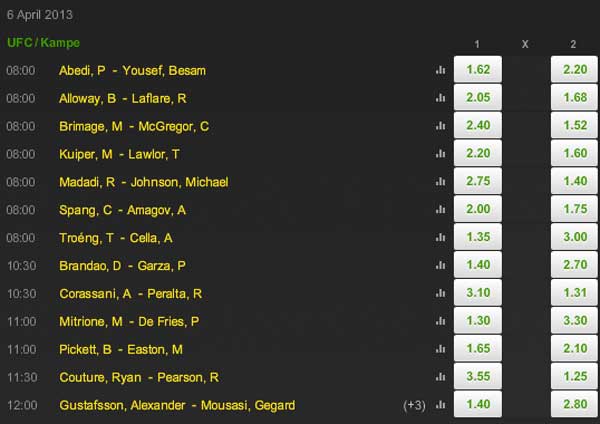 Get Big Bonus for MMA Viking Fans in Finland – Denmark – Norway – Sweden