Niklas Bäckström lost his second bout of his career, coming up short in Berlin in a majority decision. "I will be back, that's for sure. Congrats to Noad Lahat, well done." posts the Swede on Facebook shortly after the bout.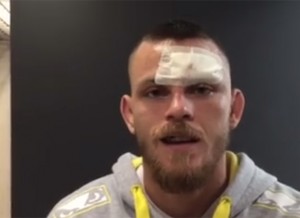 "It wasn't enough" says the Allstars Training Center fighter that congratulates his opponent on the war. "The most important thing is to not give up, and I didn't do that" says Bäckström that looks for positives in his loss.
Two of the three judges saw the bout in favor of the AKA fighter, one judge giving a 10-8 second round.  Many media saw the bout as a draw, with the Swede winning the first, the Israli winning the second, and the third being a draw.  Either way it was a tough fight, and Bäckström vows to be back better than ever.
The Swede drops to 8 wins, 2 losses, and 1 draw in his pro MMA career.