Saturday night in Stockholm was different than the other two times that the Octagon found center stage at the Globe Arenas. First, MMAViking.com went down due to the high traffic before the event…. then as I entered the arena, it was the first time that I could immediately tell that all the tickets were not sold. It was a strange night, and not one with too many highlights for those that came to root for the Blue and Gold or the Iclandic viking Gunnar Nelson.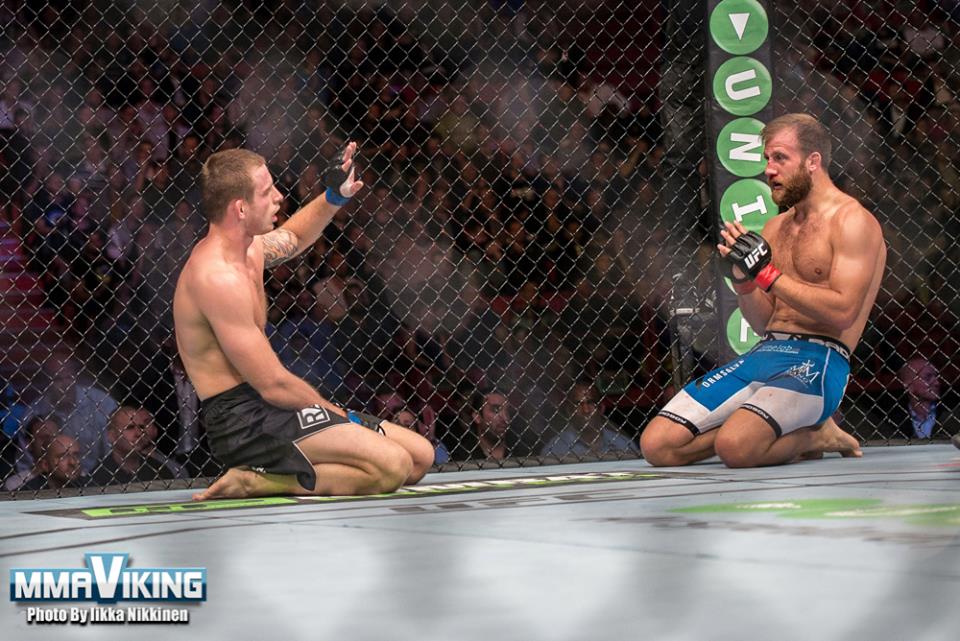 Beyond the technical difficulties, the tone was set early with Tor Troeng's loss. Whom I refer to as "Umea's finest", had an opportunity to turn around his UFC career and end a two fight losing streak.  The mathematician that you can't help but root for however, got beat up… bloodied and swollen.  This was a glimpse of more disappointment to come.
Things did start to pick up as Nico Musoke rose to the occasion again and showed some impressive kicks and cardio to take a unanimous decision over Russian Alexander Yakovlev. Immediately following the Swede win, Magnus Cedenblad stepped up and showed that he can win at home as he battled back from a tough second round to win a decision with hard fought take-downs and ground and pound. The local cheering would end with Jycken.
The two featured Swedes remaining that still live in Sweden were the more prominent fighters at Allstars Training Center.  Both Niklas Backstrom and Ilir Latifi really gained prominence on the scene with promotions and features leading up to the card, but against the odds… both fighters were stopped in the first round. The crowd was in shock seeing their own taking shots on the ground, getting finished in less than two minutes.  Backstrom took his first loss by getting knocked out and Latifi took a liver kick that forced a TKO.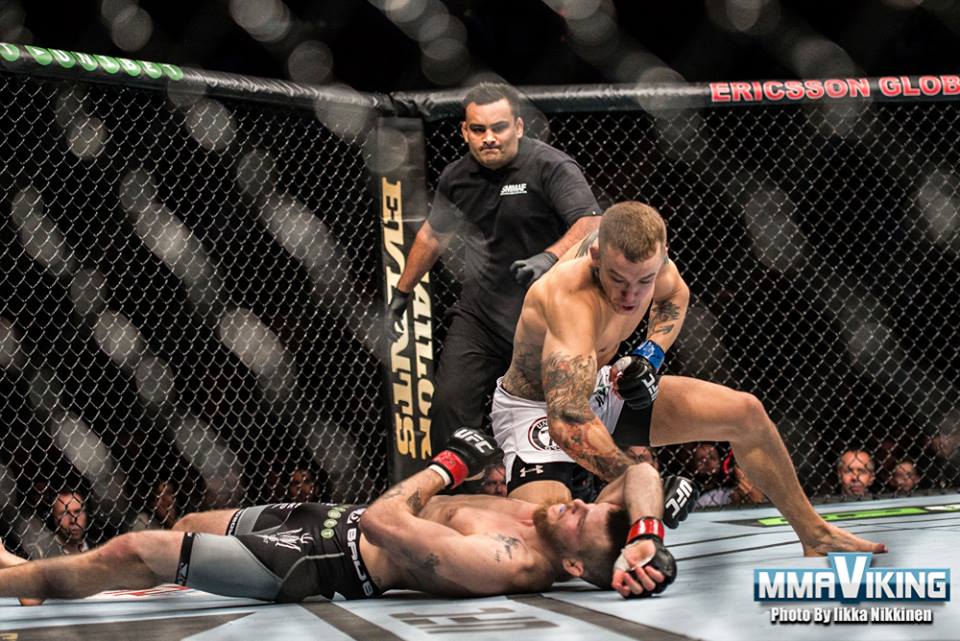 While the always feisty Akira Corassani brought his power to the table looking to knock off Max Holloway's block, it would not end well. The New York based fighter landed some clean shots early, but it was the Hawaiian that crushed the Swede forcing the bout to be stopped in just over three minutes.
Our photographer Iikka Nikkinen's hard drive filled up, and our access to download and edit photos ended before the main event.  I had a bad feeling for the SBGi / Mjolnir fighter looking to protect his undefeated record in the last bout of the evening.  While Gunni didn't seem too upset about the loss, it really put a damper on the night as the Swede's adopted Nelson as their last hope to end the night on a bright spot. I was surprised to hear the Swede's chant "Iceland, Iceland, Iceland" and really supporting the visiting fighter.  It was nice to feel the Nordic support against the American, but it didn't carry Gunni through to victory.
In all, there were seven Nordic fighters on the card, and only Musoke and Cedenblad won. Some nights don't follow the script you would expect, but I guess that's part of what makes mixed martial arts great. You never know what will happen on any given night.  At least the site is back up =)