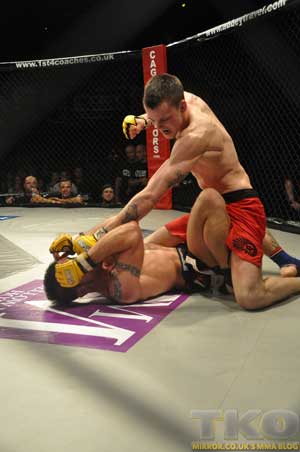 "This fight was a big step forward"
Niklas Bäckström (3 wins, 0 losses, 1 no contest) returned from England this past weekend with a victory at Cage Warriors 41.
The impressive performance over home town fighter Adam Edwards kept the young Swede's MMA career moving forward in the right direction. Bäckström's victory brought an end to the MMA Clinic fighter's two fight winning streak.
This past weekend's win builds on the HILTI fighter's growing reputation after last October's match at Superior Challenge 6 was heralded as one of the best fights of the year. This battle (video is at the end of the interview) with Simon Sköld of Nacka Dojo showed Bäckström has heart and skills, and is a prospect to keep an eye on.
MMA Viking talks to the fighter about his most recent victory and background on last month's Arctic Fight 3 which has been declared a no contest.
MMA Viking : Looking at your record on Sherdog, it shows a loss in your last fight. Can you talk about this fight and explain what has come of it recently?
No, I did not lose that fight.  The judge made a bad stoppage. He has apologized and changed hss decision to a no contest.
MMA Viking : Where and who did you train with to get ready for your fight?
I traind as always with all the Hilti guys. Diego Gonzalez, David Bielkheden, Papy Abedi.  All top level guys, as there are no slackers there.
MMA Viking : You had a dominant performance over Adam Edwards at Cage Warriors.  Did the fight go as planned? What did you think about your performance?
The fight with Adam Edwards went good, but I'm still not satisfied, I have a lot of weaknesses I have to work on, but this fight was a big step forward.  When the fight started, I didn't really have a plan. But when I got in to clinch I felt that I had an advantage, so I capitalized on that and won a majority decision.
Please support www.happypeople.se and www.kenka.tv, who sponsor the fighter.  MMA Viking wishes Niklas all the best in his young career, and hopes that he gets better referees in the future.
Below is the battle at SC that help put Bäckström on the map:

SC6 Simon Sköld vs Nicklas Bäckström from Superior TV on Vimeo.