In Bloody Elbow's World MMA Scouting Report, three Swedes are now on the top 10 lists.  While both Abedi and Madadi have been mainstays on such lists of top prospects, outside of major promotions –some may argue that Superior Challenge is a major promotion– Njie is a new entrant on such lists.  I look forward to seeing this list continue to grow with talented Swedish prospects. Below is an overview of the individual rankings and the fighter intro from Bloody Elbow.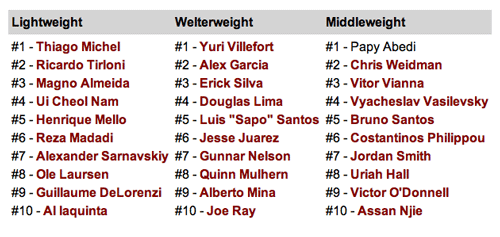 #1 Middleweight – Papy Abedi
Finishing off our 2011 World MMA Middleweight Scouting Report, Swedish-born fighter Papy Abedi (8-0) chimes in with the top spot with an impressive background in Judo, overwhelming strength and power, and brutalizing slams and ground and pound. The Judo black belt was rumored to be close to signing with the UFC in recent months, but those rumors have since been squashed. Regardless, he's likely on the UFC's radar as a potential signee due to his attractive style.
#6 Lightweight – Reza Madadi
What happens when you mix Persian blood, a decade worth of wrestling experience, and the cold of the Swedish tundra? Reza "Mad Dog" Madadi (10-2), one of Scandinavia's best lightweight prospects, is the result. The Iranian-born fighter, who trains out of Stockholm, Sweden, recently blasted through two former Zuffa competitors in Junie Browning and Carlo Prater, and there are rumors swirling that he may bring his relentless wrestling style to an Octagon near you soon. He ranks at #6 on our 2011 World MMA Lightweight scouting report.
#10 Middleweight – Assan Njie
First on our list at #10 is Swedish-born striker Assan Njie (10-2). Primarily known for his striking skills, Njie has amassed ten wins over the course of his four-year foray into mixed martial arts, defeating notable names such as Sean Salmon and Alex Makhonin. Those names probably don't ring much of a bell with the casual fan, and I'm sure Salmon's name doesn't inspire confidence that Njie is going to tear through the ranks of the UFC. But Njie's striking is an attractive part of his skill-set that should help him ascend through the ranks in 2011.
Great work from Leland Roling at Bloody Elbow.  Read all about the prospect list at www.bloodyelbow.com