Cage 25 in mid February looks to be another strong showing from Finland's biggest MMA promotion "Cage". The card will present two title fights and great variety of fighters around the world for the fight fans. The promotion recently announced the updated fight card for the show that takes place on 15th of February at the Vantaa Energy Arena in Helsinki. Finland's Marcus "Caveman" Vänttinen will defend his Cage light heavyweight title against Brazilian Jair Goncalves in the main event at Cage 25.   In a all Finn welterweight title fight rising talents Kai Puolakka and Glenn Sparv will decide who is the king of welterweight at Cage.
Vänttinen is currently training at All Stars gym in Stockholm with Sweden's light heavyweight stars Alexander Gustafsson and Ilir Latiri who are both getting ready for their fights at UFC in London in March. "Caveman" acknowledges his opponents strengths but heads confident into his fourth title defense at Cage.
"Goncalves push forward constantly. He is a southpaw who throws mean hooks on the feet. His best asset however is his ground game. He especially likes to go for armbars on the ground. He is a dangerous opponent but he will not be able to handle my pressure for full rounds." said the Finn to FightSport.fi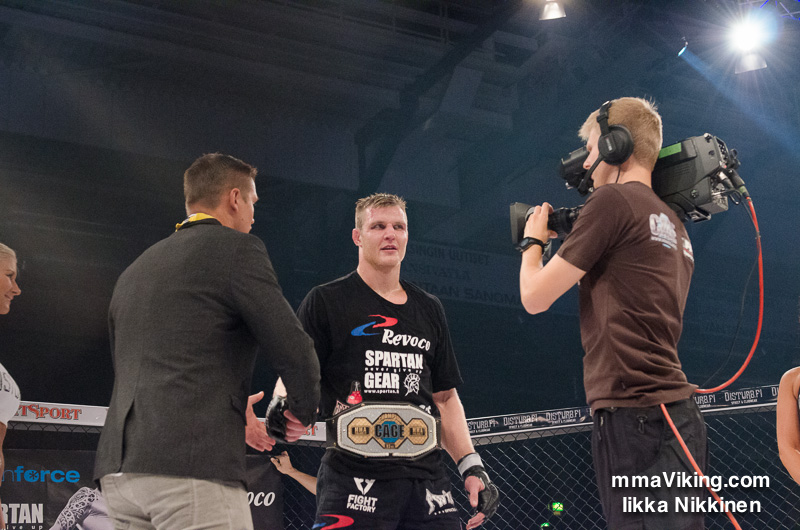 The co-main will produce a welterweight champ for the Cage promotion. Kai Puolakka (11-3) has steadily improved as a fighter over the last three years. In his most recent fights Puolakka has looked impressive in handling high quality opponents with relative ease. At Cage 23 Puolakka completely shut down Sweden's Domingos Mestre's takedown game, punished him with strikes on the feet and closed the deal with a second round submission.  At Cage 25 Puolakka will face another hungry young Finn in Glenn Sparv (7-3) who has been training in Thailand for the last year. While in Thailand Sparv has had bad luck with fights getting cancelled but the Finn has been in full training mode nevertheless. In his last fight Sparv suffered a TKO loss to highly regarded Brazilian Alberto Mina at Rebel FC 1 in Singapore.
Finnish featherweight standout Joni Salovaara (13-6) is facing a tough challenge in American Adam Ward (11-6). Salovaara took his biggest win so far in his last fight at FF 33 where he outgrappled and submitted former WEC champion Chase Beebe in the first round. Salovaara's grappling skills will be put to test again against the hard nosed Ward who hails from Gilbert Grappling gym. At Cage 24 Ward outgrappled Finnish wrestler Makwan Amirkhani for three rounds and surprised a lot of folks.
Lightweight J-P Vainikainen (20-8) looks to bounce back to win column after disappointing losses and numerous injuries. At Cage 25 the Finnish striker meets Swiss grappler Ivan Musardo (22-7) in a classic striker versus grappler match up.
Mikael "Hulk" Silander (9-3) locks horns with Spaniard Tony Caizedo (6-2) in a flyweight battle that should produce fast switched entertainment for the fight fans. After couple of set backs Silander ended the year 2013 on a positive note with a dominant win at Battle of Porvoo 4.
Cage 25 Fight Card
Light Heavyweight Cage Title Bout: Marcus Vänttinen, Finland  vs. Jair Goncalves, Brazil
Welterweight Cage Title Bout: Kai Puolakka, Finland vs. Glenn Sparv, Finland
FW: Joni Salovaara (13-6), Finland vs. Adam Ward (11-6), USA
LW: Juha-Pekka Vainikainen, Finland vs. Ivan Musardo, Switzerland
FlyW: Mikael Silander, Finland vs. Tony Caizedo, Spain
FW:  Greger Forsell, Finland vs Agoney Romero, Spain
BW: Janne Elonen-Kulmala, Finland vs. Vinko Roditi, Switzerland
LW Mikael Nyyssönen, Finland vs. Ville Heikkonen, Finland
WW: Mikko Ahmala, Finland vs. Ville Vanhanen, Finland
Stay tuned for more Cage 25 news!