Christian "Godzilla" Colombo was the agressor throughout the fight, and kept Andreas Kraniotakes against the cage, peppering him with punches from a lot of angles. Krantiotakes was never in the fight, both fighters looked more and more sluggish further the fight went, but Colombo easily won the decision and the EUMMA Heavyweight title.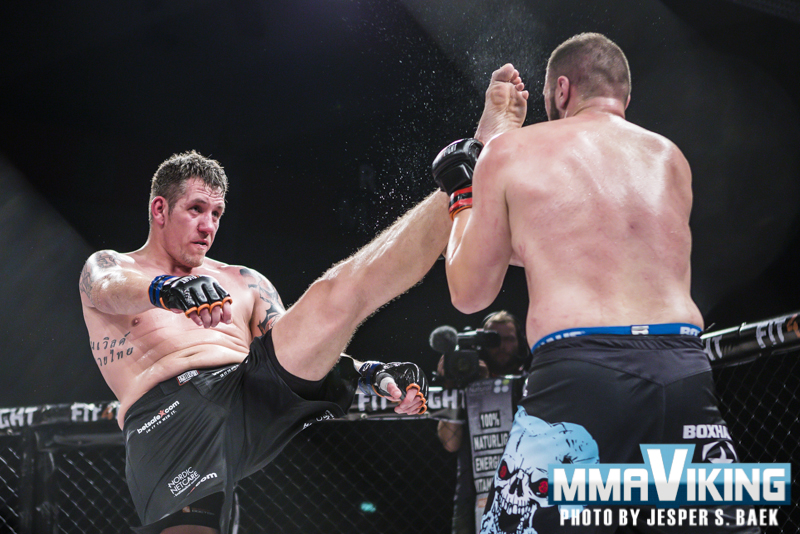 Here is our play-by-play of the bout:
ROUND 1:

Kraniotakes swings a huge haymaker, but doesn't connect. Colombo pushes the action and keeps Kraniotakes up against the cage. Colombos' striking looks excellent as he keeps pressuring Kraniotakes backwards. Kraniotakes shoots in and tries to take Colombo down but Colombo sprawls him to the ground.. Colombo spins aroung and takes Kraniotakes' back. Colombo backs off and lets Kraniotakes up. Kraniotakes tries to grab a guillotine, but Colombo takes him down and lands in side-mount. Colombo backs off again and let's Kraniotakes back to his feet. Colombo lands a flush knee to the face of Kraniotakes. Kraniotakes is pushed up against the fence and lands a spinning elbow. Colombo keeps Kraniotakes pressed up against the fence and tees off on Kraniotakes.

ROUND 2:

Kraniotakes lands a quick leg kick, but Colombo continues to pressure him up against the cage. Kraniotakes doesn't seem to have any answer to Colombo's striking. Colombo stays on the outside pressuring Kraniotakes up agains't the cage and picking him off with clean jabs and crisp combinations. Kraniotakes shoots in for a take down, but Colombo shakes him off with ease. Kraniotakes is showing signs of fatigue as he is constantly pressured by Godzilla. Colombo continues to attack with strikes while Kraniotakes is covered up.

ROUND 3:

The round begins and Kraniotakes looks noticeably tired. Colombo continues to push Kraniotakes backwards, and remain in striking distance. Kraniotakes shoots in for a singleleg, but Colombo shakes him off again. Colombo continues his barrage of strikes up against the cage with big bodyshots, clean jabs and step-in elbows. Colombo connects with a knee to the head and Kraniotakes falls down. Colombo backs off and let's Kraniotakes back up. Kraniotakes shoots in again but is once again sprawled to the ground. Colombo backs ogg and the fight is back to their feet. Kraniotakes shoots in again and i successful. Colombo scrambles backwards to the cage and gets to his knees and reverses the positions. Colombo backs off and forces Kraniotakes to stand with him again. Colombo kepps pressuring a clearly out-classed Kraniotakes.  Colombo lands another knee and drops Kraniotakes. Colombo lands in side-mount and advances to a mounted crucifix. The final bell rings. This can only be 3 straight rounds for Colombo.

WINNER: Christian Colombo (7-1-0) by decision
For results and play-by-play of the whole card, click here.  Exclusive cageside pictures coming shortly.