The long awaited UFC title fight between Swede Alexander Gustafsson versus Jon Jones has arrived. MMAViking.com is live at Toronto's Air Canada Centre to cover The Mauler's quest for the first UFC belt for a European fighter. For the first time, Gustafsson is set for five rounds in the 25 minute bout. The Swede has amassed a 15 win and 1 loss record, while the light heavyweight champion has 18 wins and 1 loss.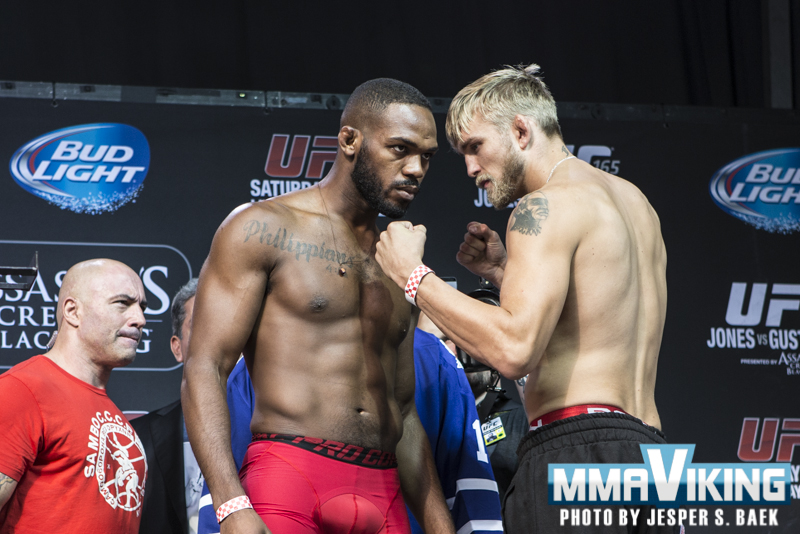 Watch Exclusive Weigh-in Highlight
Play-by-play
If you haven't seen our exclusive video interview with Gustafsson, pictures from media day or weigh-ins, check them out.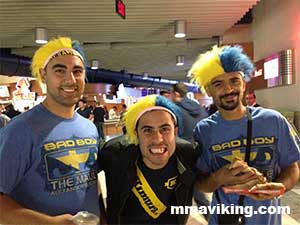 The night starts out with a bang as the heavyweights Nandor Guelmino and Daniel Omielanczuk punch and kick each other into the third round, with Omielanczuk finally dropping Guelmino with a punch, kick, punch combo. The crowd comes alive when Canadian Jess Ronson steps into the cage, and cheers of "Let's go Canada" come alive. In the final moments of the bout, Ronson picks up and slams the Brazilian to win the last round.
There are patches of Swedes in the crowd and several Swedish flags around the Centre.
Gustafsson Versus Jones :
Round 1
The challenger from Sweden is the first into the ring, and he looks relaxed as his country music plays in the background.  Two big areas of Swedes are in the stands.
The lights turn off as Jones walks to the cage.  "Not quite human" it says on his Nike shirt as he smiles and jogs.  The boos turn to applause as the music "I'm coming home" plays.
This is the biggest moment for Swedish MMA.  Gustafsson has a chance to shock the world. Jones is a bit more active than usual as he enters the cage, and hangs on the top of the Octagon as he bounces his feed off the cage. Gustafsson in his light blue Bad Boy shorts is pacing back and forth as he prepares to meet the champion.
"It's Time" yells Bruce Buffer. +700 underdog shows up on the screen for the challenger. A Swedish flag with "Farsta" written on it (the home town of Ryan O'Leary doing this report) is flying in the crowd.
Jones leaps into the air with his black silky shorts with both the Nike logo and Gatorade.
The clap hands and it's Alex with a right kick. Gustafsson with a kick again and looks to land a right hand. Gustafsson defends the first takedown attempt in a good sign for Gustafsson.
A left high kick and a spinning kick from Jones. "Alex, Alex, Alex" chants the crowd , and Alex lands a left hand. Jones attacking low with kicks, but Gustafsson's left hook seems to be a weapon of choice.
Gustafsson looking for a kill shot and a one-two, and another combo. Jones is cut! Alex counters a bunch with a flurry of punches, and the Swede came to fight. Good right kick low for jones, and there is just over a minute in the round.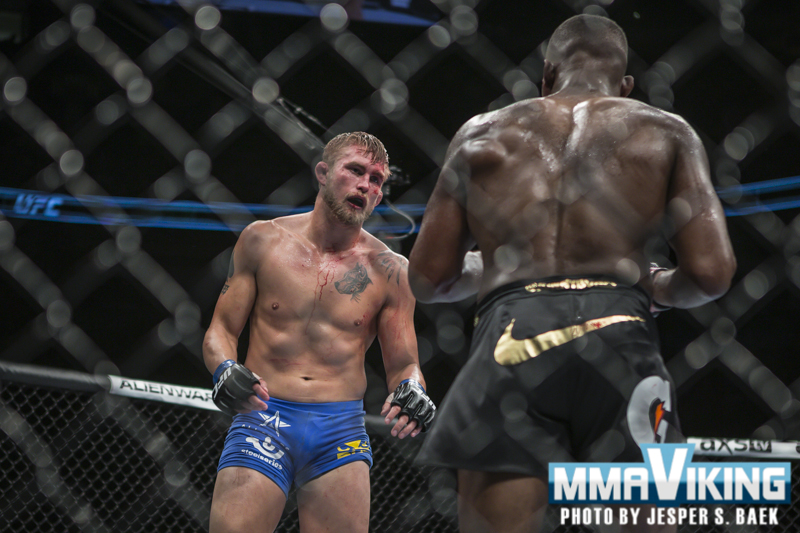 Gustafsson with a takedown. Gustafsson is doing his thing, mixing it up. An eye poke, and Gustafsson is standing with Big John McCarthy as they take there time to assess the situation. After a short pause the fight is back and Jones goes for a takedown and then, but again Gustafsson recovers.
10-9 for Gustafsson.
Round 2
Round two begins, and things pick up quickly. Jones looks out of his game, as Gustafson defends take-downs and catches a kick and sweeps the leg of the American. Gustafsson looks for big right, and then finds a home for a left hook.
Two minutes in, and Jones looks confused that he can't get the fight to the ground. Jones is looking for spinning kicks, but they don't have the speed. High left kick from Jones to the face that stuns Gustafsson. Good right for the Swede that has found a home for the left hook. Jones is the agressor moving forward
Again it's Gustafsson that catches a kick, and sweeps the leg and Jones tries to role through in a wrestling escape attempt. The Swedish cheers start, then spread throughout the arena.
Another high kick attempt from Jones, and a good right from the Swede. Jones raises his hand to cheer himself on after the round.
10-10 Round
Round 3
It's round 3, and Gustafsson looks fresh. A good right hand from Gustafsson early. Kicks are exchanged. Jones lands one to the body, and shortly after attempts a knee. Gustafsson pumps his left hand out and lands a clean shot.
Gustafsson is mixing his attacks as he goes body and ead. Big left kick from JOnes, but Alex lands a clean strike. "Alex" cheers begin. We are half way through the fight, and an uppercut from Gustafsson. A one, two. A good right from Gustafsson, and his camp in the crowd are going crazy as Gustafsson is on his way to shocking the MMA world.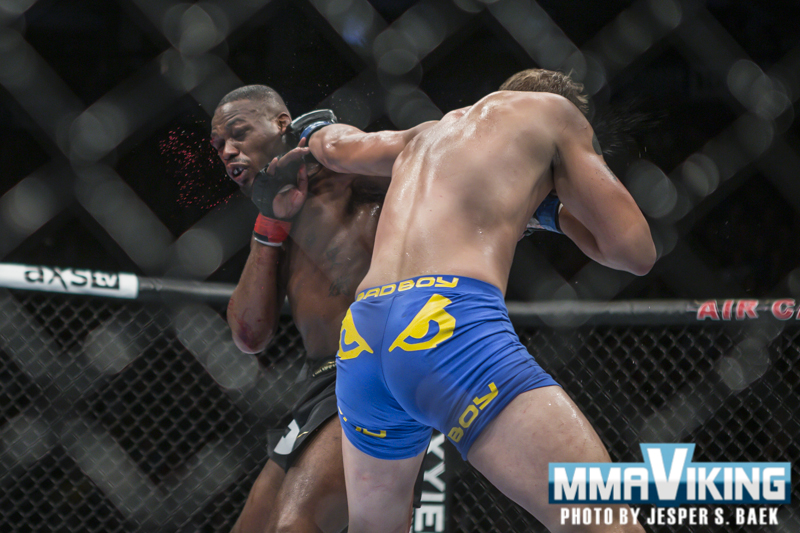 Alex peppers Jones with punches, and it's the Swede with a take-down attempt. Alex catches another kick, and lands a punch. Jones with a spinning back elbow in a hard blow to Gustafsson's head. The Mauler tries to pin Jones against the cage.
10-10 Round
Round 4
Left hand…. and a right from Gustafsson as we enter championship rounds. An attempted high left kick, and it's Jones who wins the close up striking battle. Good left jab from Jones, but Alex lands again in a counter. Gustafsson is now moving forward as Jones. The Americn can't take Jones down, and Gustafsson is making him pay. Brutal punches from Alex. Hard left and right hand. Jones goes to his wrestling to recover. Jones face is a mess. Alex is taking this round. Another left, and a left hand. Jones wants to take the fight down, but Alex won't let it happen.Jones looks up at the clock and lands a huge spinning elbow. Gustafsson looks hurgt and he is cut. But the Swede moves forward. Alex is hurt big to end the round. Wild round. Amazing.
10-9 for Jones as he may have edged it out at the end or a 10-10 round. Very close.
Round 5
This is it. Gustafsson raises his hands and the crowd goes crazy. I got goose bumps.
Alex has blood on his face. Jones has vaseline over both eyes, as the battle again. A counter off a shot, and an uppercut. Big left hand from Gustafsson.
The Swedish media behind me is helling uppercut.
Jones lands a hard elbow standing. Gustafsson looking for punches. Jones finally gets the fight to the ground with 3 minutes left in the bout, but the Swede is not giving up and scoots to the cage and stands up. The Swede wants this and is giving his call. Good left high-kick from Jones. Gustafsson takes another kick, and Jones tries a spinning elbow and now a left high-kick.
Gustafsson is still punching and lands a big spinning elbow of his own! Another left and from Gustafsson.
One minute left. Another headkck, but Gustafsson just takes it. 45 seconds and the crowd stands. 30 seconds. Left high kick and punch, but it's Gustafsson going for a take-down, an dhe lands a knee in an amazing fight.
10-9 Jones. Gustafsson can't raise his own hand, so his coach Andreas Michael does it for him.
OFFICIAL DECISION :
48-47 & 49-46… ."AND STILL THE UNDEFEATED LIGHT HEAVYWEIGHT CHAMPION OF THE WORLD, JON BONES JONES" says Bruce Buffer. The place boos.
Dana White goes over to Gustafsson and is talking to his coaches at length as Jon Jones is interviewed.
"I'm just starting my career" says Gustafsson as he is interviewed by Joe Rogan.
"I love you guys, and will push harder" says the humble Swede.
Exclusive Photos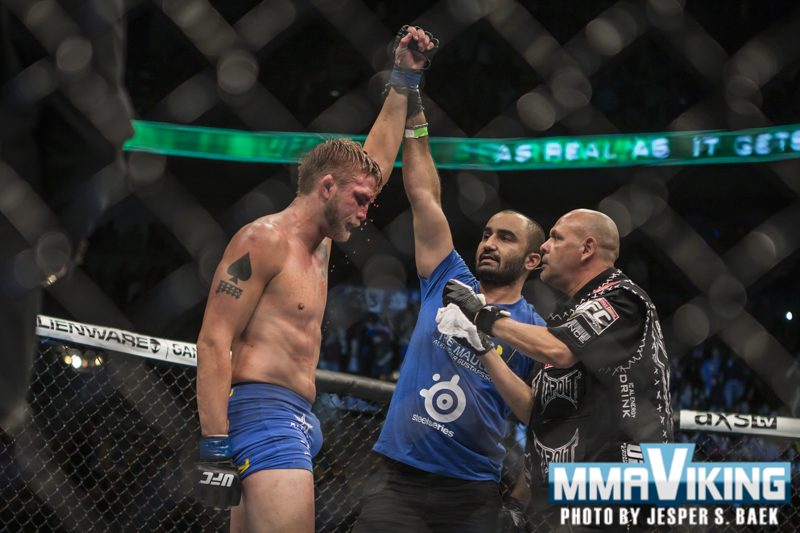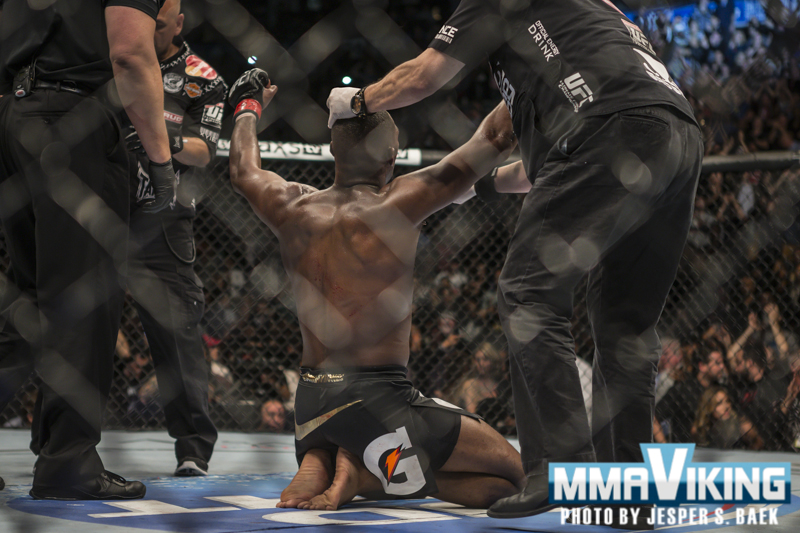 Video Highlights
For more exclusive pictures of Jon Jones and Alexander Gustafsson, click here.